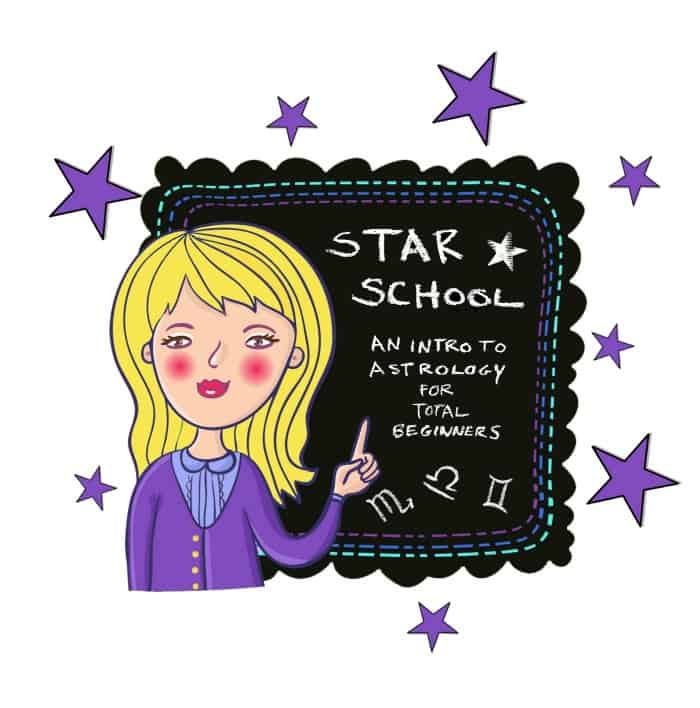 And now we come to the end of our journey in Star School: chart interpretation.
You've got a lot to work with now. Star School has given you a good rundown of the basics.
"But Theresa," you may be asking, "how the heck do I interpret my chart with all this info?"
Interpretation is an art form that takes time to master. Every astrologer has their own method. Here's mine:
Always begin by interpreting the Sun, Moon, and Ascendant. In fact, you can work with just those three and get a ton of info!
But if you want to go deeper, this is a formula to follow:
Planet in the sign
Planet in the house
Aspects to planet
Bada bing! You're interpreting!
Also: 
Count up the Elements, the Qualities. Where are you dominant or weak?
Are any planets exalted or in their rulership? Any in their fall?
How many retrograde planets do you see?
Where are the majority of the planets sitting? In other words, which houses are busy?
What aspect patterns might you see?
Start there. Investigate. Play around. Be patient. Soon, you'll see it coming together like pieces of a puzzle.
Let's look at our friend Kim Kardashian's chart. I'll do a mini sample interpretation.
Her Ascendant is Sagittarius, which means she's free-spirited and adventurous. She's not afraid to take risks, especially with her style. Sagittarius is ruled by Jupiter and Jupiter is sitting high in her 10th house, conjunct the Midheaven. This shows potential for fame. Jupiter is in a sextile with Uranus, which sits in her 12th house of solitude. This aspect gives her intuitive ability. Time spent away from the spotlight can help her feel grounded and peaceful. It's also possible that she does a lot of work behind the scenes in humanitarian efforts, which adds meaning to her life.
But also notice her Moon opposes Jupiter and hangs out in sensitive Pisces. Perhaps she has mixed feelings about her fame? There may be a part of her that feels hurt by some of the attention. Although she may appear to not give a rip about what people think, on some level she does. This aspect can also indicate someone who takes emotional risks and perhaps lacks discernment in some of her personal decisions. Impulse, especially when under duress, may lead to public consequences later on.
Now, keep in mind that I don't know her. She has never hired me to read her chart (but hey, Kim, if you're reading this – I'd love to work with you!). I have zero idea of what she's all about – this is pure speculation. Just a mini example for interpretation purposes only.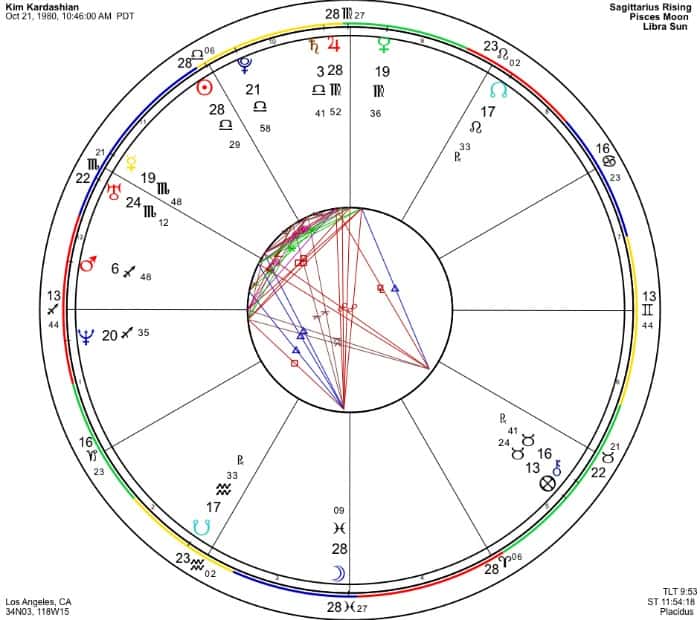 Homework! Grab your chart and begin interpreting. Have fun with it!
Don't want to do your own interpretations? Check out these uh-may-zing astrologers:
Mecca Woods https://www.mylifecreated.com
Midheaven Astrology with Amelia Quint http://www.midheavenastro.com
Jessica Lanyadoo  http://www.lovelanyadoo.com
Chani Nicholas https://chaninicholas.com/horoscopes/
Mystic Medusa https://mysticmedusa.com
Sagittarius Mind Consulting https://sagmind.wordpress.com
Monte Farber https://www.montefarber.com
Sam Reynolds http://unlockastrology.com
Sally Kirkman https://mountainastrologer.com/tma/
Dayna Lynn Nuckolls https://thepeoplesoracle.com
Chris Brennan http://www.chrisbrennanastrologer.com
Chris Zydel https://creativejuicesarts.com/astrology-readings/
The Voluptuous Witch https://thevoluptuouswitch.com
And that's a wrap on this series. It's by no means complete – just enough info to get the basics down and to whet your appetite. I hope that you've enjoyed Star School as much as I have enjoyed creating it.
Keep gazing at the stars – and stay curious,
Theresa
Miss a previous lesson? I've got 'em all right here for you.
image from stock photography