Talkin' Tarot With is a monthly feature designed to introduce my readers to different tarot readers from our wonderfully diverse community!  Each month, I'll be asking various tarot readers 3 questions about their tarot philosophy and style, plus pointing you to their websites and blogs so that you can learn more about them!  I like to hand pick tarot readers that I feel are talented and interesting.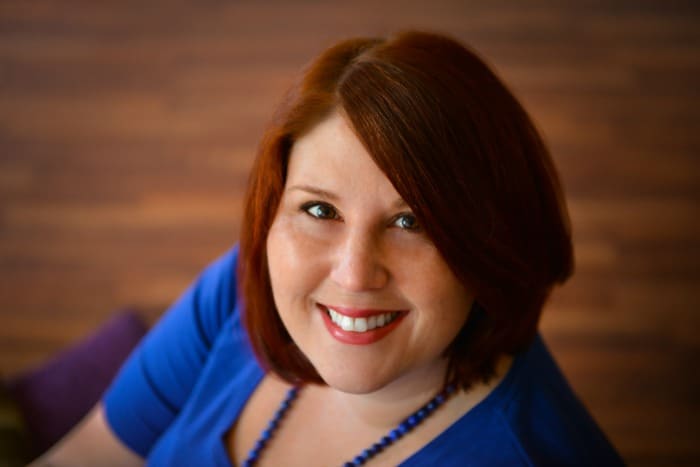 I've had my eye on Jenna Matlin for some time.  Our paths intersected on social media and I liked her moxie right away.  Jenna is one of those brassy, bold women that know how to grab your attention!
She did just that when I finally met her in person at last year's Reader's Studio.  She sashayed into the packed room with that brilliant red hair and winning smile, which made her stand out like a megawatt light bulb.  Jenna is warm and super witty – and tons of fun to be around.  I had a blast hanging out with her!  (Can't wait to do it again, sistah.)
Her tarot smarts shine through in everything she does but what I love most about Jenna is her unapologetic ambition.  This is one hard working and serious tarot businesswoman!  With a bustling clientele, a tarot business teaching gig at Tarot Association, and a brand spanking new ebook, she is not messing around.  She's going places – fast – and we are lucky enough to be along for the ride.
A little Jenna bio:
Jenna Matlin, the clairvoyant engine behind Queen of Wands Tarot, provides intuitive consultations based on empowerment, clarity and choice while honoring spirit. She has a Master's of Science in Organizational Psychology and Performance Consulting and Coaching, which enable her to use both practical and esoteric tools to create a truly empowering session. In addition to providing intuitive Tarot consultations, Jenna also offers Transformational Tarot packages, Intuitive Life Coaching, and runs the Not Your Mother's Tarot Meetup group of the Philadelphia area. Jenna is the author of  Have Tarot Will Travel: A Comprehensive Guide to Reading at Festivals as a Tarot Professional
.
Learn more about her at: at www.queenofwandstarot.net
Follow her around online at all these mighty fine spots:
Check out her awesome answers to my questions:
~~~~~~~~~~~~~~~~~~~~~~~
1. What is your philosophy about tarot reading?
Jenna: To experience a tarot reading is a moment outside of time. It is a session where logical, linear, reductive ways of experiencing are gently put away on the shelf so that we can explore causality, interconnection at strange points of influence and peek into the great mystery that is the sparkling firmament underpinning the workings of our lives. A tarot reading is as grand, as mysterious, as amazing as all that—and we can do it anywhere: in a bus station, in a hushed hospital room, or during our lunch break. What I love about tarot is how unbelievably unpretentious it really all is but also so amazing. The tarot has an incredible capacity to meet people where they are; do you want to know if should go out on a date with this person? Sure! Do you want to understand what your role in the universe means? Absolutely.
I love how tarot not only gives the answer, it gives the answer in a 'tone of voice' designed for maximum impact. That voice can be gentle, harsh, criticizing, or very compassionate—all while saying the same thing. It knows how the querent needs to hear the story. In short, the Tarot is a master storyteller. A storyteller who changes the story in the act of speaking it. I find myself often humbled and amazed by being able to work with such incredible magic, that I can also throw in my purse. I just love juxtapositions like that.
2. How do you feel a client might get the most out of a reading with you?
Jenna:  When a client is truly nearest to a breakthrough is when my special dharma shifts into gear. Throughout my life I have awakened things in others that changed the course of their lives. I am a midwife to radical evolution, and I am very comfortable with ushering transformations in others. My business is called Queen of Wands Tarot not because of the fire that is often associated with the wands suit, but because the wand she carries aloft is sprouting leaves, it is the quickening that drives me. Where clients see a dead end, I see a leaf about to unfurl from nowhere, and I whisper to that leaf, "grow, grow!" I support an awakening to burst forth into life again.
My dearest, strongest clients are the ones who came to see me when their intuition was screaming at them but they needed help in recognizing or letting go. I catalyze the breakdown and walk with them towards the breakthrough. So, essentially, a reading with me is intense, it can be life changing, it is alchemical and can sometimes be tough. People who are ready for great change in their lives but are not sure how that will look are the best kind of clients to see me. Those who are mucking about for years on end, miserable, unwilling to see their own victim playing are probably not going to enjoy my sessions. I am kind, warm, positive, loving but I am also honest even if that means a client will dislike m. I do not need a client like me, my dharma is to story speak what the soul's narrative, to breathe the leaf to grow. I am action-oriented and clients who are ready to create action themselves are the best fit for what I do.
3. What is your best piece of advice for an aspiring tarot reader?
Jenna:  I was psychic long before tarot and honestly I had to 'fight' to get my intuition to use the cards. It's funny to me when people say tarot is a crutch because I would say that it is a diamond cutter. I had to hone my wild instinct into the sharpness of tarot. So the first thing I would say is that to use the tarot does not mean a lesser ability; that is said by people who fundamentally misunderstand tarot. Tarot will break you and remake you and change you forever, and it's beautiful.
Also, for the first ten years of reading, I worked with one deck exclusively. I saw and noticed my psychic ability grow stronger and attach to this deck and was able to gain incredible insight working with what began to feel semi-sentient. Shifting from one deck to another too often keeps the tarot as an object, when it is really a subject, or a "person", with its own character and personality. Find a deck that resonates and work with it for at least one year, forsaking all others. Your deck will greatly reward you for your fidelity.
~~~~~~~~~~~~~~~~~~~~~~~
Big props to Jenna for making time in her busy schedule to chat with me!  You can find Jenna at www.queenofwandstarot.net 
Blessings!
Theresa
© Theresa Reed | The Tarot Lady 2014