Tarot isn't just for divination – it can also be a wonderful tool for guidance. In this series, we'll explore the advice options for every card.
With a Tarot deck by your side, you can make clear decisions, deal with challenges confidently, and find alternate routes when necessary. The result? The best possible guidance for the future you want.
Join me every Friday for a new installment – and get ready to add some helpful advice + loving support to your Tarot readings.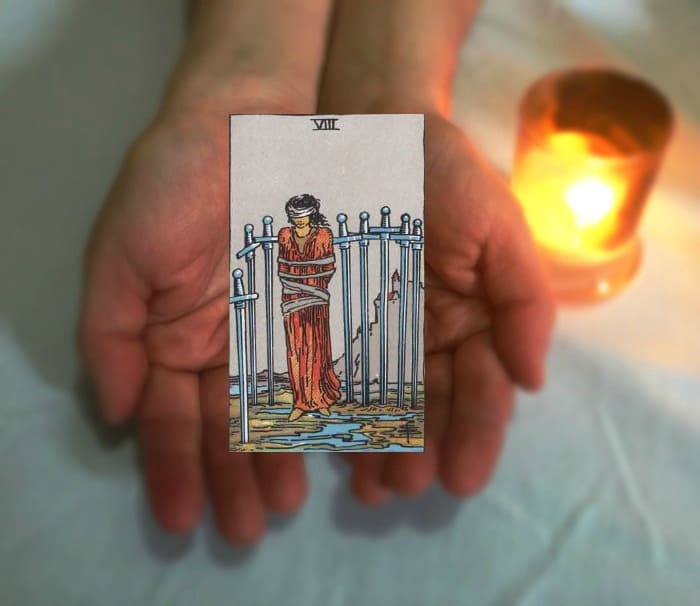 This week: Eight of Swords
Do not move. Do not struggle. Avoid taking action. For now, wait. This is not the time for movement of any sort.
How did you get yourself into this predicament? Look within to see what you might have done differently – and what needs to be done going forward. This is an inside job. You got yourself into it – you'll get yourself out of it.
In some cases, this card might say: you're not as stuck as you think you are.
Depending on the context of the question, this card can also advise restraint or restriction. For example, you may be seeking to lose weight. In a question about that, this card may suggest a dietary restriction.
This card can advise you to isolate yourself from a situation. Instead of getting involved, get as far away as you can.
You can't see what you need to do at this time. Give yourself more time to ponder the way forward.
Watch out for self imposed limitation and stinkin' thinking. You're only as stuck as you believe yourself to be.
Reversed: Eight of Swords
Loosen up! Don't be so uptight, square.
In some question, this card may be advising you to start the process of removing yourself from a situation. You don't need to remain there.
Come out of isolation. Return to a situation.
The Eight of Swords reversed might also say: you can see clearly. Now you know what to do to release yourself from the situation.
Questions to ponder:
When do you feel the most trapped? How does your own thinking create limits in your life? What can you co right now to release yourself from a situation you don't like?
Blessings,
Theresa
Explore the whole series here: https://www.thetarotlady.com/tarot-advice-guidance-every-card/