Tarot isn't just for divination – it can also be a wonderful tool for guidance.  In this series, we'll explore the advice options for every card.
With a Tarot deck by your side, you can make clear decisions, deal with challenges confidently, and find alternate routes when necessary.  The result? The best possible guidance for the future you want. 
Join me every Friday for a new installment – and get ready to add some helpful advice + loving support to your Tarot readings.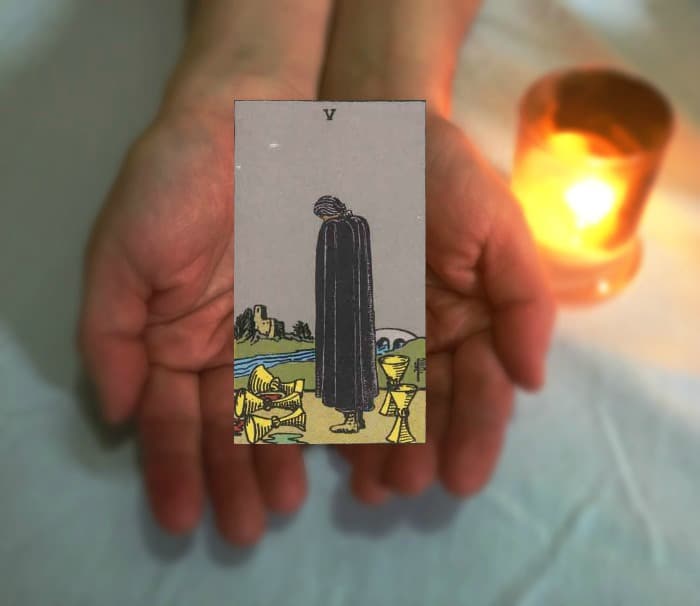 This week: Five of Cups
If you have suffered a loss, grieve. Go through the process, even though it may feel uncomfortable.  Face your loss full on.  By dealing with it directly, you begin the process of healing.
Don't cry over spilt milk.
If you've been stuck in regret mode, you won't be able to see the new possibilities. Stop looking back.
Put the water under the bridge.  Forgive and move on.
Do not suffer in silence. Seek help if you need it.  If you are struggling with emotional issues, get professional help.
Don't hang on to the past. What's done is done. Let go.
Although you have lost much, there is still something left to salvage.  Make the most of what is left.
Five of Cups reversed:
No more wallowing or feeling sorry for yourself!  It's time to get out of your pity party. A new outlook is available.
Be kind to yourself. Baby steps. You're moving forward but may still have a bit of healing work undone.
Change is favored. Embrace the new, even if it seems scary.  It's brighter than what you imagine.
Once again, if you are struggling with emotions or dependency, you don't have to go it alone. Help is right under your nose.
In some cases, this reversal might advise to go back to the "scene of the crime" and make amends.
Questions to ponder:
Are you dealing with uncomfortable emotions directly?  Do you need more support at this time? How might you get help for difficult emotional situations?  What might you learn from grief?
Blessings,
Theresa
© Theresa Reed | The Tarot Lady 2016
Explore the whole series here: Tarot Advice – Guidance in Every Card.