Tarot isn't just for divination – it can also be a wonderful tool for guidance.  In this series, we'll explore the advice options for every card.
With a Tarot deck by your side, you can make clear decisions, deal with challenges confidently, and find alternate routes when necessary.  The result? The best possible guidance for the future you want. 
Join me every Friday for a new installment – and get ready to add some helpful advice + loving support to your Tarot readings.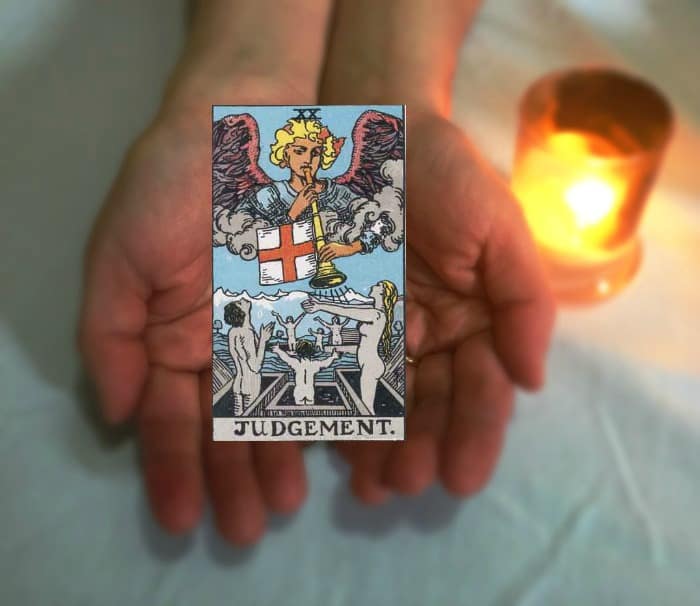 This week: Judgement
Follow your higher calling. If you are being called toward a particular path or action, answer the call.
Use good judgement at this time.  Examine every aspect of the situation before making a judgement call.
Throw off the old, embrace the new.  This is a time of awakening, or rebirth.  Rejoice for a major change is at hand!  Once cycle closes, another is about to begin.
Consult with your higher guidance. Let your guides lead the way.
The Judgement card may be advising to make a change in your life.  If you've been struggling or walking down the wrong path, it's never too late.
Judgement reversed:
Are you being too harsh of a judge on yourself or others?  Watch out for a tendency to be judgmental.
If you're considering making a major change, this reversal says: wait. You need to gather more information before you can shift gears.  You may not be ready.
If you're having trouble figuring out your calling, this might indicate seeking support.  Working with a wise counselor or guide may help you find your true path.
This reversal could indicate rejecting one's higher calling.  This could be a warning, as in "you're about to reject your higher calling…don't."  or it may be suggesting that the higher calling may need to be sacrificed, possibly for reasons outside one's control.
Judgement reversed can also advise to let go. Stop hanging on to something or someone that is gone. Release!
Questions to ponder:
Are you following your higher calling?  How might you know what that is?  When do you need to trust your own judgement…or not?  What might it feel like if you let go and trust the Universe?
Blessings,
Theresa
© Theresa Reed | The Tarot Lady 2016
Explore the whole series here: Tarot Advice – Guidance in Every Card.