Tarot isn't just for divination – it can also be a wonderful tool for guidance.  In this series, we'll explore the advice options for every card.
With a Tarot deck by your side, you can make clear decisions, deal with challenges confidently, and find alternate routes when necessary.  The result? The best possible guidance for the future you want. 
Join me every Friday for a new installment – and get ready to add some helpful advice + loving support to your Tarot readings.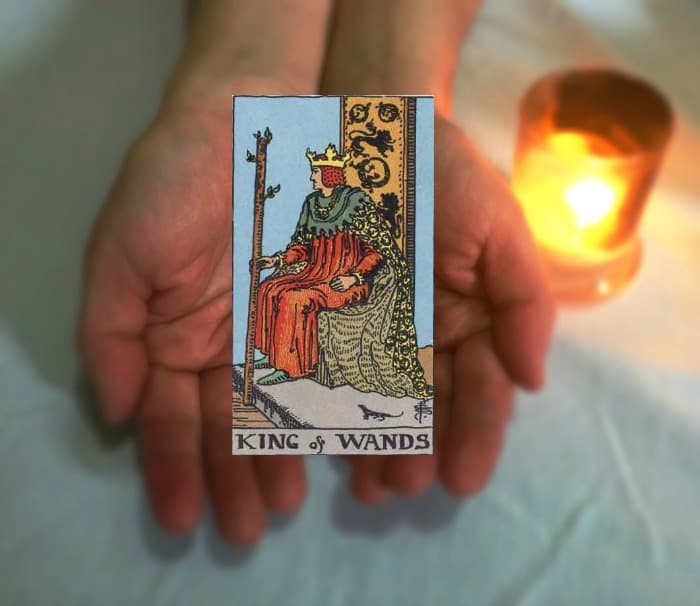 This week: King of Wands
Inspired leadership is needed. Step up to the plate and take the helm. Take an enthusiastic and bold approach.
Bring your creative ideas to fruition. Take that idea and make it happen!
Look ahead at the bigger vision. What do you want to create, have, do, or be? Put your plan together and then go for it!
Let your passion lead the way.
The King of Wands favors action. This may be a time where you need to take a risk. Don't hold back!
King of Wands reversed:
You may not be ready to step into a bigger role. Step back and let someone else lead the way. Find someone with the King of Wands' bold, energetic vibe to take over.
This card can signal a lack of courage. It may be time to work on developing your confidence.
You may be losing momentum. Take a time to out recharge your batteries. Give your fire time to come back to life.
If you're not feeling passionate about a situation, it may be a sign that this isn't your jam. Take a pass.
The King of Wands reversed may be advising you to find your fire – or to hold your fire. A burst of anger now could backfire.
Questions to ponder:
When have you inspired others? What does it mean to be an inspiration? How does your passion drive you? When do you feel bold?
Blessings,
Theresa
© Theresa Reed | The Tarot Lady 2017
Explore the whole series here: Tarot Advice – Guidance in Every Card.