Tarot isn't just for divination – it can also be a wonderful tool for guidance.  In this series, we'll explore the advice options for every card.
With a Tarot deck by your side, you can make clear decisions, deal with challenges confidently, and find alternate routes when necessary.  The result? The best possible guidance for the future you want. 
Join me every Friday for a new installment – and get ready to add some helpful advice + loving support to your Tarot readings.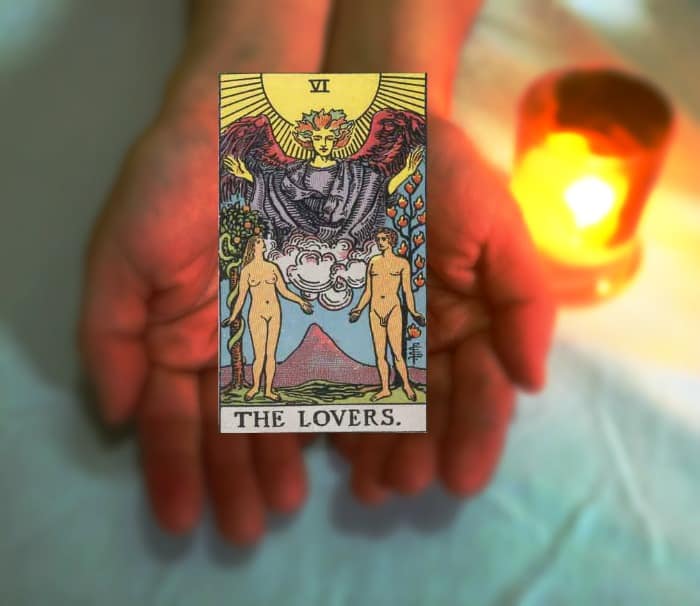 This week: The Lovers
The Lovers symbolizes an important decision needs to be made.  Before making a choice, consult with your higher guidance.  Focus on what might be best for all parties involved and choose the path of love.
In matters of the heart, the Lovers advises going for it! Whether you are looking to ask someone out – or to request their hand in marriage, this card favors taking initiative.  If you are single, seek love – put yourself out there. In a relationship? Then this card advises to do what you can to foster intimacy and harmony.
When the Lovers comes up in a work situation, it may be indicating a need for teamwork and communication.  Make choices that create a harmonious working situation.  Listen to other points of view and bring people together.
The Lovers says: make relationships the primary concern.  Put others first and try to meet people where they are.  The more willing you are to meet others half way, the better your relationships will be.  Strong relationships are the key to reaching your goals – make others your priority at this time.
The Lovers reversed:
This can point to difficulty making the choice. Perhaps the obvious answer is not here at this time. Give yourself more space and time before making a decision of power.
Relationships can be tricky at the moment. The other person may not be clear on their intentions – or you may be getting a sign to pull back.  Reevaluate what you want and what the other person wants. It may be that you are both wanting very different things at this time.  If no one is willing to compromise, it may be best to leave this be.
In any matters of the heart, this reversal favors a mindful approach before making a move.  For example, if you are thinking about making a commitment, this may be urging you to examine the relationship – or your heart – a little more thoroughly before saying "I do."
Questions to ponder:
What can I do to make my relationships better?  How am I cooperating – or not – with the important people in my life?  What do I want at this time?  What choices might be best for me and the others involved in this situation?
Blessings,
Theresa
© Theresa Reed | The Tarot Lady 2016
Explore the whole series here: Tarot Advice – Guidance in Every Card.