Tarot isn't just for divination – it can also be a wonderful tool for guidance.  In this series, we'll explore the advice options for every card.
With a Tarot deck by your side, you can make clear decisions, deal with challenges confidently, and find alternate routes when necessary.  The result? The best possible guidance for the future you want.
Join me every Friday for a new installment – and get ready to add some helpful advice + loving support to your Tarot readings.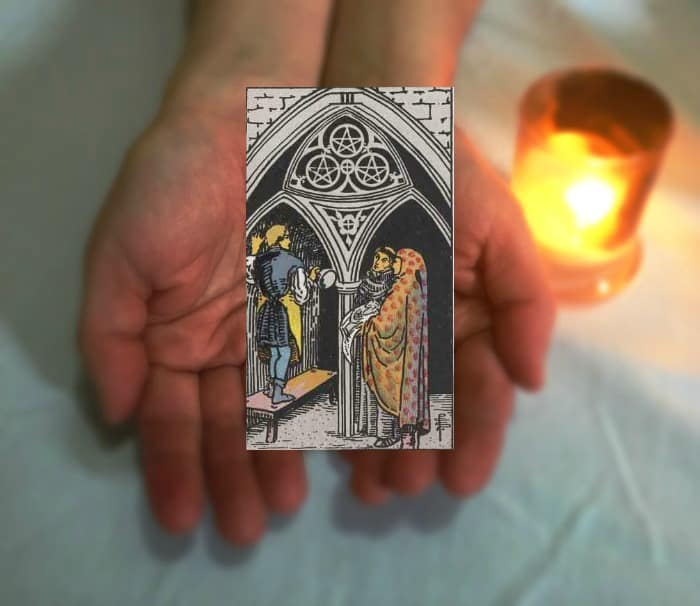 This week: Three of Pentacles
A good team will make all the difference. Focus on building a strong team.
The more you practice, the better your work will get. Grow your craftsmanship with steady practice.
Step up your game at work. Do your best work now and you'll get the accolades you desire.
Because the Three of Pentacles favors creative work, this card may be advising you to seek a creative career – or to begin adding a creative flair to your current job.
In some cases, this card may be advising to renovate or fix a situation (ex: your home).
Get to work!
Sometime this card can advise going back to school.
Three of Pentacles Reversed:
The Three of Pentacles reversed indicates a lack of skill. As advice, it may be suggesting that you take classes or perhaps enter an apprenticeship so that you may develop your talents.
This card may also warn against sloppy workmanship. Pay attention to the details. Don't get lazy now.
Or, on the other hand, it may be advising you to let go of your perfectionist tendencies. If you are fretting over the details, you may get nothing done!
In the case of collaboration, the Three of Pentacles can advise to seek a better team – or to take on a leadership role if no one else is stepping up.
Questions to ponder:
When is your work a higher expression of yourself? How do you operate in a team? What might you do now to take your work to the next level? What needs to happen for you to elevate your skills?
Blessings,
Theresa
Explore the whole series here: https://www.thetarotlady.com/tarot-advice-guidance-every-card/