Tarot isn't just for divination – it can also be a wonderful tool for guidance.  In this series, we'll explore the advice options for every card.
With a Tarot deck by your side, you can make clear decisions, deal with challenges confidently, and find alternate routes when necessary.  The result? The best possible guidance for the future you want.
Join me every Friday for a new installment – and get ready to add some helpful advice + loving support to your Tarot readings.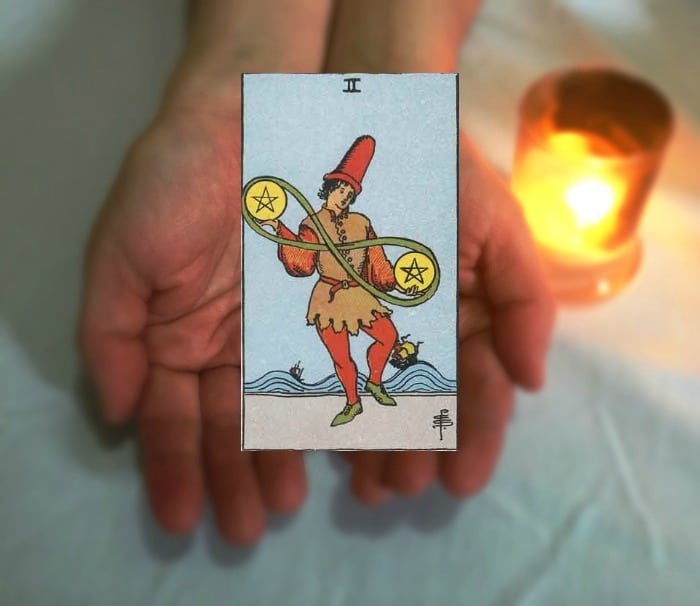 This week: Two of Pentacles
If you're thinking of making a purchase, this card says: weigh the options with care. Look for the best deal, the one that makes the  most sense for your budget.
In some cases, when weighing options, this card may advise: you're comparing apples to oranges.
The Two of Pentacles also refers to juggling. In that vein, it may be advising you to juggle duties or your finances. Multitask. Balance the budget.
If you're asking about travel, this card favors taking a trip. Get your passport and go!
This card may advise you to get a handle on things. Organize your situation. Don't drop the ball.
The situation may require you to remain flexible at this time.
Two of Pentacles Reversed:
Things have spun out of control. Seek balance.
The situation may call for you to tighten up the budget tighter. This is not the time to go on a spending spree.
Have you lost your sense of balance? Trying to do too much? The reversed Two of Pentacles may advise to seek help. Don't try to do it all alone.
Questions to ponder:
When do you feel the most balanced and in control? How do you deal when life throws you a curveball? Are you a good multitasker…or not?
Blessings,
Theresa
Explore the whole series here: https://www.thetarotlady.com/tarot-advice-guidance-every-card/