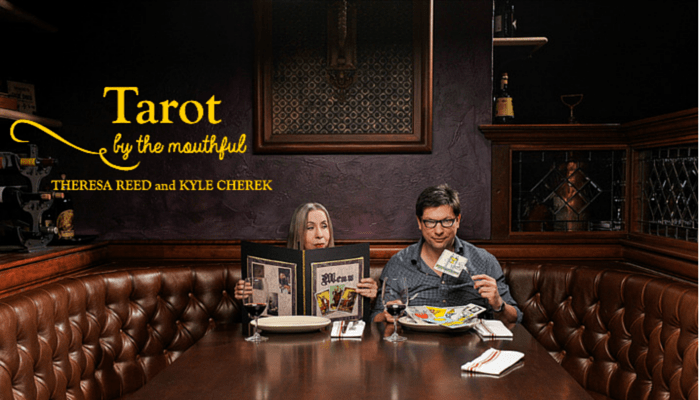 Kyle is a foodie who loves Tarot. Theresa is a Tarot reader who loves food. 
Together, we host Tarot by the Mouthful: a mouthwatering, multi-media culinary tour through the world of Tarot. 
Sublime recipes. Soulful stories. Essays, videos, interviews and delicious surprises. 
Join us every Sunday for a new installment — and get ready to sip, slurp, crunch and savor your way through the entire Tarot deck! 
This week: Eight of Cups
Eight of Cups: Sometimes we need to know when to move on, even if things seem perfectly fine. That's the essence of the Eight of Cups.  A situation, although perhaps a good one, may no longer resonate.  It's time to move on.  Seek new horizons. Soul searching. Find yourself by walking away. Travel or a physical move.
Kyle – Going out gently
The preeminent  violinist Itzhak Perlman, when speaking about the evidence of musical talent in young students, said something that struck me as deeply profound. "When you hear someone who is 12 and amazing," he posited, "you say to yourself, I hope they can survive their gift, and still be amazing at 18 or 19."  We don't think much in our culture about the idea of the burden of a gift,  and when we do, it is always in a tragic light. Whether it is John Keats or Amy Winehouse, our culture seems to need a dramatic arc that ends on a note that is dour or worse, or the story doesn't  seem to hold.
Conversely, we talk little as a culture  about our ability to, as the poet Dylan Thomas inveighed about his father, "do not go gentle into that good night."  Superstars, CEOs and the highly accomplished can all struggle with how to recede with grace, into the next phase of their lives.  Too much purpose and not enough present tense, over the years of accomplishment can make for a bitter pill when the stage one is staring on changes.
I recently screened an exquisite film about just this transitory stage in life and career, called King Georges, as part of this year's Milwaukee Film Festival.  Chefs, especially great ones, face this same dilemma of transition as tastes, dining trends and culinary relevance lists and sways over time. Great cooking may always be self evident, but certain styles and techniques will not always be in vogue. In the case of acclaimed chef Georges Perrier, and his restaurant Le Bec Fin in Philadelphia, he does not wish "to go gently into that good night."
Owned and helmed by Perrier, Le Bec Fin was simply one of the finest, most appreciated and exceptional restaurants in America. Perrier, a chef still within the depth of his powers, finds himself at historical cross-roads. The grand French Le and La restaurants of America, are blinking out like stars whose source of light had faded long ago, and now have numbered days still left to shine.  The film chronicles Perrier arguing back the fading of the light, then deciding to close and go out with a bang, then deciding to keep the Le Bec Fin open in honor of the institution it  was and is, through re-invigorating it  with young blood (Nicholas Elmi of Top Chef fame).  In the end, the grand old place closes, and America loses another living evidence in the story of what eventually made our cuisine so great.
Perrier and Erika Frankel, the King Georges film maker, where in Milwaukee for one of the films' three screenings.  We all went to dinner after the showing, and in between plates of chicken liver mousse, pates, and escargot, I asked George how retirement was for him. "It sucks" he near snorted in his deep French accent, then slid his glass of wine close to him and stared at it for a moment in resignation.  My heart went out to him, and I thought of the Eight of Cups.  For me it has always been a card of disillusion.  What you have done and lived through has come out differently than you had thought.  Your greatness is there. Look at all you have accomplished, but the bounty of the cups is mocked by the echo inside all of those empty chalices.
Theresa – The homecoming meal
The figure in the Eight of Cups seems be walking away from a perfectly stacked group of Cups into unknown territory. This card symbolizes "the quest", a need to explore or seek, which often means walking away from everything we've built thus far.
So we leave the known and the comfort zone, and head in new directions. Sometimes this might be to far-flung places or trails beaten to death by the ancients.  We clock miles on the speedometer or stamps on a passport in order to get as far away from whatever we feel we need to abandon.  Whether we're trying to find ourselves, indulge our wanderlust, or leave something behind that is too painful to face day in and day out, when the quest calls, we answer it.  We hit the road, jack, because we are born to run.
But a funny thing happens when we are far away from home base for an extended period: we  begin to crave the familiar.  We want the very thing we left behind.
We miss it, even if we've put oceans between it and us.
This reminds me of a piece I read recently in the November 2015 issue of Food and Wine magazine, A Refugee Cooks His Way Home, where Chef James Syhabout of Commis, returns to his homeland of Thailand to reconnect with the food of his childhood such as padeak (fermented fish paste) and as author John Birdsall writes: "shudderingly" bitter beef bile.
The article states that these were recipes that "embarrassed" Syhabout as he was training to become a great chef.  In that training, he went as far away as he could from the foods of his Laotian heritage. But those old tastes haunted his memory and he knew he needed to go back in order to find himself.
Going back inspired his newer restaurant Hawker Fare, a Thai joint that has a strong Laotian flair.
This is Eight of Cups energy, full on: going as far away as possible and then returning to our roots with a new perspective.  Quest indeed.
My daughter spent a year on a culinary adventure throughout Europe and returned home this week.  She ate many interesting things on the road (escargot, trdlo, etc.) but now it's homecoming and time for her mother's food.
What to make?  Although we have sophisticated palates in our household, sometimes only chocolate chip cookies will do.
So I made a comforting no-stir seafood risotto and a humble batch of cookies.  The perfect homecoming meal for a homesick bon vivant.  She breezed into the household, a world traveler and grown woman with worldly tastes and a Parisian scarf twisted around her neck, kisses and hugs all around (European style, of course).
But all that cosmopolitan business dissolved in an instant and soon she was back to just being Beak (her childhood nickname), and sitting on the floor with the cats, nibbling on freshly baked cookies.
Proof that you can travel the world over but there is no place like home.
Welcome home, Beak.
Bon Appetit!
Theresa and Kyle
© Theresa Reed | The Tarot Lady 2015
photos from personal collection and Jessica Kaminski
Hungry for more? Click here to explore the entire Tarot by the Mouthful series, from the very first card… right up to our latest installment. Bon appetit!