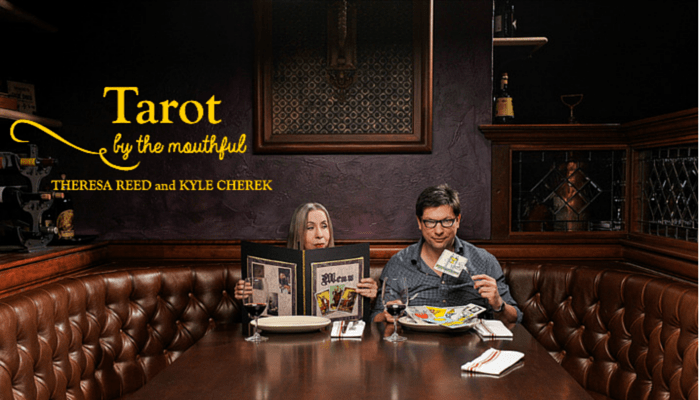 Kyle is a foodie who loves Tarot. Theresa is a Tarot reader who loves food. 
Together, we host Tarot by the Mouthful: a mouthwatering, multi-media culinary tour through the world of Tarot. 
Sublime recipes. Soulful stories. Essays, videos, interviews and delicious surprises. 
Join us every Sunday for a new installment — and get ready to sip, slurp, crunch and savor your way through the entire Tarot deck! 
This week: The World
The World: The grand finale.  The World represents the successful completion + end of a cycle.  Something comes to a conclusion and a new beginning is on the horizon.  A change.  A goal coming to fruition.  Spiritual graduation.  The World can also indicate being part of the world, at-one-ment, connected with all that is.  It can also symbolize boundaries or our own limitations (or need for them).  Coming out to the world, debut, you've arrived. Also: the bigger picture.
Kyle: It's a woman's world
At this point in Tarot by the Mouthful, save for the Empress and scant few others, the iconography of each card has pictured a man.  In considering what thoughts to add to this series for The World card it seemed obvious, that the Major Arcana, the trump cards if you will, would end with a card called The World, and feature a woman. Young and light, she has the energy of the Fool, and in a way, appears to be dancing.  Just as The Fool begins the deck, this card completes that cycle.
The illusions to The World card in cooking are vast and varied. The mastery of a recipe, technique, genre or style. The exiting of culinary school, the ascendance to executive chef, the surpassing in talent and accomplishments of the mentors whose restaurants a chef trained in.  I know of a chef who was fired 3 times from the same restaurant group, "for burning salad and sucking" are his own words. He now runs the kitchens, menus, and staff for one of the city's most beloved cultural institutions, and should he peer out the windows from where he is charge, he can look clearly at one of the restaurants where he had worked, and been asked to leave.  The World card is his.
The appropriateness of a woman on the card for me is an echo of the feminine power I have written about before in this series. Creation comes from her.  But more than creation, the strength to stem all the that potential, and have it flow forth and manifest in it's highest order. That requires a profound wisdom, power, discipline and focus.  Put simply, it is no-thing brought to some-thing.  The new physics points to the cosmic dancing of atoms, blinking off in one place and on another.  Naturally the World card would picture a woman dancing.  She has metaphysically trod the globe and come full circle, to a place that is all at once known, but also unknown.
Theresa: It's a small (but delicious) world
I grew up in a rural area. We never travelled because we didn't have the money.  So my world view as a child was limited to books or what I saw on television.
This also meant that our food was typical German-American fare.  Mashed potatoes. Roast beef or chicken.  Sauerkraut.  Bread. The most exotic thing we ever ate was Chop Suey out of a can.  (Hey, mom tried.)
Once I left home, I was finally able to indulge my desire for the glam, the different, the strange and unfamiliar.  I wanted the way outside.
I found my way to some colorful cuisines through boyfriends. Indian food with a psychedelic musician.  Chinese with a heavy metal musician.  There was a theme here: foreign food, romance, and musicians. Because food, music and love connect us all, even if we speak different tongues.
This opened the door to cooking curiosity.
Cuban ropa vieja…Moroccan couscous…Spanish paella…Vietnamese bahn xeo.  I've made them all.  I've even made sushi and katsu don.
I've brought the world into my home through my plate.
Travel also expanded my palate.  Bubble tea in San Francisco.  Korean with friends in New York. Eating the most amazing macaroons, florentines and croissants in Montreal with my baby sis and daughter was my idea of sugar heaven.
Although my wanderings have led me all over the States and Canada, I have not ventured outside of North America.  One bad experience trying to get to England has made me shy of going overseas.  I need my feet closer to the ground as much as possible.
So now I'm watching my daughter travel all over the world, eating local treats.  I am living vicariously through her.  (And sometimes ordering her to try different things on my behalf.)  Her world is opening up and mine is too, even though I'm not there physically. We are connecting, miles apart, through food.
And that is the gentle reminder in the World card.  We are part of everything and everything is part of us.  We can expand greatly if we open our minds and our hearts (and in some cases, our stomachs).  The World is smaller than we think and we are all connected.  Even if we cannot touch, our lives are touched through shared experiences…food being one of them.
It's easy to get stuck in our own little worlds and to feel smug about that but food offers us an opportunity to know the whole world.  It gives us a way out. We can serve up something  far away right in our very own kitchens.
Expand your palate.
Try new foods.
See the world through your plate.
Pictures from my daughter's latest jaunts:
Cookbooks that have opened me up to some amazing food:
A Taste of Cuba: Recipes From the Cuban-American Community
by Linette Creen.
The Best of Vietnamese & Thai Cooking: Favorite Recipes from Lemon Grass Restaurant and Cafes
by Mai Pham.
Momofuku
by David Chang and Peter Meehan.
French Food at Home
by Laura Calder.
Tangy Tart Hot and Sweet: A World of Recipes for Every Day
by Padma Lakshmi.
Daisy Cooks: Latin Flavors That Will Rock Your World
by Daisy Martinez.
Bon appetit!
Theresa and Kyle
© Theresa Reed | The Tarot Lady 2015
photos from personal collection, my daughter, and Jessica Kaminski
Hungry for more? Click here to explore the entire Tarot by the Mouthful series, from the very first card… right up to our latest installment. Bon appetit!