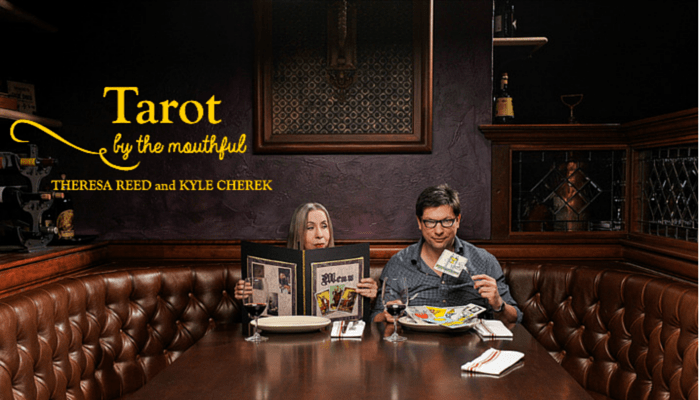 Kyle is a foodie who loves Tarot. Theresa is a Tarot reader who loves food. 
Together, we host Tarot by the Mouthful: a mouthwatering, multi-media culinary tour through the world of Tarot. 
Sublime recipes. Soulful stories. Essays, videos, interviews and delicious surprises. 
Join us every Sunday for a new installment — and get ready to sip, slurp, crunch and savor your way through the entire Tarot deck! 
This week: Eight of Wands
Eight of Wands: The wands fly through the air, symbolizing movement and progress. Things are clipping along at a quick speed.  Obstacles are out of the way and now we see some real growth beginning to take place.  This is a sign that momentum is gathering and great progress is ahead.  New comes in.  Travel.  All systems go, full speed ahead!
Kyle is knee deep in Wisconsin Foodie and Chef Talk – so it's just me!
Theresa – Food Trends: Progress or Just Fads?
The Eight of Wands symbolizes fast progress. I could write about how cooking has progressed over the years or products that speed up meal time.  Or I could write about fast food.  Nah.
As I tried to wrangle my head around  how the Eight of Wands might relate to cooking, I began thinking about food trends.  Yes, there are food trends.
Think about it for a moment. When I was a kid, Tang was in.  Tang – that nasty orange flavored powder you put in water for fake orange juice.  I bugged my mom to get some because other kids were drinking it.  I got my wish and gagged on the chemical concoction.  And never asked for it again.  (Does anyone still drink that swill?) Ah yes….the 60's and 70's were a grim time in food stuff.  At least in my opinion.  (Here's a neat post on the weirdest food trends by decade.)
Trends come and go and what's new today is out of fashion tomorrow.  Food culture is always evolving because tastes change.  The classics (ex: coq au vin, comfort food, etc) will always be in but you can expect that every year, some fad is going to get people jazzed and traveling (and cooking) in new directions.
So what are the foodies predicting might be the new trends for 2016?
Here's what my research has found:
Bon Appetit says that oatmeal, chorophyll and "fad waters" will be all the rage.
Some chefs are predicting African and Middle Eastern flavors.
Got stuck in a blizzard? Good news: food and grocery delivery might be a thang.
Bone broth is hip.  (Get it – hip? A little food humor for ya.)
Ube is coming from the Philippines and showing up in donuts. What's Ube? Scroll down this post to learn about it.
Healthier comfort food + brussels sprouts will take out the guilt while still making us feel homey.
Less fancy, more casual restaurants.  Guess I can keep my yoga pants on!
The UK is predicting bacon donuts. YES, please.
So what do you think?  Is this progress to you?  Are these new directions something you think might be good, here to stay – or gone faster than you can say cronut?
Bon Appetit!
Theresa and Kyle
© Theresa Reed | The Tarot Lady 2016
photos from personal collection and Jessica Kaminski
Hungry for more? Click here to explore the entire Tarot by the Mouthful series, from the very first card… right up to our latest installment. Bon appetit!