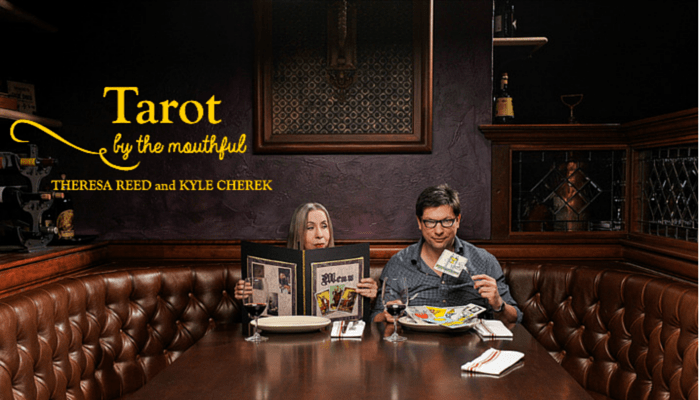 Kyle is a foodie who loves Tarot. Theresa is a Tarot reader who loves food. 
Together, we host Tarot by the Mouthful: a mouthwatering, multi-media culinary tour through the world of Tarot. 
Sublime recipes. Soulful stories. Essays, videos, interviews and delicious surprises. 
Join us every Sunday for a new installment — and get ready to sip, slurp, crunch and savor your way through the entire Tarot deck! 
This week: Five of Pentacles
Five of Pentacles – Poverty; financial setback. Hard times. This card can symbolize a loss of income or lack of resources. It can also represent illness, injury or misfortune. It's also the card of the "outsider".  If you've ever felt like you've been out in the cold and unwelcome, you know the energy of the Five of Pentacles.
Theresa – The quest to eat well when you're broke AF 
I didn't become the budgeting queen around here by accident.  For me, these frugal ways are borne out of necessity.  You see, we didn't have a lot of money growing up. Mom had to make every dollar count.
I've had some mighty lean years in my adult life too. If you've ever had times where you're down to nothing, you know that food becomes your primary concern. Staying fed – and healthy ain't easy when you're looking at your last dollar. I know what it's like to go without a meal but I also know what it's like to make something out of nothing. (I also give deep appreciation for the good food I am able to eat every day – when you've been broke AF, you are always grateful because no matter how well you do, you remember what it's like to have a growling stomach.)
How do you eat well (healthy) when your budget doesn't allow much money for extra-fancy stuff (especially when you are a foodie)?
Here's what I learned during my leaner, meaner years:
Eating out?  Not an option.  When my money is tighter than a corset, I cook from scratch.  Restaurants are a luxury when extra cash to splurge isn't your reality. But guess what? Having to cook at home made me an excellent cook.  My husband prefers our home cooked meals over restaurants every time (proof about that old saying that the way to a man's heart…).
Buy in bulk.  Oatmeal, rice, flour, and other staples are much cheaper when you buy them in bulk.  Your local co-op or health food store may offer significant discounts.
Have staples on hand: pasta, butter, garlic, peanut butter, oatmeal, tuna, canned or frozen vegetables. I can make a mean meal from pantry staples.
Avoid prepackaged and convenience meals – including fast food. This stuff may seem inexpensive + easy but it's not. It's also usually loaded with sugar, sodium and tons of nasty chemicals. You're not just saving money when you avoid this garbage – you may be saving visits to the doctor!
Look for seasonal vegetables at the store. They are often on sale.  Asparagus in spring, corn in August, squashes in winter –  you can get great deals if you stick to what's blooming. If you are into preserving and pickling, be sure to stock up during season and then can away!  You'll be saving big bucks!
If you have the space, make a garden. We're in the city so we don't have a lot of room for one but we do have a tiny space devoted to growing things – mostly tomatoes, peppers, chives, and squash.  If you're out in the country, you're in luck but if you're like us, a small victory garden can still feed you well for pennies on the dollar.
Eat your leftovers.  We don't waste around here.  Bits of tomatoes show up in omelets or salads, chicken carcasses become soup, ham is transformed into pink beans, ham and rice.  Everything gets used around here!
Choose cheap sources of protein.  My go-to foods when money is tighter: eggs, tuna, peanut butter, beans and rice. (Psst our local grocery offers generic organic canned beans – and they are always on sale.  Score!)
Focus more on nutrition, less on excess.  For breakfast, oatmeal and eggs with a mug of tea. Add a piece of fruit if you can. For lunch and dinner, try to get as much color on your plate as possible: a big salad or beans and rice with a side of carrots or other veg is nutritious as all get out.
If you are dead broke and don't have a dime to spare, seek out your local food pantry.  I've never had to do this but I know many who have.  Every city usually has one or, in the cases of smaller communities, you may want to check in with your local parish. Ask for help. There is NO shame in that.
Because we all deserve to eat – and eat well.
Books to cook well on a budget:
Good and Cheap – Eat Well on $4/Day by Leanne Brown
Waste-Free Kitchen Handbook by Dana Gunders
A Girl Called Jack – 100 Delicious Budget Recipes 
The Hard Times Kitchen – Homestyle Recipes for a Small Budget by Hannah Lynn Miller   http://amzn.to/29zaS0F
Resources:
What it's really like to cook on a food stamp budget.
I tried to eat well on $4 a day –  here's what happened.
7 good food blogs for eating on a budget.
Bon Appetit!
Theresa and Kyle
© Theresa Reed | The Tarot Lady 2016
photos from personal collection and Jessica Kaminski
Hungry for more? Click here to explore the entire Tarot by the Mouthful series, from the very first card… right up to our latest installment. Bon appetit!