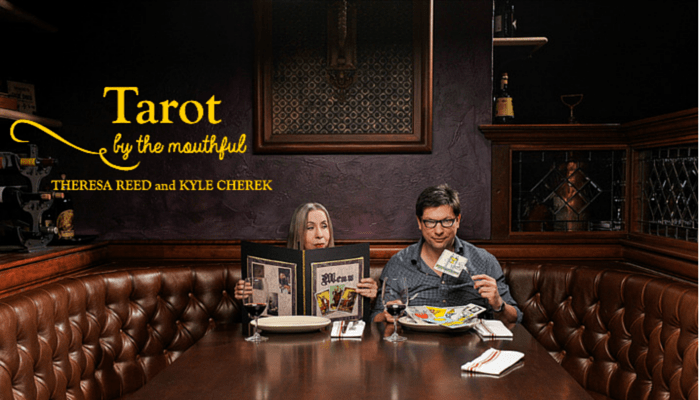 Kyle is a foodie who loves Tarot. Theresa is a Tarot reader who loves food. 
Together, we host Tarot by the Mouthful: a mouthwatering, multi-media culinary tour through the world of Tarot. 
Sublime recipes. Soulful stories. Essays, videos, interviews and delicious surprises. 
Join us every Sunday for a new installment — and get ready to sip, slurp, crunch and savor your way through the entire Tarot deck! 
This week: King of Cups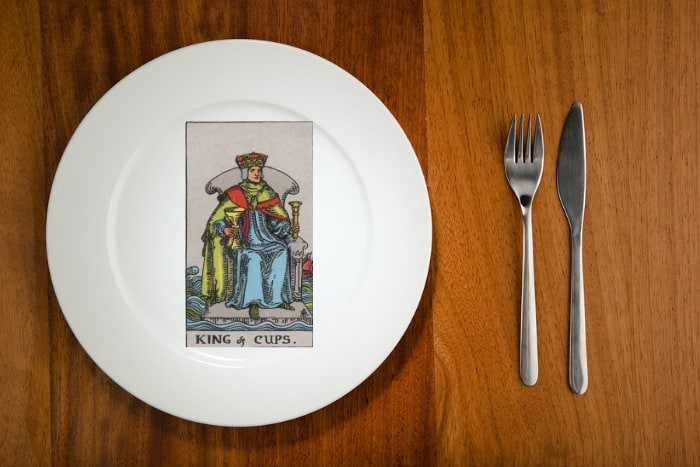 King of Cups: the King of Cups is the mature expression of love and mastery of the feelings.  The emotions are strong but there is restraint.  As a person, the King of Cups is kindly, paternal, and sensitive.  This is the King of Love or  "father knows best" type who dispenses wisdom with love.  He takes care of others and can navigate through difficulties with calm.  This card can symbolize an ability to love…or to lead with the heart.
Theresa: no one knows chefs better than Kyle so it was only natural that Kyle pick the right one for the loving King of Cups.
Kyle: The chef is Andy Schneider of Le Rêve.
Authentic and self-effacing, Chef Schneider embodies the energy of the King of Cups in his directness toward his craft and the follow-through in each aspect of it.  (You can hear this when he says "one of the things I learned from Payard" at the beginning the the Chef Talk episode. Payard is the Francois Payard, one of the most accomplished, well known and successful pastry chefs in America.)  Chef Schneider can now call him a mentor and friend after several stages at Payard's various patisseries around Manhattan.  Though Schneider was a culinary instructor, seasoned chef, and successful restaurateur himself, he slept on the floor at the back of Payard's bakery and devoted every one of his moments there to absorbing what would make him a better chef and leader.
The King of Cups represents a type of love that is mature, paternal, wise, and circumspect.  It sees the long game.  We all channel this energy when we lead or parent effectively. Guiding, acknowledging, and–when needed–being firm. This is done always to impart true and lasting character, not just for immediate sense of relief or passing adulation. I have witnessed Chef Schneider use the energy of the King of Cups many times.  It is evident through out his answers to my questions in the Chef Talk interview (see below).  "It's not all luster dust being thrown in the air like you see on the Food Network," he said, "This is a business."
Check out the restaurant: Le Reve
7610 Harwood Ave.
Wauwatosa, WI 53213
414-778-3333
Bon Appetit!
Theresa and Kyle
© Theresa Reed | The Tarot Lady 2015
Be sure to check out Kyle's entire Chef Talk series.
photos from personal collection and Jessica Kaminski
Hungry for more? Click here to explore the entire Tarot by the Mouthful series, from the very first card… right up to our latest installment. Bon appetit!