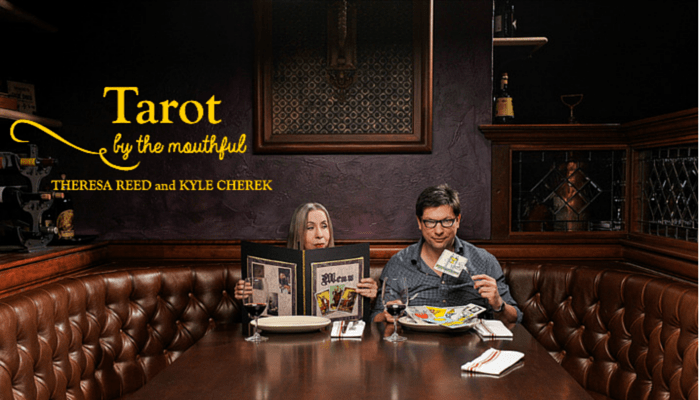 Kyle is a foodie who loves Tarot. Theresa is a Tarot reader who loves food. 
Together, we host Tarot by the Mouthful: a mouthwatering, multi-media culinary tour through the world of Tarot. 
Sublime recipes. Soulful stories. Essays, videos, interviews and delicious surprises. 
Join us every Sunday for a new installment — and get ready to sip, slurp, crunch and savor your way through the entire Tarot deck! 
This week: Knight of Wands
Knight of Wands: This fiery Knight is full of passion and enthusiasm. He lives for adventure!  His energy is original, rebellious, bold, and feisty.  The Knight of Wands loves action.  This card can symbolize a person in your life or the energy that you are manifesting at this time.  When he shows up in the reading, action is needed.  Take courageous action towards your goals and watch the magic unfold. Move with quickness and passion.
Kyle: Local passion, global passion
I cannot think a better chef I know that exemplifies the Knight of Wands card than Stefano Viglietti of Trattoria Stefano.
Adventurous, unpredictable, passionate, thinking out of the box, yet so sure of what he is doing, that is it steeped  in tradition,I have said for years, he is one of three best chefs cooking in the Italian style in state, maybe the best of the three. That number only expands to four when Paul Bartolotta flies back to Milwaukee.  Steph's contributions are incredible, innumerable, and that he has done it in Sheboygan WI, speaks directly to the spirit of the Knight of Wands card.
Check out my interview with Stefano on Chef Talk:
Theresa: You cannot sell heart
Oh, the Knight of Wands – so brash, bold, and rebellious! You're so cocksure and feisty. Wild thing…I think I love you!  Swoon.
I do admit that I have a predilection for hot, arrogant men.  Fire signs are my favorite.  Aries, Leo, Sagittarius – I love 'em all. They bring heat to everything they do.  It's because they are ruled by their passions.
In my opinion, no knight is hotter than the Knight of Wands (fire element…duh). There is one chef that I feel totally embodies the raw appeal and intense fire power of this knight: classically trained but totally cool chef Marco Pierre White. Hot damn!
Of course, he's a fire sign: December 11th – Sagittarius. He's also candid, brash, temperamental, and, in certain circles, known as an enfant terrible: a genius who does shocking things (kinda like a rebellious teenager). What's not to like?  Bad boys are always more appealing than the safe Casper Milquetoasts of the world.  They may make us uncomfortable with their antics but they are never boring, ever.
Check out the interview below of a young White at around the one minute mark: after monosyllabic answers while concentrating on chopping vegetables, the interviewer gets agitated with his lack of participation:
He stops his chopping and tells her she can leave.  She protests and persists, which leads him to say:
"All I've got to do is make the sauce.  That is what I am being paid for. I'm not being paid for anything else…just to make the fucking sauce."
The interviewer presses and he tells her that he can't cooperate.  Then he says this:  "If you wish me to cut myself on screen, then I don't mind –  I'll do it for you.  I'll do whatever is expected of me to do.  You want me to chop the chicken, I'll chop the chicken. You want me to chop the mushrooms I'll chop the mushrooms. If you want me to make the sauce, I'll make the sauce. But don't expect me to sell my heart.  Never expect that."
That.
THAT is some ballsy Knight of Wands action right there.
White may have retired from cooking but he's still bringing the heat (and occasional controversy) as a restauranteur, celebrity, and author.
"Cooking should be a way of life – an extension of oneself – never a job." ~ Marco Pierre White.  Well said, Mr. White.
Learn more about Marco Pierre White at his site.
Check out his books:
The Devil in the Kitchen: Sex, Pain, Madness, and the Making of a Great Chef
White Heat 25
Marco Pierre White in Hell's Kitchen: Over 100 Wickedly Tempting Recipes
Bon Appetit!
Theresa and Kyle
© Theresa Reed | The Tarot Lady 2016
photos from personal collection, stock photography and Jessica Kaminski
Hungry for more? Click here to explore the entire Tarot by the Mouthful series, from the very first card… right up to our latest installment. Bon appetit!