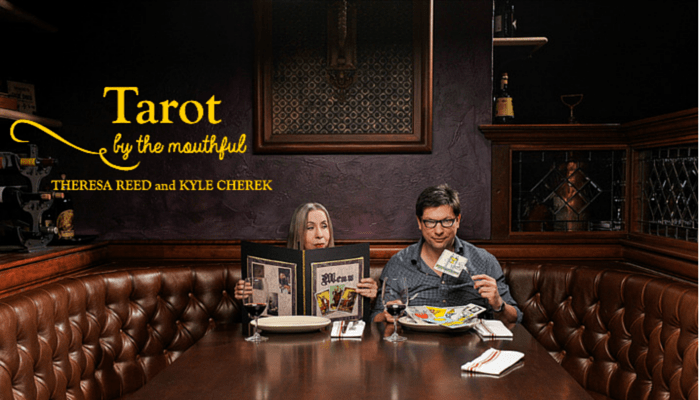 Kyle is a foodie who loves Tarot. Theresa is a Tarot reader who loves food. 
Together, we host Tarot by the Mouthful: a mouthwatering, multi-media culinary tour through the world of Tarot. 
Sublime recipes. Soulful stories. Essays, videos, interviews and delicious surprises. 
Join us every Sunday for a new installment — and get ready to sip, slurp, crunch and savor your way through the entire Tarot deck! 
This week: Queen of Cups
Queen of Cups: the sensitive Queen of Cups is deeply tuned in to her feelings.  She's intuitive, emotional, and highly creative.  She lets her emotions determine her decisions and can be a bit moody at times.  This loving woman is a nurturer – the perfect wife or mother.  This card can also be an indicator that you need to trust your feelings on matters.  Nurture your creative projects or the people who depend on you.
The lovely Queen of Cups…the first person that comes to mind is always chef Maria Miller, the brains behind Ball 'n Biscuit Catering. I've know Maria for about 25 years and no one personifies the loving, sensitive characteristics of the Queen of Cups like her.   She is Yemaya in the flesh. An animal lover and rescuer of critters (and humans). A gentle, romantic musician.  And her food! Yes…that. Her food is the stuff of swoon-worthy decadent legends!
I've been lucky enough to attend weddings and pop-up restaurant events where her food was center stage. There is nothing like an event catered by her and her fabulous staff.  Great care is put into every single dish.  In fact, Maria's crew will cook whatever your event wants or needs – whether that be a strict vegan affair, a lavish cocktail party, or even your grandmother's best dish – everything is catered to YOU.  That nurturing and creativity is total Queen of Cups.
Maria and I sat down for a short interview about food, love, and tarot!  Listen in:
Learn more about Ball and Biscuit Catering by visiting their website.
Bon Appetit!
Theresa and Kyle
© Theresa Reed | The Tarot Lady 2015
photos from personal collection and Jessica Kaminski
Hungry for more? Click here to explore the entire Tarot by the Mouthful series, from the very first card… right up to our latest installment. Bon appetit!