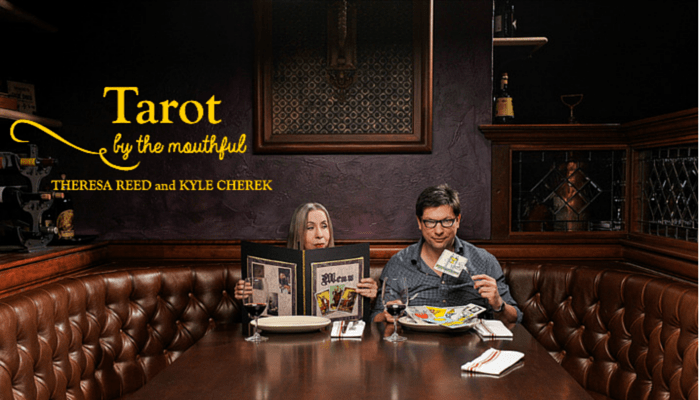 Kyle is a foodie who loves Tarot. Theresa is a Tarot reader who loves food. 
Together, we host Tarot by the Mouthful: a mouthwatering, multi-media culinary tour through the world of Tarot. 
Sublime recipes. Soulful stories. Essays, videos, interviews and delicious surprises. 
Join us every Sunday for a new installment — and get ready to sip, slurp, crunch and savor your way through the entire Tarot deck! 
This week: Ten of Wands
Ten of Wands: The figure is bent over with a heavy load of sticks as he moves towards his home – a sign of hard work before the goal is completed. You're almost done.  Continue on, even though it may feel as if the work is never completed.  Heavy labor.  Major burdens and responsibilities.  Taking the long, hard road until the work is done.  How much are you taking on?  Are you still able to see your goal ahead or are you lost in the drudgery?
Kyle – No heroes
"No heroes." I have a chef buddy who owns a slew of restaurants, one of which is a legacy establishment and considered by some to be the best restaurant in the state. That is the aspiration that everybody on his team operates under, no matter what they do in the organization. All for one and one for all. It's a nice sentiment, but in truth, kitchens can be dangerous places. Knives, flames, hot liquids, tight quarters….you get the idea. In the heat of service, with the crush of timing and expectations and the wish to distinguish oneself, chefs and cooks can make less than practical decisions to get things done.
"No heroes." It's a nice sentiment in a couple of ways. The craft of professional cooking affords for these things. The training is, in the early days at least, a good bit about efficiency, accountability and control. It's assumed, though not always true, that a would-be chef knows a bit about flavors. How to work around other people and not step on, clobber or stab them are a good acumens to have too. Better than that, my chef buddy unburdens his staff from having to do something dumb to stand out or make a call they might not be prepared to make.
We all know the people who often take on more than they should but do it anyway. They are often victims in their own minds. We all know those who have struggled for an interminable amount time on something, tried to do too much, assumed other people's troubles, etc. Sometimes it is justified, sometimes not. That they choose to carry the weight is their own call. The Ten of Wands indicates that there will be moments of struggle ahead; how one takes up the struggle, is what light or darkness, is theirs to chose. This is all heavy stuff, and when the Ten of Wands comes up in readings, most people tighten up.
As I read up on the Ten of Wands and all the heaviness the card signifies, I thought of whom I knew who represent the opposite of the foreboding aspects of the card. My chef buddy takes a different tack to what could be Ten of Wands situations, and frees up this staff from this option when he says "No heroes." The few times I have gotten the Ten of Wands in readings I took the card as fair warning. "At least I know what's coming" is my take. The task is mine all the same.
The chef buddy and I were together in New York a few years back. He won that year's Best Chef Midwest James Beard Award. It was terrific! We partied until 4:00 maybe 5:00 am. The next day we met for burgers at The Burger Joint at Le Parker Meridien, which fans of Bourdain's might know from his New York episode of The Layover.
We did what any reasonable people do when detoxing from a previous epic night by way of greasy ground beef, melted cheese and the various other customizations that make the American burger such an apt culinary hangover salve. We recapped the prior evening and then turned to talk about heading back the the Midwest. "I've got a flight in a couple of hours," he said, "I open the restaurant tomorrow at eight". "Jesus," I thought, "You just won the fucking James Beard Award and the day after you're flying home because you are on the schedule to open." No heroes.
That's the genius of it, and the silver lining to a card like the Ten of Wands. If you don't want the mantle of burden, suffering, put it down. If the work has to be done, commit to it quietly and with self possession. If you resign yourself to the possibility of the glory, the joy, you resign yourself from the possibility of the pain, the burden, the struggle.
You can learn more about my chef buddy through two episodes of my series Chef Talk with Kyle Cherek here:
Theresa – At the end of the day
Whenever I look at the Ten of Wands, I think of my dad, who used to work long hours (sometimes three jobs!) in order to support his family.  Dad was a grinder.  Although he was an admitted workaholic who enjoyed going to work, e didn't have much choice in the matter.  With a rowdy brood of four kids and a sick wife, he needed to bust his hump.
Like the figure in the Ten of Wands, coming home after a hard day's work meant only one thing: time for a beer and a good meal.
Every night, my mother put a fresh dinner on the table, no matter how sick she was.  She was also a Ten of Wands type: loaded down with health burdens but still taking care of her responsibilities.
I wish she was still around to tell me how she managed it all.  Honestly, I don't know how she did it.
I know it wasn't easy for her.  Heck, at times, getting a fresh meal on the table after a long day's work isn't easy for me – and I don't have health problems.  But I do often work ten hour days (yes, that is the truth – there are no "four hour work weeks" at The Tarot Lady hub), which means I have to be strategic in order to make dinner happen.
Most busy entrepreneurs might rely on takeout or pre-packaged meals.  But I'm my mom's girl at heart. I cook from scratch.
This allows me to control what goes in my food but there is another reason behind this: cooking is my way to unwind after a long, hard slog in my office.
How do I get fresh stuff happening here?
I've shared some of those strategies in the Seven of Cups post.
I plan my meals meticulously.
My pantry is well-stocked, which makes it easy to whip stuff up in a flash.
I use a slow cooker on a regular basis (food waiting for me at the end of the day and a hearty scent wafting into my office while I work – heaven!).
I have a few staple dinners that I can throw together without even thinking (and yes, pantry ingredients are involved).
Meals such as my linguine with bacon, egg, parmesan, butter, and parsley.  Here's what I do: start a pot of salted water boiling.  Throw in the pasta and set your timer. Fry up some diced bacon while the pasta cooks. Chop some parsley.  Save some of the pasta cooking water.  Drain the pasta.  Throw it back in the pot and add some butter and parmesan cheese. Thin it out a bit with pasta water if needed – you want a nice, thin sauce.  Add salt 'n pepper.  Quickly fry an egg but make sure it's still runny.  Put the pasta in a bowl, top with bacon, egg, and parsley.  Add more salt 'n pepper to taste.  If you're a cheese fanatic, add a bit more parm.  BAM!  Dinner is served!
Want something lighter?  Turn that jazz into a salad.  Fry up your bacon until it's crisp.  Drain on paper towels.  Whip up a simple vinaigrette: a bit of red wine vinegar, garlic, mustard, salt, pepper, olive oil.  Poach an egg.  Throw some salad greens in a bowl.  Toss the bacon on top.  Gently slide the poached egg onto the salad. Drizzle with the dressing.  If you have some blue cheese on hand, add a few crumbles.  DELISH.
Serve with a nice glass of wine (my favorite way to unwind after a long day of tarot).
Work hard if you must. Bust a move.  Kill it at the office.  Go all in.  You can do that and still have a good meal at the end of the day.  In fact, you deserve it.  Eat well, my friends.
Cookbooks with fast dinner plans:
Everyday Food: Great Food Fast (LOVED the magazine – the cookbooks are pretty darn good too).
Everyday Food: Fresh Flavor Fast: 250 Easy, Delicious Recipes for Any Time of Day (Everyday Food (Clarkson Potter))
How to Cook Everything Fast: A Better Way to Cook Great Food
by Mark Bittman
Fast Food My Way
by Jacques Pépin (this is a GREAT cookbook).
Jacques Pépin More Fast Food My Way
by Jacques Pépin
Jamie's Food Revolution: Rediscover How to Cook Simple, Delicious, Affordable Meals
by Jamie Oliver (I use this one a lot – Oliver's cookbooks are faves around here).
Bon Appetit!
Theresa and Kyle
© Theresa Reed | The Tarot Lady 2016
photos from personal collection and Jessica Kaminski
Hungry for more? Click here to explore the entire Tarot by the Mouthful series, from the very first card… right up to our latest installment. Bon appetit!