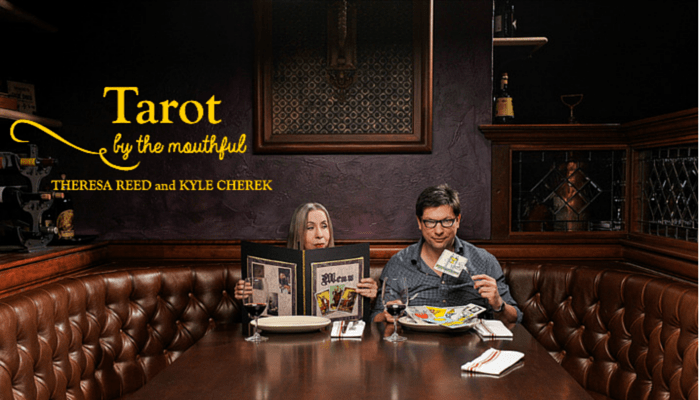 Kyle is a foodie who loves Tarot. Theresa is a Tarot reader who loves food. 
Together, we host Tarot by the Mouthful: a mouthwatering, multi-media culinary tour through the world of Tarot. 
Sublime recipes. Soulful stories. Essays, videos, interviews and delicious surprises. 
Join us every Sunday for a new installment — and get ready to sip, slurp, crunch and savor your way through the entire Tarot deck! 
This week: The Hermit
The Hermit – The Hermit represents inner wisdom.  In order for us to evolve, at some point we must forgo looking to others for guidance.  Instead, we must look for the answers within.  Trust your own inner intelligence to find the way forward.  Pull back and pull in.  The withdrawal from the noise.  The seeking. Do your research before making a move.
Kyle: It can only come from inside you
When Thomas Keller (the renowned chef/owner of The French Laundry, Bouchon and Per Se ) came through Milwaukee several years back on a book tour for his book Ad Hoc at Home
, he hosted a small talk just for chefs in the dining room overlooking Lake Michigan at Lake Park Bistro.  I remember it was cold that day, overcast and vacillating between crisp and damp, with a restless, churning lake as the backdrop behind Keller. In concert with the book tour and his visit, I was filming with him.
Consequently, the crew and myself where allowed into the chef talk as well, which was a real privilege.  I remember watching Keller prod the chefs assembled, most of them younger, with questions about what they could contribute to the craft of cooking.  "Who is the father or mother of molecular gastronomy? Who invented it?" he asked.  Hands went up. Elizabeth Cawdry Thomas? Hervé This? Harold McGee? Massimo Bottura? Ferran Andrià?  All of these where reasonable guesses from the chefs collected.
"What about the first man or woman who steamed milk for a cappuccino?" Keller posited.  He wasn't doing this to belittle the chefs, but to bring them into the right paradigm.
"You all have skill," he said, "or else you wouldn't be here and want to do something good, maybe even great, through your cooking.  At some point you may look at the fish, or a sauce, or the process in a completely new way, and then change the way everyone else thinks about it and cooks with it.  But.." he cautioned, "it can only come from inside you."
For Tarot by the Mouthful, I can't think of a better imparting of knowledge to speak to what The Hermit card symbolizes in the deck.  For most chefs, after culinary school there is decade or more of inward looking, honing their skills, working in kitchens, assimilating cooking styles and kitchen environments before a true chef would consider them an equal.  That process is the Hermit energy which must be applied to many crafts, but certainly to cooking professionally.  The Hermit energy, eschewing notoriety, celebrity, and renown, channels us to our wisest path, inward looking but fortified in its sincerity.  What comes forth is who we are when the artifice and society's influences are wiped away. Something original, hewn from the inside. Then you reach the top of the mountain as the card shows, with the Hermit's cloak as the grey, symbolic of invisibility, and the lantern lit by the light of wisdom.
Theresa: The seeking
I'm endlessly curious and always seeking knowledge. Cooking has always been one of my favorite ways to satisfy that quest to learn.
Whether I'm researching cookbooks, testing out fancy new cocktails, or deconstructing a recipe to suit my tastes, food offers an endless route for experimenting.  Even when I think I've found the "perfect recipe", I find yet another…and another.
I must try them all and maybe mix them up, fix them, or discard them.  It's the puzzle that gets solved, torn apart, put back together and then re-solved.  At times, I'll go off on a wild tangent, trying something that feels risky or that involves ingredients that makes my husband think I'm bullshitting (we went on a wild goose chase for harrissa before he believed me that such a thing existed).  This seeking is the joy, the part that makes cooking a fun adventure.
My best learning comes in solitude, when I have no critics or people with food issues (medical or preference) getting in my way.  Then I can let loose, make my mistakes, discover glorious new tastes and methods.
I come alive in that moment.
I take my findings and share them with my loved ones.
And that's what the Hermit is all about: finding your way and then excitedly lighting the way for others.  By testing and researching, you do the work so that you can be a wise elder that lights the way forward.  Whether you are a professional chef or a humble home cook like me, your kitchen is your sanctuary to learn, to seek, and most of all, to share what you discover.
Through my research, I have found that the best slow cooker pulled pork and coleslaw comes from The Comfort Table
 from Katie Lee.  That's what I'm having this weekend.
For cooks who like to test + improvise: The Improvisational Cook
 by Sally Schneider.
The best brownie recipe (and I've tried 'em all) is the saucepan brownies from Susan Spungen: Recipes: A Collection for the Modern Cook
.
I'm experimenting with this Coconut Ice Cream Float this weekend.  I'll let you know how it goes.
Bon appetit!
Theresa and Kyle
photos from personal collection and Jessica Kaminski
Hungry for more? Click here to explore the entire Tarot by the Mouthful series, from the very first card… right up to our latest installment. Bon appetit!