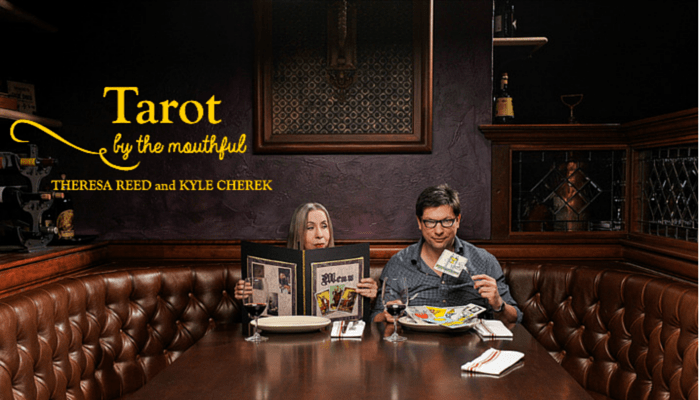 Kyle is a foodie who loves Tarot. Theresa is a Tarot reader who loves food. 
Together, we host Tarot by the Mouthful: a mouthwatering, multi-media culinary tour through the world of Tarot. 
Sublime recipes. Soulful stories. Essays, videos, interviews and delicious surprises. 
Join us every Sunday for a new installment — and get ready to sip, slurp, crunch and savor your way through the entire Tarot deck! 
This week: The Lovers
The Lovers – The Lovers symbolize the divine connection, the spark of mutual attraction that blossom into love.  This is the indicator of love manifest and romantic longings being fulfilled.  In order to merge completely, we must approach love with vulnerability. We must bare our souls and share our selves unconditionally.   How will you welcome love into your life?  Are you open and ready for the experience or does some part of you hold back?  Look closer and you also see that choices are available. There is temptation. The Lovers also represents choices – and those choices have consequences.  Tune into your divine guidance and make the choice from that place.  When you listen to the higher self, you'll make the right decision every time. Choose wisely and choose love.
Kyle – The Lover's Garden
"There are two types of chefs in the world, those that have cooked in New York, and those that haven't."  I have heard several chefs say as much. To be honest, one can substitute many of the world's great food cities, San Francisco, Chicago, Copenhagen Milan, Paris, and Tokyo.  Provided they are thick with populous, money, cooking talent and great restaurants. " A chef will come to you as say, you can have the next two years of my life" Gavin Kasysen, told me recently.  Kaysen, previously the  Chef de Cuisine at Cafe' Boulud, until opening his own restaurant Spoon and Stable in Minneapolis, certainly knows. To wit, the adage from the song about "making it there" in any of the cities afore mentioned, and few other apply.
This exodus from the garden, from the comfort of grandmothers, cooking, culinary school, the city/region whatever it is, is for many chef's path, crucial and at the heart of The Lover's card.  To this end, it is one of my favorites in the deck and perhaps the most misunderstood.
The imagery of love, clouds its real message. The real message of the card is that we all must leave the garden, in one form or another, if we are to test that what we cannot deny we desire, and may even love, may also bring the fruit of our downfall.  Once we do, our own self-determination is both our best ally and worst cohort of temptations to drag us down.  The history of the path of chefs is laden thick with stories of that crucial exodus. We celebrate the triumphs: Escoffier leaving Nice for Paris and beginning his trajectory that would rewrite 19th and 20th century Western cuisine, Julia Child insisting she would not be Cordon Blu trained in the housewife class, but as professional chef.  Rene Redzepi departing from the classic Michelin star European cuisine he had been cooking, and opening Noma to several years of early ridicule.  The flameouts, the addictions, the talent wasted are to rarely mentioned, in the thrush of food media.
The Lovers card represents our ego, our consciousness when it is not enslaved to our egos, and our super consciousness, through the card's characters as their gaze swings from the man to the woman and then upward to the Archangel Gabriel. Our self determination of our desires, as we go forth from the garden of safety, on to full human consciousness and then awareness we are all, but part of a greater divine, is played out where their eyes are cast.  After we leave the garden, we bring the bounty of the garden's fruit, or the poison.
Theresa – Romance is on the Rise
In my world, food IS love.  There is nothing more romantic than sharing a meal with your beloved – or intended.  As the old saying goes "the way to a man's heart is his stomach" and this I have found to be true.
I've had two major relationships in my life and both became centered around "what shall we eat now?"  Whether those words led to daring cooking in the kitchen or adventurous eating in restaurant, food equalled bonding.  How do I create this romantic celebration of food and love in my home?  Easy. It begins with intention.  That means carefully considering what my partner might like and then planning a menu that will elicit oohs and aahs.
It must be decadent.  Always.
When I begin cooking, I pour my soul into that food.  I focus on how great the meal will be and how much I love my man.  When the dinner is ready to be served, you can be sure it's dripping with that intention, that declaration of my affection.  It's heady stuff, that food.
But sometimes, a meal out is even more romantic.  A candlelit restaurant and a meal cooked just for you by a chef who loves what they do creates that same mood.
Where do we go when we want romance without the burden of a sink full of dishes?  We head out for Italian, which I think is one of the sexiest cuisines ever (think: Sophia Loren).  Locally, we dig Centro Cafe for its handmade pastas and creamy risottos (I also recommend c. 1880 for the atmosphere and high cuisine).  On the road, Aroma in Silver Lake can't be beat.
Whether we're at home or out, you can add more passion to every meal with these suggestions:
Dress nicely.  Make an effort to show up as your very best for your partner.
Candles.  And more candles.  Everyone looks better with a little candle glow.
Soft music creates ambience.  Jazz always works.  Trust me on that.
Feed your partner bits of your meal.  Trés hot!
A good bottle of wine warms the heart – and the loins.  Non-drinker?  Non problem!  A Virgin Cosmopolitan is sexy as hell.
Keep the conversation flowing on interesting (and amorous) subjects.  Sweet nothings are the mode.  Bitching about your shit day at work?  Leave that for another time.
Little physical gestures – a hand on the leg or holding hands – yes.  Keep those coming.
Always say thank you to your partner for showing up.  Sounds silly?  Yes.  But to be together and linger over a lovingly cooked meal deserves gratitude. Every opportunity to be intimate, to bond, is a reason to celebrate and to be grateful.
Bon appetit!
Theresa and Kyle
photos from personal collection and Jessica Kaminski
Hungry for more? Click here to explore the entire Tarot by the Mouthful series, from the very first card… right up to our latest installment. Bon appetit!