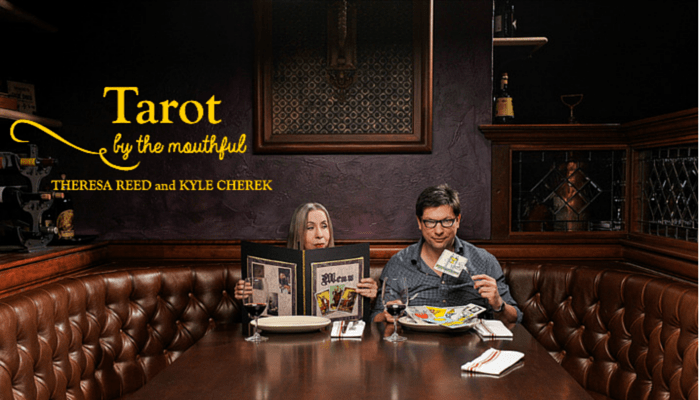 Kyle is a foodie who loves Tarot. Theresa is a Tarot reader who loves food. 
Together, we host Tarot by the Mouthful: a mouthwatering, multi-media culinary tour through the world of Tarot. 
Sublime recipes. Soulful stories. Essays, videos, interviews and delicious surprises. 
Join us every Sunday for a new installment — and get ready to sip, slurp, crunch and savor your way through the entire Tarot deck! 
This week: Three of Cups
Three of Cups: This card depicts three people dancing in a circle, glasses raised.  The Three of Cups symbolizes friendship and celebration. Joyful occasions and events such as weddings.  Social life. Your inner circle.  This happy card is a reminder to make time for friends and fun.  Fertility rites.  Pregnancy or the birth of a child. It can also suggest a love triangle.
Kyle – There is always a time to celebrate
Food and drink are powerful magic.  I have often said "name one occasion in our lives, from birth to death, tragedy or joy, that isn't celebrated or commemorated with food."  Across cultures, the feast, the passing of the cup, the breaking of the bread, helps us mark, salve, or remember the milestones of our existence.
Petronius used a feast as the vehicle in the Satyricon to satirize Roman culture, and gave us the best window into how real people of that time and place mixed, spoke, and ate.  The Christ broke bread with his apostles and went to dinner at the tax collector's home. Hindus burn purified butter to the sun as it rises. No Western birthday is complete without cake. The Irish drink and eat for days when someone near to him or her dies.  The Druids planned their season around the harvest and the celestial bodies.
I could go on like this for pages.
What the Three of Cups gives us is a confirmation of all of this.
Of all of the imagery of the tarot, it is the card perhaps most easily understood with clarity by those who know nothing of craft and are simply being read for. Death, the Hanged Man, the Fool, all beguile and eschew readily evincing their message, but the Three Of Cups, with its women thrusting the cups upward to meet in celebration and warmth can only mean one thing.  The magic of food and drink, something we all need daily is present here, but exhausted.  Partnerships, conclusions to work well done, a loving table where we can revel in the happiness we have achieved is all there. That is universal.
Theresa – Girls Just Want to Have Fun
There is nothing better than time spent with friends – especially if that time is filled with laughter, adventure…and good food.  This is what I think of when I draw the Three of Cups.
Last week, I got to be Three of Cups in action when my friends Pace and Kyeli swung through town for a visit on their way to their new home.  I'm always excited to share my city with friends.  Milwaukee is a great place to live and we have a diverse and exciting food scene (watch Kyle's Wisconsin Foodie series and you'll see what I mean).
A good hostess does her homework to ensure that out-of-town visitors have a fabulous time.  For Pace and Kyeli, there were three things I needed to keep in mind: Pace is a vegan, Kyeli is in a wheelchair…and they were traveling with their feline companion, Phineas.
This meant: research.
My home was out of the equation because it's not exactly wheelchair friendly with three flights of stairs so I had to put these guys up in a hotel.  But I quickly learned that most hotels don't accept cats.  Our pickings were slim. We were limited to two motels – one that is a known "drug drop" and another one that I assumed would be good.  I went ahead and booked it…sight unseen.  (Memo to self: never do that again.)
Next step: figuring out where to eat.  Luckily, my trusty vegan yoga students steered me right and I quickly learned that my fine city has lots of great options for vegans!  Score!
Pace and Kyeli arrived at the motel while I was at work.  They were going to settle in for the night and our plan was to meet up the next day.  But as they say…the best laid plans of mice and men often go awry.  I saw a text come in right as I was going in to my appointment.  "Something's wrong with your credit card.  The motel said it was declined."
CRAP.
Two weeks prior, my credit card was stolen.  I had completely forgotten that I had booked the hotel with that card.  Now I looked like some loser with bad credit.  Grrr….
I texted Pace and said I would take care of it as soon as I was done with work.  She decided to go ahead and use her card because she didn't want to wait.  They had been on the road all day and were tired.
They booked their room and grabbed the keys.  As soon as they opened the door to their room, they were overcome with the stench of pee.  Lovely.  The manager gave them another non-pee smelling room – which, unfortunately, had two beds and no handicap shower.  Sigh. They would have to make do.
As they began bringing Phineas and their belongings into the room, they got locked out (long story).  The manager had to let them back in and then…their keys didn't work. This was beginning to feel like some sort of bad sitcom.  But wait!  It gets better:  a guy sidles up to Kyeli and inquired about her disability.  Kyeli told him about her accident and he asks "Do you have any painkillers?"
After work was finished, I went to the motel to settle up the bill (they wouldn't let me do this over the phone) and get a quick hug from my buddies.  Turns out, the manager could have done it over the phone, which meant that I went down there for nothing.  Well, at least I got a hug.  As I walked back to my car, I couldn't help but notice how rundown it was.  The front desk was fine but the hallways were a bit scary.  Loud music was blaring from a few rooms and dogs were barking.  Some guests straight out Honey Boo Boo were letting their dogs crap outside on a small patch of grass in the parking lot.
Welcome to Milwaukee Motel Hell where your host has credit card issues, your room smells like pee, and rednecks want to buy your painkillers.  UGH.  This is NOT how I roll or want my friends to be introduced to my city.  But not much I could do about it now except grit my teeth and vow that our adventure day would make up for it.
The next morning, I picked them up bright and early.  Pace informed me that there was no "do not disturb" sign for their room.  Seriously?  These are standard in every hotel.  The manager didn't even have one behind the desk so she scribbled "do not disturb" on a piece of paper and taped it to their door.
I was not happy.  But no time to get aggro – we had food to eat and a city to conquer!
We began with a hearty breakfast at the Comet Cafe.  This fun joint serves up amazing breakfasts and they have really good vegan options. I had a simple yogurt with granola and fruit and the gals grabbed a vegan version of eggs benedict.  We chatted about astrology and Enneagram between mouthfuls of breakfast and laughing about "motel hell".
Then we were on to our first activity: The Domes.  The Domes, also known as The Mitchell Park Conservatory, is  horticultural conservatory with three different climates each housed in their own dome.  We walked through a tropical jungle, a floral garden and a desert (I stupidly pricked my finger on a fuzzy looking cactus which I assumed would be…fuzzy.  NOT.)  Going over all the little paths and seeing the unusual plants and birds was a sweet little respite from my urban life. Pace and Kyeli seemed to enjoy it too. (This is about as close to nature as I get.)
From there, we were on to the Milwaukee Public Museum.  Kyeli loves aquariums but alas, there are none that I could find in Milwaukee so the museum would be a sweet substitute since they have a good section on sea life.  At the counter, we were informed that there was also a planetarium with a 3D astronomy feature.  Pace is an astronomy fan so this was a good thing.  We meandered around the museum for about an hour before heading to the planetarium and settled in for "Wisconsin Stargazing", a 22 minute guided feature that taught us where to find different constellations in my hood.  Sweet!  I learned a lot because although I am an astrologer, I'm astronomy-challenged.  I've never been able to figure out where the heck the North Star is.  But now I have a pretty good idea.  Looks like I won't be getting lost again!  Ha!
We were getting hungry but first we stopped at the one place where I take every visitor: The Bronze Fonz.  This statue was created by American artist Gerald P. Sawyer and is located right on the beautiful Milwaukee Riverwalk.  The Bronze Fonz is modeled after a character played by Henry Winkler on the television show Happy Days, which was based in Milwaukee.  A few quick snapshots and we're on our way to lunch.  Ayyyyyy……
Bel Air is a trendy Mexican restaurant with a few locations to choose from.  I prefer the Downer Avenue location because parking is decent – and I knew it would be wheelchair friendly.  As soon as you sit down, you're offered a nice basket of warm tortilla chips with three different salsas.  I ordered a sangria and Kyeli got a strawberry margarita.  Our choices of tacos were all different – I'm a carnivore so I picked the Ninja Pig, an Asian-inspired pork taco, and the Lobster Shrimp (so yummy!) while Kyeli chose the Port-Queso and Soy Chorizo.  Pace selected the Brussel + Bok (brussel sprout and bok choy  are in this vegan-friendly taco!) and the Broccoli + Artichoke (she said this was the winner of the two).
After that belly-busting lunch, I gave them the driving tour of the city, including some of the scariest parts!  And of course, we went to the most dangerous place of all: Indulgence Chocolates!  This is my favorite chocolate in the world.  You can't beat them and believe me, I eat chocolate wherever I go and have yet to find one that comes close.
We moved on to Boswell Books, a groovy independent bookseller with lots of room to sit and chill – and a Starbucks in the same building.  This was one of my favorite parts of our adventure…kicking it and talking about everything under the sun.  (Did I mention that these guys are hilarious?  They were killing me!)
For dinner, I selected Maharaja, a wonderful Indian restaurant with exceptional food – and plenty of veggie choices.  Indian is always a safe bet for vegheads so Pace and Kyeli had plenty to choose from. I ordered my favorite, goat curry and asked for a side of raita for our vegetable pakora appetizer. The waitress told me that this was not the way Indians ate pakora and that the raita would be served with my entree. She was pretty insistent which kind of pissed me off.  Frankly, I didn't care if I was "eating my food wrong", I like what I like and didn't need her to correct me.  I ended up eating the pakora without raita and didn't enjoy it as much.  Whatever.  The goat curry was to-die-for so I got over it pretty quickly.
We had one more stop before heading back to the motel: Babe's Ice Cream, a hip ice cream restaurant that served…you guessed it…vegan ice cream.  In the dairy state, one must eat ice cream – even if it's not dairy!  Pace remarked that this was the best vegan ice cream she ever had.  Yay!
As we began driving to the motel, I was telling them about some of the issues in my city, especially the racism.  Milwaukee is one of the poorest cities in the United States and we are also one of the most segregated.  There is a lot of racial tension here.  And these guys got to see it action because some white man didn't like the way I was driving and he stuck his head out the window and called me the "n" word.  I believe he also included the "f" word. Yes…I'm not kidding.  This kind of ignorance makes me sad and I hated for my guests to witness it.  Even though people like this only represent a small slice of negative people, it doesn't make my city look good.
I dropped them off at the motel and gave them a big hug goodbye and then watched them head past the front desk to the hallway.  A big biker with a cane was standing by the door eyeing me up suspiciously.  I wondered if he was the guy looking for painkillers.  I didn't stick around to find out and got the hell out of there.
The next morning, Kyeli told me that when they got to their room, the handmade "do not disturb" sign was torn from the door…and the keys didn't work.  When the manager got the door open, they discovered that HALF of the room was cleaned up and only one bed made.  Oh, and there was some redneck who wanted to let them know that he counted the spiders on their window hanging around outside. WHAT.  THE.  HELL?!
Welcome to Wisconsin.  White trash jewel of the midwest and proud location of Motel Hell.  (No wonder people are reluctant to come and visit me – now I know why!)
As Kyeli was relaying this story, we were both laughing so hard we were crying.  It was just so ridiculous you couldn't help it.
And that's what the Three of Cups is all about: being present with your friends no matter what the circumstances, enjoying delicious food, enjoying great conversations, and finding fun in every moment.  Celebrate good times, indeed.
Bon Appetit!
Theresa and Kyle
© Theresa Reed | The Tarot Lady 2015
photos from personal collection and Jessica Kaminski
Hungry for more? Click here to explore the entire Tarot by the Mouthful series, from the very first card… right up to our latest installment. Bon appetit!