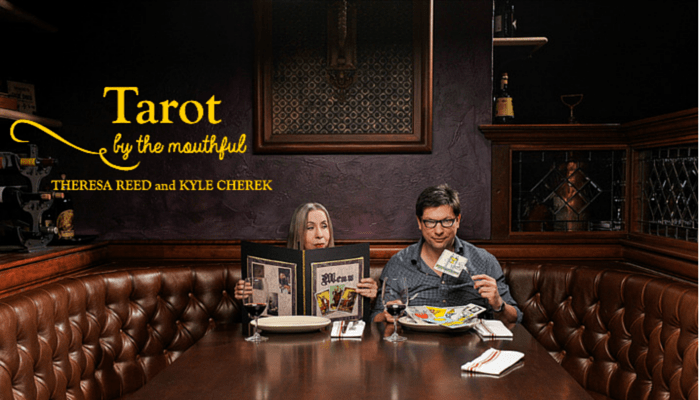 Kyle is a foodie who loves Tarot. Theresa is a Tarot reader who loves food. 
Together, we host Tarot by the Mouthful: a mouthwatering, multi-media culinary tour through the world of Tarot. 
Sublime recipes. Soulful stories. Essays, videos, interviews and delicious surprises. 
Join us every Sunday for a new installment — and get ready to sip, slurp, crunch and savor your way through the entire Tarot deck! 
This week: Three of Wands
Three of Wands: As the figure looks out to the horizon, we see ships coming into view.  This can represent the reward coming in for a job well done or a possible expansion.  What plans for the future will you make now?  What is your bigger vision? The world is bright, beautiful, and open for exploration.  Stay alert and open for new possibilities.  Success in business. This card can also symbolize travel.
This week, Kyle is busy hanging with Santa  – so it's all me!
Theresa: Mucho Gaucho
The Three of Wands symbolizes success and new things on the horizon.  It's also a card of travel and potential adventure.  It's only natural that my food thoughts for this card would be around eating something new.
Around here, we're adventurous eaters (well to a point – there are certain things I won't try such as natto).  We've eaten almost every cuisine we could: French, Vietnamese (my favorite), Middle Eastern, Spanish, Japanese, Chinese, Korean, Thai, Irish, English, and on and on.  My daughter, a bit of a world traveler, has expanded her tastes by trying out things like pig blood cake in London and trdlo in Prague.
When I started working on the Three of Wands for this series, I enlisted my daughter, who also happens to be my favorite foodie partner in crime, to find a cuisine we haven't tried so we could "research" for this blog.  (Eating as research is the greatest thing EVER.)
She decided on Brazilian since she is heading to South America next year and wanted to get an idea on what the food was like.  We headed to Rodizio Grill, a Brazilian steakhouse or "churrascaria" where rotisserie meats are brought to your table and carved by a guy in a Gaucho outfit!  Although this place is a chain, we didn't care.  We just wanted something different so off we went!
We were seated and the waitress quickly brought cheese bread and fried bananas to our table as she pointed out the salad bar.
Although we both love our veggies, we were here for the meat.
At the table, we had a little wooden object that was painted red on one side, green on the other.  When you wanted meat, you turned the green side up. This signaled to the gauchos that you waiting for them to come 'n carve some meat.
We turned ours up and one of the men came over with a giant skewer filled with pork medallions.  I'm not one to ever turn down pork so of course, I was an enthusiastic yes. (FYI: you can reject something if it doesn't suit your tastes.)
One by one, the gauchos came around with a huge variety of carnivorous goodies: spicy chicken, grilled shrimp, pork wrapped in bacon, sirloin tips, and the fattiest, juiciest steak I've ever eaten.
We greedily dug in and after we had our fill, turned the little wooden thing on the side, a signal that we were done.  (We're both on diets so trust me…we didn't eat that much.)
We came, we ate, we conquered.  (Side note: I think my daughter is going to find Brazil to be quite different than this experience.)
Because food SHOULD be an adventure.  It shouldn't be boring nor does it need to be.  An open mind (and mouth) will open you up for new horizons, even if you cannot make out of the country.
Like the figure in the Three of Wands, we now ask the question: where next?
Bon Appetit!
Theresa and Kyle
© Theresa Reed | The Tarot Lady 2015
photos from personal collection and Jessica Kaminski
Hungry for more? Click here to explore the entire Tarot by the Mouthful series, from the very first card… right up to our latest installment. Bon appetit!