Learn the Tarot card meanings with Tarot Card by Card. Fresh, modern tarot interpretations. A sucka-free approach with affirmations, journaling prompts, theme songs, and reversals. Explore the Tarot card meanings in a hip, irreverent, fun way!
Death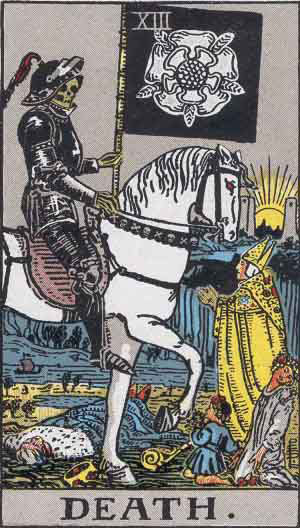 Keywords: ending, transition, transformation, release, change, severance
Attributes: Scorpio (Water)
General meaning:  This is a time for endings.  Out with the old and in with the new.  In order for growth to take place, the outworn must be discarded.  A major transition.  A new cycle is ahead.  Release your attachment to what was and welcome the transformation ahead. Death indicates the end is near. It's all over now, baby blue.
Reversed:  Holding on for dear life.  A refusal to accept change.  Stuck in a rut.  Limbo.  Should this card show up reversed in your reading, it's time to reexamine the stagnant spots in your life.  Always remember that the only thing that is unchanging is change.  Move on, let go, it's over, dawg.
Affirmation:  I embrace change with an open mind.
Theme song:  "The End" by The Doors
Journaling prompt:  What is changing in your life right now?  How do you feel about this transition?  Are you accepting it – or resisting?  Get that journal out and write about it, warts and all.
Rap:
Things are changing
Stuff rearranging
It may feel deranging
But it's liberating
Go with the flow, yo
Move like a mofo
Get with the show, bro
The end is coming fo' sho.
Blessings,
Theresa
© Theresa Reed | The Tarot Lady 2013
See the whole series here.