Learn the Tarot card meanings with Tarot Card by Card. Fresh, modern tarot interpretations. A sucka-free approach with affirmations, journaling prompts, theme songs, and reversals. Explore the Tarot card meanings in a hip, irreverent, fun way!
King of Wands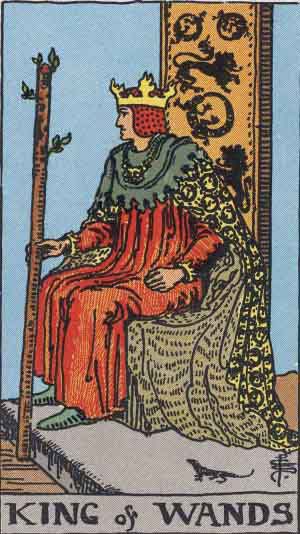 Keywords: mastery, passion, fiery, creativity, courage, power, bravado, leadership, heat
General meaning:  The King of Wands is the master of fire.  This passionate chap is one brave, charismatic ball of hotness.  Super yang.  Macho to the core.  Cocksure.  He's got swagger and can lead like a real boss. Talks powerfully, carries a big stick.  When this card makes an appearance in your reading, it can indicate that you need to embody the vibration of strong, creative leadership (and a little swerve to your step won't hurt either).  This card can also indicate a major playa who has all the moves.  If you're looking to add a little flavor to your game, he may just be the mack daddy you've been waiting for. He's going to bring big-time heat.
Reversed:  The fire is out.  Leadership turns weak – or becomes dictator-like.  Bully.  Lack of manliness.  Erectile dysfunction.  Dude goes from super hot to nothing more than a broke, big-mouthed buster.  Cannot hold up his end of the bargain.  Irresponsibility.  All swag, nothing to back it up.  Shady.  Leading with his other head.  Egomaniac. Sexist bastard. A cheater.
Affirmation: I lead with passion and courage.
Theme song: "Moves Like Jagger" by Maroon 5 ft. Christina Aguilera
Journaling prompt:  When have you needed to step up to the plate and take control of a situation?  How did you feel about your use of power?  Journal about that stuff, yo.
Blessings,
Theresa
© Theresa Reed | The Tarot Lady 2014