Learn the Tarot card meanings with Tarot Card by Card. Fresh, modern tarot interpretations. A sucka-free approach with affirmations, journaling prompts, theme songs, and reversals. Explore the Tarot card meanings in a hip, irreverent, fun way!
Knight of Cups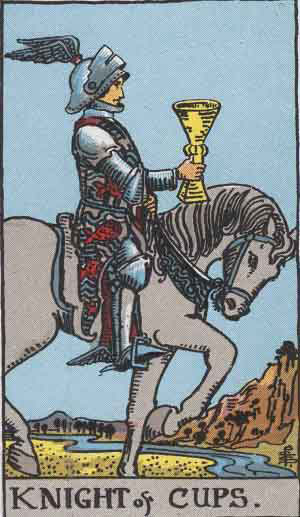 Keywords: romance, chivalry, Prince Charming, leading with heart, taking action on feelings, imagination
General meaning: The Knight of Cups is the Prince Charming, the "knight in shining armor" that sweeps you off your feet in a romantic gesture.  He's sensitive, empathic and perhaps a bit of a dreamer.  A consummate gentleman, he is proof that chivalry is not dead.  This card can also be a reminder to let your heart lead your decisions.  Follow your deepest dreams. Go on a romantic adventure!
Reversed: Prince Charming turns out to be a cad.  An irresponsible, immature or emotionally unavailable person.  An inability to connect with the feelings.  Deception and manipulation.  He appears seductive but on closer inspection, he's a buster.  Alcohol or drug abuse.  Take a pass on this one unless you enjoy enabling 'n drama.
Affirmation:  I bring my innermost dreams to life.
Theme song: "Prince Charming" by Adam and the Ants
Journaling prompt:  When have you been swept off your feet by love?  Get out your journal and write about your most romantic adventure ever.
Blessings,
Theresa
© Theresa Reed | The Tarot Lady 2013
See the whole series here.