Learn the Tarot card meanings with Tarot Card by Card. Fresh, modern tarot interpretations. A sucka-free approach with affirmations, journaling prompts, theme songs, and reversals. Explore the Tarot card meanings in a hip, irreverent, fun way!
Temperance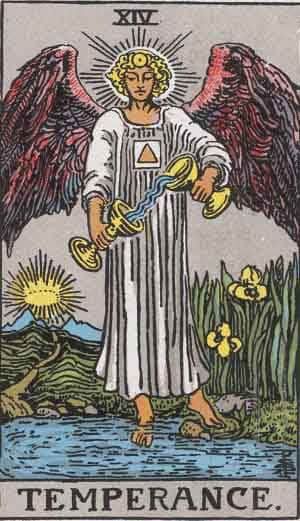 Keywords: moderation, balance, healing, alchemy, middle ground, patience, blending, harmony, guardian angel
Attributes: Sagittarius (Fire)
General meaning:  It is time to pause on your journey and consider what you have learned thus far.  How are you going to integrate those lessons into your life?  Balance and harmony; finding the middle path.  Temperance is also a gentle reminder to remain patient – allow things to work out the way they need to.  Rather than trying to force an issue, go with the flow.  If you are making any major decisions, weigh your options carefully.
Reversed:  Everything's zen?  I don't think so.  Everything is out of whack and it is time for a major adjustment – even if only your attitude.  The energy is all over the place. Disruption.  This card can also indicate doing things to excess ala Liberace.  Pull yourself back to the center.  Lose the bling and seek the real thing.
Affirmation:  I create perfect harmony in my life.
Theme song: "Get The Balance Right" by Depeche Mode
Journaling prompt:  What does it mean to live in harmony?  How do you find balance in your day to day life?  What areas of your life are not in sync?  Journal that stuff, yo.
Blessings,
Theresa
© Theresa Reed | The Tarot Lady 2013
See the whole series here.