Learn the Tarot card meanings with Tarot Card by Card. Fresh, modern tarot interpretations. A sucka-free approach with affirmations, journaling prompts, theme songs, and reversals. Explore the Tarot card meanings in a hip, irreverent, fun way!
The Lovers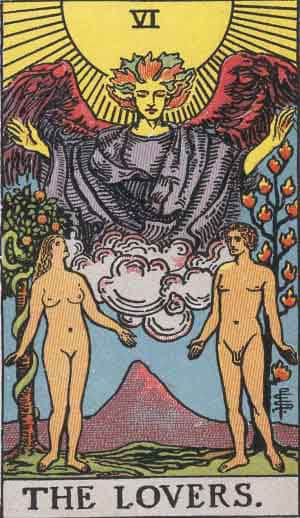 Keywords: romance, partnership, love, choices, duality, opposites, union
Attributes: Gemini (Air)
General meaning:  Who doesn't like to see love in the forecast?  I sure do as I'm a romantic at heart.  The Lovers can often indicate a relationship coming into your life.  Although this is usually romantic in nature, it can be any sort of relationship where good communication is involved.  If you are considering getting involved with someone for love or business, this is a hell yeah!  This card can also indicate a choice.  When making a choice, follow your heart but be sure you are looking at what option is best for your highest good.
Reversed: You give love a bad name.  Divorce, breaking up, emotional chaos.  Reverse this card and things become murky and unstable.  If you are asking about love, this may be suggesting a need for counseling and/or reevaluating where the relationship is going.  If you are faced with a difficult decision, now is not the time to be impulsive.  Best to take your time and be mindful about what you want.  I have often seen this card represent a choice with regrets. It don't have to be that way, homie.  Think before you act.
Affirmation: "I am love."
Theme song:  "Lovesong" by The Cure
Journaling prompt:  Think about the biggest romantic decision you have ever faced in your life.  Marriage?  Dumping that zero?  Taking a risk on that shy stranger?  Get your journal out and write that shizz down.
Rap:
Hey, have you found the one, dawg?
Or is it hit and run, yo?
Do you know if it's done though?
Is it getting redundant, no?
Finding the right dude is so
Complicate til you see through
Open your heart if you want to
Take a chance with a miscue
You might get a whole new boo
Or a little shawty so cute
Love is in da air so true true
You don't need a love guru
Gonna go for it and say ooh ooh
Get dat romantic breakthrough.
You got all da right moves
Now you gonna show me how to.
Blessings,
Theresa
© Theresa Reed | The Tarot Lady 2014
See the whole series here.