Learn the Tarot card meanings with Tarot Card by Card. Fresh, modern tarot interpretations. A sucka-free approach with affirmations, journaling prompts, theme songs, and reversals. Explore the Tarot card meanings in a hip, irreverent, fun way!
Three of Cups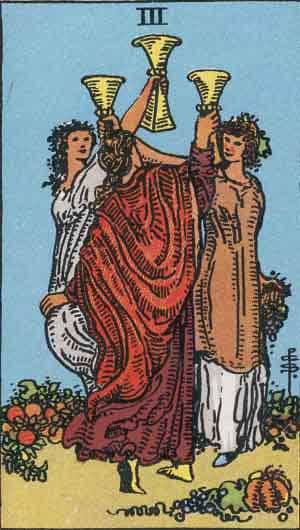 Keywords: celebration, friendships, support, party, gathering, fun, joy, achievement, weddings, bridal or baby showers
General meaning: It's time to celebrate!  Whether you are attending a party or simply celebrating a victory, get the champagne out and live large.  This card can signify a formal celebration like a wedding or an informal girl's night out.  It can also indicate a circle of support when you really need it.  The Three of Cups is usually a welcome sight in any romantic reading BUT it can also indicate a love triangle if other cards support it (ex: The Devil). A time of joy. Magic rituals.
Reversed:  The party is over.  Premature celebration.  Getting all drunk 'n stupid.  You're going to regret that overindulgence in the morning, pal.  A lack of support at a time when you need it most.  Friends let you down.  Interference from an outside source.  Gossip and bickering.  Someone is running their mouth about your business.
Affirmation:  I celebrate life every day.
Theme song: "Party Rock Anthem" by LMFAO
Journaling prompt:  Where can you find joy and pleasure in your life right now?  Focus on something that makes you happy and journal about it.
Blessings,
Theresa
© Theresa Reed | The Tarot Lady 2013
See the whole series here.