The "Which tarot cards indicate" feature is designed to increase your tarot vocabulary and help build a strong database of tarot card meanings.
Which tarot cards indicate cheating?
Keep in mind – we're not just talking cheating on your partner here but ANY sort of underhanded activity.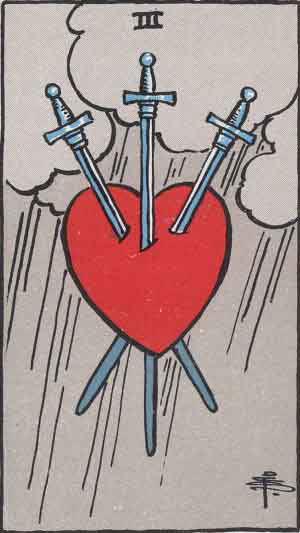 Three of Swords – the Three of Swords symbolizes heartbreak and betrayal. This is one of the "love triangle" cards.  A total letdown.  Betrayal of the very worst sort.
Five of Swords – pay attention to any card that suggests deception like the Five of Swords. Notice that there are three figures in this card – again, the possibility here of a painful triangle.  Betrayal.  This card can also indicate a victory through deceit – such as a rigged poker game or a hostile takeover of a company.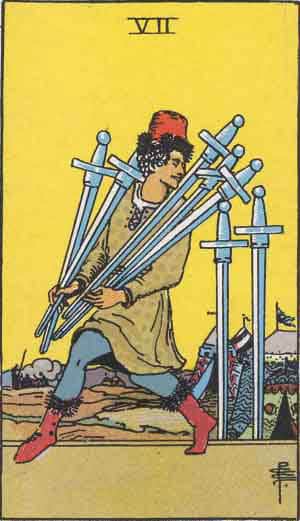 Seven of Swords – the Seven of Swords is traditionally the "theft" card but it can also symbolize someone trying to get away something.  Sneaky behavior.  Winning through dubious means.  Doing something behind someone's back.  Stealth.
The Devil – although the Devil is usually interpreted with "bondage", it can also symbolize temptation or an "unholy alliance".  It can also symbolize using negative means to achieve an end.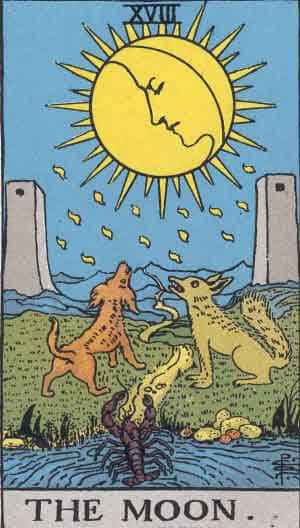 The Moon – the Moon indicates that something is being hidden and is another card of deception.  What is being done "in the dark"?
Three of Cups – although the energy of this card is merry, it's often a sign of a love triangle, especially if other cards point to that.
Three of Pentacles – another "love triangle" card, I've seen this one pop up when someone is fooling around at the office!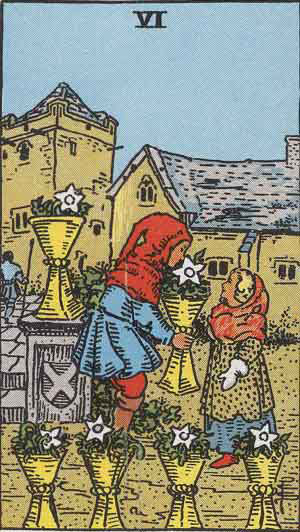 Six of Cups – look closely and you'll see that there are three people in this card. If you combine this with one of the other cards, it can suggest something happening outside the home – and because of the "nostalgia" interpretation of this card, it may symbolize hooking up with an ex.
Note: if you have more than one of the cards above, it might be wise the seeker to examine their relationship closely to see if they can find evidence.  Although the cards can symbolize something fishy is going on, the querent still needs to be prudent and gather evidence rather than making an accusation from a tarot reading.  Always remember: innocent until proven guilty.  If you think your partner is hooking up with something on the side, be practical and do your due diligence.  Also remember, some of these cards, in particular the Five of Swords and Seven of Swords are geared towards more than just romantic cheating – these cards can symbolize someone who is doing ANY kind of dubious behavior: embezzlement, ripping someone off, or even a card cheat in a poker game.
What other cards may indicate cheating? Share your insights with me on Twitter @thetarotlady
Blessings,
Theresa
© Theresa Reed | The Tarot Lady 2016