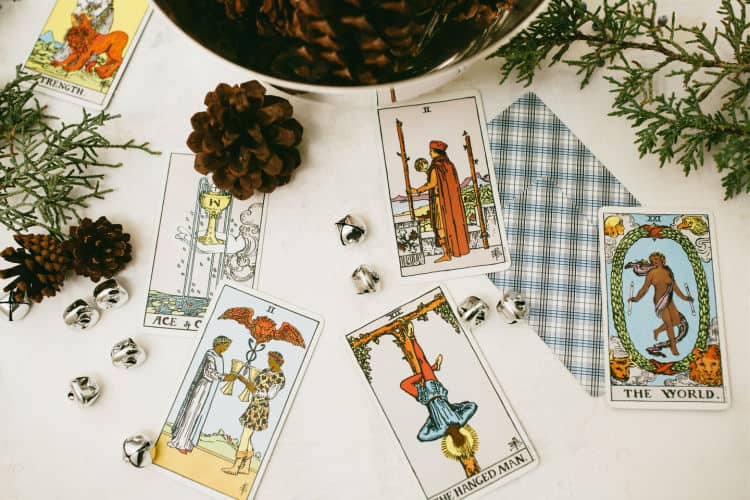 Most Tarot readers have a "workhorse deck" they use consistently. I've been a Rider Waite Smith gal for most of my life. I still reach for it when I need a Reliable Roger reading. But that deck isn't my the only one I use. In fact, I find there are different decks for different purposes. Here are a few of my suggested decks to add to your collection.
When you like the classics but want a modern upgrade: The Weiser Tarot is my new go-to deck. It's the Rider Waite Smith but with gorgeous watercolors and plenty of representation (something that is sorely missing in the traditional RWS). I also like the Modern Witch Tarot, a playful, contemporary version.
When you need to get your intuition popping: The Totem Tarot. I call this my "scrying mirror" deck. The black and white, sparse imagery gives my sixth sense the space it needs to do its thing. My imagination gets to fill in the details, rather than having it all spelled out for me.
When you crave beautiful, museum-quality art: I am in love with the Tazama African Tarot. The images are stunning and the quality can't be beaten. I never get sick of looking at this visual treat!
When you want a soft, gentle deck: Guardian Angel Messages Tarot by Radleigh Valentine. This sweet deck is perfect for your fearful clients – or for those times when you want to connect with the other side.
When you want a LGBTQ+ only deck: Black Queer Tarot is the one. You'll want to add this dazzling deck to your collection, whether you're a member of the LGBTQ+ community or reading for them.
When you want a kid-friendly deck: Tarot For Kids. Yes, I'm biased because I created this deck with artist Kailey Whitman, but really…check it out. The art is lovely, the interpretations are geared toward young folks, and it has representation.
When you are a total beginner or have trouble remembering what the cards mean: The Wandering Star Tarot by Cat Pierce has keywords written on the cards but it's discreet enough so they are not distracting.
When you want animals instead of humans: The Tarot of Curious Creatures is whimsical while remaining true to the traditional Tarot structure.
When you want to look at beautiful, collage-style art: The Uncommon Tarot is lush and rich. Total eye candy.
When you need a straight-up oracle deck: The Intuition Oracle from Amy Zerner and Monte Farber is both opulent and practical. A feast for the sixth senses!
When you need something totally different: The Meraki Tarot is one of my all-time favorites. The art is pretty and the feel of the deck is uh-may-zing.
When you want to be "in the cards:" The Out of Hand Tarot by Jamie Sawyer is so clever – you get to feel as if you're a part of the deck!
Okay, that's a short list of Tarot decks you might want. Of course, there are many more for many other purposes. You might have a few ideas of others you need to add to your collection. For example, I'm anxiously awaiting the Bohemian Cats' Tarot new Theatre edition…because one cannot have too many decks with cats in Victorian clothes!
xo
Theresa
images from stock photography and House of Divine Style
*Some of the links are amazon affiliate links. I receive a small compensation if you purchase through the link but it doesn't affect the price of the deck.*
© Theresa Reed | The Tarot Lady 2022