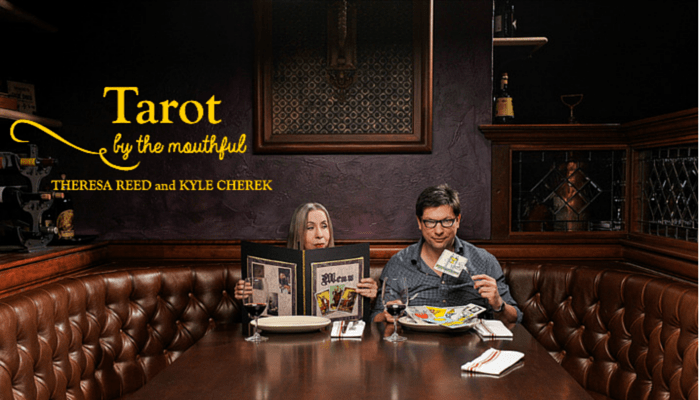 This last year, while busy laboring away on The Tarot Coloring Book, I was also working behind the scenes on an event to celebrate my Tarot By The Mouthful collaboration with my buddy, Kyle Cherek, of the Emmy-nominated series, Wisconsin Foodie.  Turns out that series was coming to a close right around the time the book would be published.
Guess that means one thing: this event needs to be a celebration of both!  Yesssss baby……
I hired my favorite chefs, the good people behind Ball and Biscuit Catering. If you were following my Tarot by the Mouthful series, you would recognize chef Maria Miller as my Queen of Cups! Maria and I meticulously plotted out a six course tarot-inspired menu with a nice fall theme since this was going to be held on the Halloween weekend.  We decided to host the event at Vintage Rentals and make it like a speakeasy with old-timey music and all that nice retro 20's style dishware.
I also decided to cap it at 22 lucky recipients – the perfect size for the space plus the number of the Major Arcana!  Seats sold out within hours of the announcement – it was on!
The day arrived and we were ready for our guests.
Kyle and I began the event by talking briefly about our collaboration and letting people know how things would unfold.  The guests learned that each dish would be coming with a tiny tarot card. They would need to collect their cards and come up with a question – because at the end of the night, I would be doing mini-tarot readings!  There would also be tarot-themed conversational prompts, designed to get the tables talking (important since some people came alone or were at tables with complete strangers).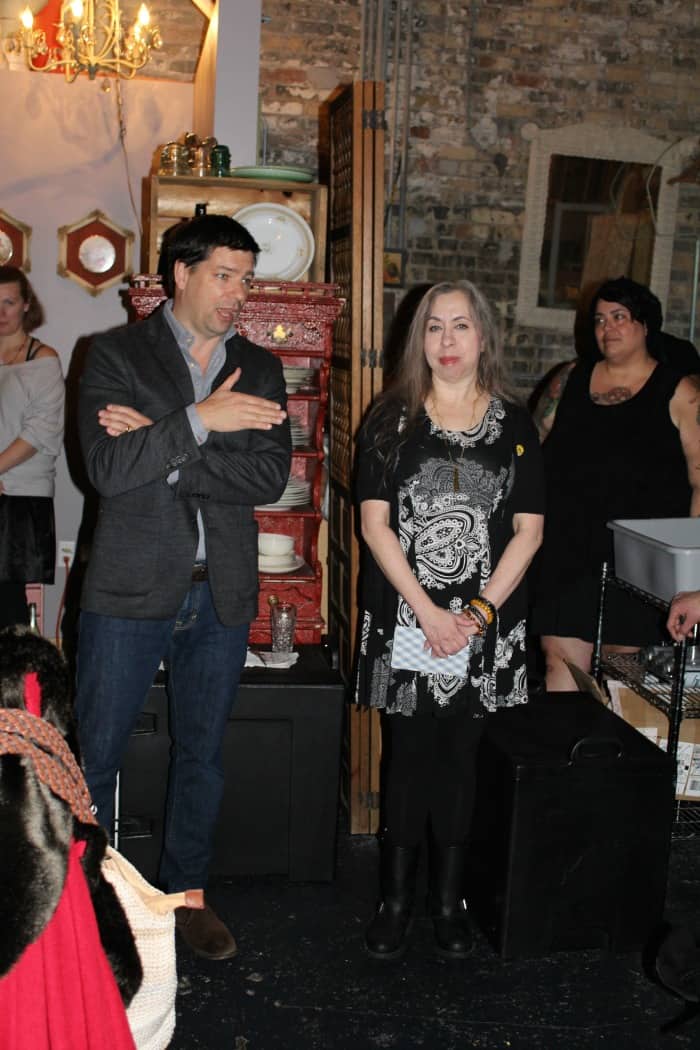 Our first dish was based on The Fool. The Fool symbolizes a new beginning and a bit of folly.  An apertif was served with champagne, St. Germaine's liqueur, pomegranate seeds, and orange rind.  It was festive and light – perfect for instigating tomfoolery and conversation!  Our prompt: what's the biggest risk you've ever taken?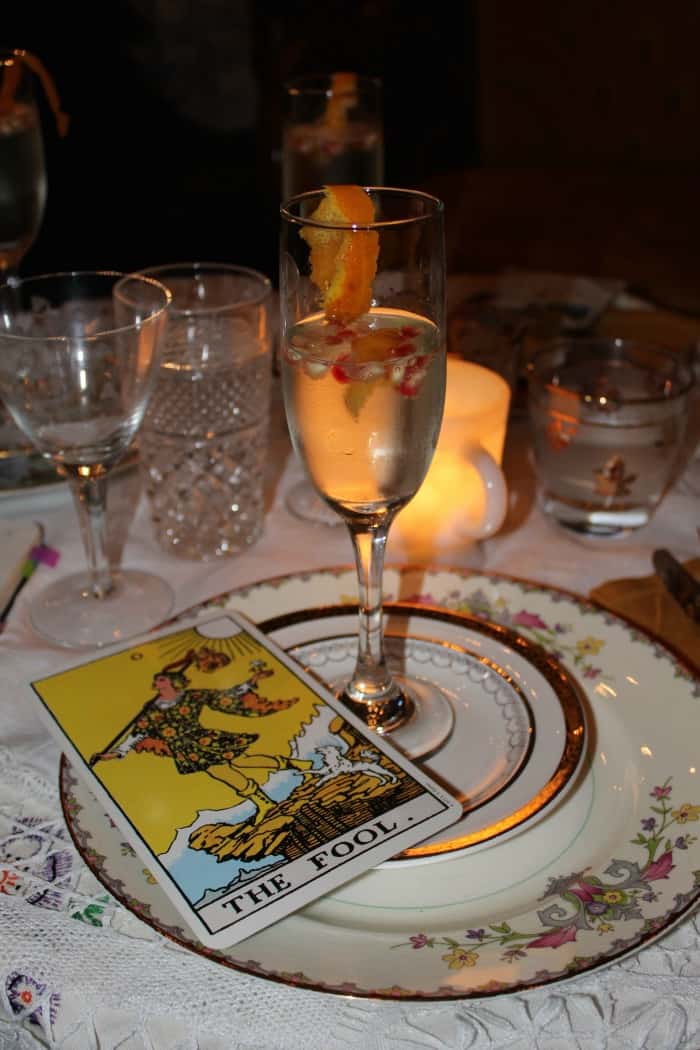 Next, we moved on to the Minor Arcana. Namely, the Ace of Wands.  The Ace of Wands represents a new creative venture or birth.  It's also the element of Fire.  Our dish: a charcuterie board with smoked cheeses and sausages, including a fiery chorizo (my favorite). Our prompt: what gets you fired up?
Now it was time for something nice and mellow.  The card: Ace of Pentacles. The Ace of Pentacles symbolizes new financial beginnings. It's the Earth element.  Naturally, we had to serve something from the earth: a salad with root vegetables, arugula and hazelnuts.  Our prompt: what do you want to manifest in 2017?
Our next card was the Ace of Cups, which is all about the beginning of love.  Of course, this is the Water element so you might be able to guess what came next: soup!  A lovely rich butternut squash soup with a bit of spice for heat, creme fraiche, chives plus cheddar scallion biscuits on the side.  This might have been my favorite dish of the night!  Our conversation prompt: what is your heart telling you in this moment?
The main course was based on the Ace of Swords.  The Swords suit symbolizes our conflicts but also thoughts. It's also the Air element, so our dish was something that could fly: cornish game hens with an apricot-jalapeno glaze, served with homemade cornbread stuffing and a wild rice pilaf.  Our prompt: what is your most recent breakthrough?
By now, our bellies were getting ready to bust but there was one more dish! Dessert!
Which meant we needed a card to symbolize a perfect ending.  The World, of course!  We gave a nod to tarot's Italian origins with tarot-misu, a wonderful take on tiramisu with amaretto cookies and chocolate liqueur. It was DIVINE and quite possibly the best tiramisu, ever.  (By the way, I did not come up with that clever name – I think someone on Twitter said that to me once when I was talking about dessert.)  Our conversational prompt: what makes you feel complete?
As the diners enjoyed their tarot-misu with coffee, I came around and did min-readings.  I LOVE any excuse to read tarot – and I especially enjoy doing what I call "drive by tarot readings" – super fast machine gun interpretations!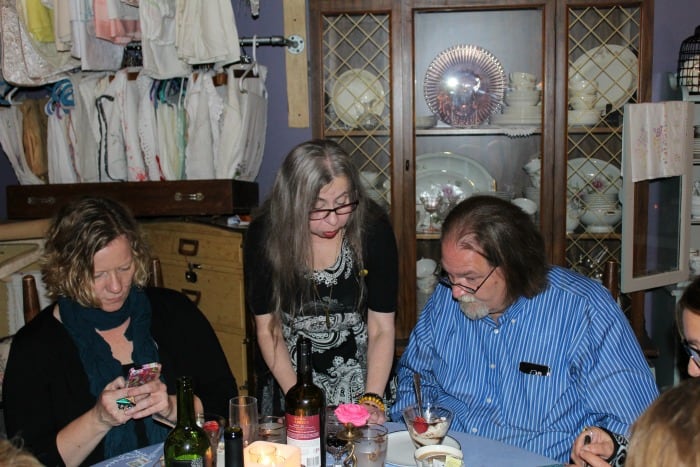 Before bidding adieu, there was one more treat.  Every guest got an advance copy of The Tarot Coloring Book!  I felt like Oprah handing them out!  Everyone was surprised and it was the perfect cap to a wonderful evening.
A few months ago, when I told my dear friend Sherold Barr about my plans for this event, she said that I should consider doing these types of events around the states.  Who knows? Perhaps that may be in vogue or demand one day? But for now, I'm content to bask in the glow of a night well spent with fellow foodies and tarot lovers.
I am complete.
Blessings,
Theresa
©  Theresa Reed | The Tarot Lady 2016