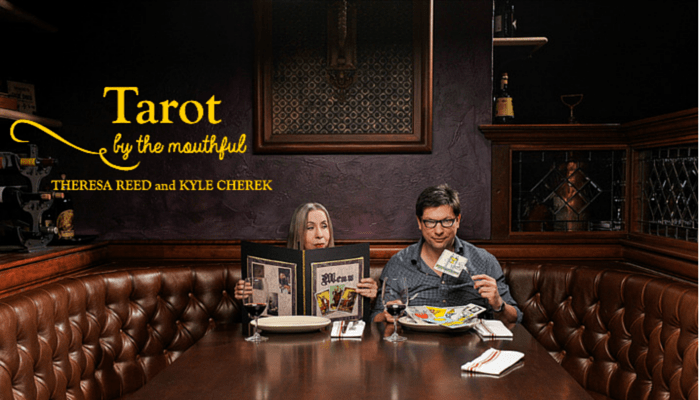 Kyle is a foodie who loves Tarot. Theresa is a Tarot reader who loves food. 
Together, we host Tarot by the Mouthful: a mouthwatering, multi-media culinary tour through the world of Tarot. 
Sublime recipes. Soulful stories. Essays, videos, interviews and delicious surprises. 
Join us every Sunday for a new installment — and get ready to sip, slurp, crunch and savor your way through the entire Tarot deck! 
This week: King of Wands
King of Wands: This passionate King is the master of creativity + enterprise.  He's a born leader and the type who inspires others to bring their A game.  Bold, masculine, brash, and fiery, he always cuts a strong figure.  This card can symbolize a need to take a stand, to lead with conviction, or to create a masterpiece.  Whatever you are called to do, do it with passion and guts.
Kyle – Follow the leader
There is an old chef joke from the How Many Light Bulbs Does It Take genre which every chef I have ever told it to has at the least smiled in approval, and many, laughed out loud knowingly.
How many chefs does it take to screw in a light bulb?  Seven it turns out. One to screw in the light bulb and the other six to talk about how they did it differently the last place they worked.
In the chef trade, the accumulation of special skills is one thing, but putting special individual touches on the things that are cooked, well that's why chefs go from one place to another to work. At least one of the reasons. It's a constant play in a chef's life between their own voice having a chance to sing through in the food, or working for the right people so you can soak up their style, manner, approach, technique, while you hone yours. The right person, the one a chef goes to work for because their voice is so strong, their techniques and approach to cooking so singular, is the King of Wands.
"You are always training them to leave" is another culinary industry adage.
Every kitchen faces an attrition rate if it is at all a creative engaging space. Sure there are the brighter shores of titles and more pay per hour the urges talent to jump from kitchen to kitchen, but the thing that often makes chefs move the the challenge of taking what they have learned and trying it out on in a new set a circumstances, is a new stage.
The King of Wands is a card that represents the energy of a leader. A person of wisdom and skill, who knows where he (it is a card of masculine energy) is going but is also to include others in the plan and vision. The King's kitchens are the best kitchens to graduate from. To be trained, so that you can leave.
Theresa – King of Fire
When I began putting this series together,  I already had my King of Wands firmly in mind: my younger bro, Cappy (pictured below).
It was an easy pick.
Why?  It's because the King of Wands is the master of fire and my brother is quite handy on the grill.  In fact, I've had some amazing barbecue in Nashville but I have to admit: his ribs are the ones I crave.  Salty, sweet, smoky…they are oh-my-god to die for.
Every Christmas, we gather at his house to feast – and every year, he brings out those ribs – but always with a little twist.  It might be honey glazed one year, or a new Asian inspired rub the next.  That grill is where he gets creative – and the results are always delicious.
He's so into grilling that he's actually known around his hometown for his knowledge.  On a recent outing to the grocery store, a young man walked up to him with a steak and a can of lighter fluid and said: "the guys at the meat counter said I should talk to you about grilling."  I can picture my sister-in-law rolling her eyes while Cappy happily took him aside to school him properly (throw out that lighter fluid.).
That passionate, extroverted swagger is pure King of Wands energy. Any opportunity to take the lead and they tend to shine. Put him on a stage to entertain – or educate – and he'll keep the party going all night long.  That's my little brother in a nutshell.
He sat down with me to discuss his grilling secrets.
When did you start getting into grilling?
Cappy: When I was a teenager.  I had a passion for cooking and I love grilled food.
Where did passion for cooking come from?
Cappy: The passion came from mom. She was always a great cook.  You know that. I especially loved her homemade bread. The same passion you have for your cooking, I have for grilling. We get that from mom.
What is your favorite thing to grill?
Cappy: Ribs!  Takes a lot of technique, takes a lot time. I like to be out there in front of the grill for more than a half hour.  t's peaceful and tranquil being outside with the grill.
What's your secret for perfect ribs?
Cappy: Low and slow.  Put a dry rub on overnight for 24 hours. Put in the oven 200 degrees for a half hour.  Raise that up 50 degrees for half hour.  Two more times til it gets to 350.  Put on the grill to season and sear 'em.  Sauce goes on last.  That's all I'm telling you. I can't give away all my secrets for my ribs.
Other than your own ribs, where is the best ribs you ever had?
Cappy: Down in Florida on my honeymoon.  I forget what the name of the place was but they were pretty damn amazing.
How did you learn (our parents were NOT big grillers)?
Cappy: I watch a lot of cooking shows like BBQ Pitmaster.  I watch a lot of other people cook.  Plus I have a lot of cookbooks.  Let's not forget – a lot of trial and error. I also like to tweak recipes.
Biggest fail?
Cappy: You know what that is.  (He's referring to the time he tried to cook Thanksgiving turkey on the grill.). The first time I ever did it and I failed.  Our poor 93 year old dad waited until midnight to eat.
What is your advice to new grillers?
Cappy: Watch cooking shows.  Don't be afraid to get advice.  Never use lighter fluid – it has a bunch of chemicals and you can taste it in the meat.  You can never get that out.  Also don't buy those bag of charcoals where you just light the bag on fire because they are also soaked with chemicals. I believe in using natural lump wood coal because it's natural, it's wood, it's been burnt until it's charcoal.  The other stuff is made with fossil fuels and they have a lot of chemicals in them.
People want to eat healthy right?  You want to eat with healthy stuff to make your food, right?  You use olive oil instead of butter because it's healthier.  Same thing goes with grilling – use natural lump wood, an electric lighter.
If you use gas grill they are fine it's like using an oven – but they don't have the same flavor as a charcoal grill. Always use charcoal grills if you can.
Also don't skimp on the quality of the meat you put on there either. You get what you pay for.
And for people who like vegetables – there is no shortage of vegetables that can not be made delicious on the grill. I grill my brussels sprouts, corn, asparagus, carrots, sweet peppers, zucchini – you can even do swiss chard!
Best grill?
Cappy: I don't have a favorite brand but I do have a Kingsford.  I do plan on getting a wood smoker so I can start smoking my meat.  That's where there is no flame, just the smoke from the wood chips.
Grilling Idol?
Cappy: Myron Scott. He's an arrogant sonofa bitch but he's amazing.  Regular chef is Geoffrey Zakarian – he's absolutely brilliant.
~~~~~~~~~~
Big thank you to my little bro, the ultimate Grillmaster.
If you are ever in Watertown and smell something delicious in the air, follow the Bee Gees music with a middle-aged guy singing along at the top of his lungs and you'll be glad you did.
Bon Appetit!
Theresa and Kyle
© Theresa Reed | The Tarot Lady 2016
photos from personal collection and Jessica Kaminski
Hungry for more? Click here to explore the entire Tarot by the Mouthful series, from the very first card… right up to our latest installment. Bon appetit!