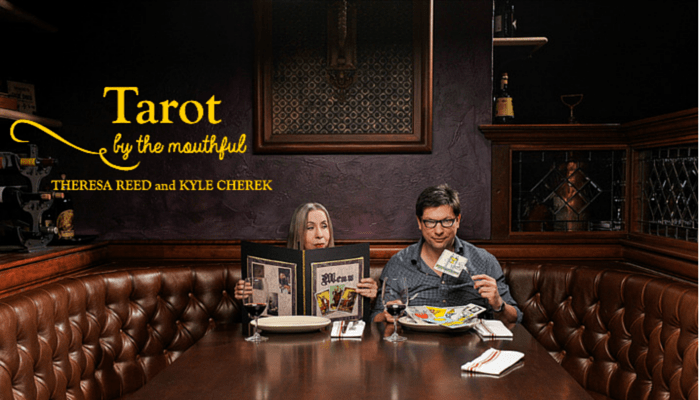 Kyle is a foodie who loves Tarot. Theresa is a Tarot reader who loves food. 
Together, we host Tarot by the Mouthful: a mouthwatering, multi-media culinary tour through the world of Tarot. 
Sublime recipes. Soulful stories. Essays, videos, interviews and delicious surprises. 
Join us every Sunday for a new installment — and get ready to sip, slurp, crunch and savor your way through the entire Tarot deck! 
This week: Knight of Swords
Knight of Swords:  The Knight of Swords is the card of swift action, sometimes done in haste, sometimes done in defense. This is the call to action, the urgent need to step onto the battlefield.  It's time to take action on your ideas.  Move through the challenges, the storm clouds, towards your goal. If symbolizing a person, it's an exciting male who brings challenge and action in your life.  He comes in without warning and stirs things up.  Get ready to be swept off your feet – or for your apple cart to be turned over in haste.
Kyle: To strive is to live
When I re-watch this Chef Talk with Kyle Cherek episode, I cannot but help think of chef Wil Borgstrom, the Executive Chef of the Lowlands Group as the perfect candidate for the Knight of Swords Card. Without stealing all the thunder from the episode itself, prior to his post with the Lowlands Group, Wil spent much of his professional career as what I call "the hatchet man at the highest level." He worked for the Ritz Carlton, and traveled the world visiting their kitchens, keeping the cuisine and staff up to a high standard, or if need be, constructively clobbering the kitchen crew into shape.
He has the energy of someone who expects excellence, but aches from being human, and lives real-time in the struggle we all face to maintain it. He loves the fight. Not for the antagonism of it, but, because to Will, to strive is to live. Just listen to how he replies after I ask him how he has managed not burn out from his frenetic and demanding chef schedule. "I never heard my dad, or his generation talk about burn out." Boom. The Knight of Swords.
Theresa: The fast and the furious
The Knight of Swords mounts a furious steed, sword drawn, as he moves fiercely into battle, cutting through clouds with the wind at his feet.
He doesn't shy away from what is coming.  Instead, he moves ahead fearlessly, ready to take on whatever is ahead.  Most likely, he has sustained wounds from past conflicts – he knows what to expect but also knows to expect the unexpected.  His focus is as sharp as the sword he wields.  He can move at will – or as needed.  This is the most nimble of all the Knights – a total ninja, built from experience and fury.  He's the Mad Max of the Tarot.
I like to think that this is how I approach cooking. Although my kitchen is my place to Zen out, it's also been my own personal battleground, stained with blood from too-sharp knives in clumsy hands and recipes gone bust.
For a perfectionist like me, it's taught me to be adept, agile, and quick to improvise when things go wrong.
Getting everything on the table on time, perfectly turned out, no dish getting too cold before the others arrive, requires strategic thinking – the kind that is developed when you've been at your game long enough to know that you can't just wing it.
But winging is also a necessity because sometimes things don't go according to your plan.  Suddenly, you're forced to adapt when a picky eater claims they can't possibly put that in their mouth or when a trusted recipe isn't so trusty, or when you realize all too late that there is not enough sugar in the house to complete the cake.
You have to rise up, think on your feet, and move like a gust of wind as you navigate that bumpy terrain, focused on your outcome.
Cooking is like boot camp. But once we are through the rigors of basic training, the real work begins as we step up, take the sword (or in the kitchen, knife) in hand and charge forth to new adventures, new challenges, and other opportunities to evolve.
Fast and furious, chopping and dicing, baking and sautéing, learning and yearning for that perfect meal, delivered on time, to waiting plates who hastily eat it up with gratitude…and then back at it again the next day…or moment.
This is cooking and this is the Knight of Swords approach to everything.
Bon Appetit!
Theresa and Kyle
© Theresa Reed | The Tarot Lady 2016
photos from personal collection and Jessica Kaminski
Hungry for more? Click here to explore the entire Tarot by the Mouthful series, from the very first card… right up to our latest installment. Bon appetit!