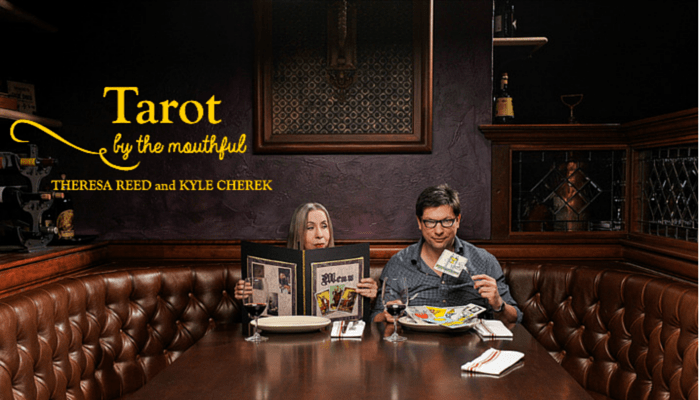 Kyle is a foodie who loves Tarot. Theresa is a Tarot reader who loves food. 
Together, we host Tarot by the Mouthful: a mouthwatering, multi-media culinary tour through the world of Tarot. 
Sublime recipes. Soulful stories. Essays, videos, interviews and delicious surprises. 
Join us every Sunday for a new installment — and get ready to sip, slurp, crunch and savor your way through the entire Tarot deck! 
This week: Ten of Swords
Ten of Swords: Endings, betrayal, an epic failure.  Something is coming to an end in order to prepare space for a new arrival.  The Ten of Swords symbolizes a complete and utter ending.  What's done is done.  Stick a fork in it, it's not coming back. But what's on the horizon is a hint of something better, a fresh start.  When this card comes up in a reading, you are being called to accept the end, pick yourself up, and start over.
This week, Kyle is filming another episode of Wisconsin Foodie, so it's just me!
Theresa – Something's fishy
Failure.
That's the message the Ten of Swords seems to be saying.  If you've been spending any time in the kitchen, you know that at some point, you're going to have your own Ten of Swords moment.  It might be a cake that falls, an injury with a too-sharp tool, or a grease fire that puts a sooty tinge on the wall.
We all have kitchen disasters, pros and home cooks alike. (Heck, there are even television shows like Kitchen Nightmares that try to makeover inept, losing restaurants.  Most of those attempts have apparently…you guessed it…failed. Ten of Swords!)
My biggest fail was the salmon loaf.
As a kid, salmon loaf was a familiar meal during Lent.  Made from salmon in a can, bread crumbs, milk and other things, it was salty Catholic comfort food.  I especially enjoyed feeling the little bones crush under my teeth in between bites of soft loafy-goodness.  That salmon loaf was a cherished dish.
So it was with great glee that I decided to make it for my husband.
It had been many years since mom made it. I often craved it but never had her recipe.
Now, it was in my hands and my husband was going to be in for the treat of his life!  At least that is what I told him.  I read the recipe thoroughly.  It was simple as can be.  Like any meatloaf, there was not much involved beyond throwing a few ingredients into a dish, mixing them up, shaping it into a loaf and throwing it in the oven.  What could go wrong?
Well nothing technically went wrong but one bite and my fond memory turned out to be just that – a fond memory.  The salmon loaf had the texture and taste of cat food.  It even smelled the same.
My husband put his fork down in disgust. I think he might have even spit it out.
Nothing has ever gone in the garbage as quickly as that salmon loaf (except the bitter melon, which tasted of ear wax, also a total flop).
I can make a perfect soufflé.  My tiramisu is to die for.  And soups?  I got 'em down.  But I'll never attempt a salmon loaf again because like the figure in the Ten of Swords, I know when to admit defeat, brush my shoulders off and leave something in the dirt.
Salmon loaf, we're done.
Want to try this recipe?  Maybe you'll have better luck than I did. Here it is in all it's fishy loaf-y glory:
3 cups salmon, flaked
14 soda crackers, crushed
2 eggs, slightly beaten
1 T parsley, minced
1 tsp onion, minced
2 T. lemon juice
1 tsp. prepared mustard
1 C. milk
salt and pepper
2 T. butter, melted
Add crackers to milk. All all the ingredients to the salmon. Bake in bread pan 40 – 50 minutes at 350˚.
Bon Appetit!
Theresa and Kyle
© Theresa Reed | The Tarot Lady 2016
photos from personal collection and Jessica Kaminski
Hungry for more? Click here to explore the entire Tarot by the Mouthful series, from the very first card… right up to our latest installment. Bon appetit!