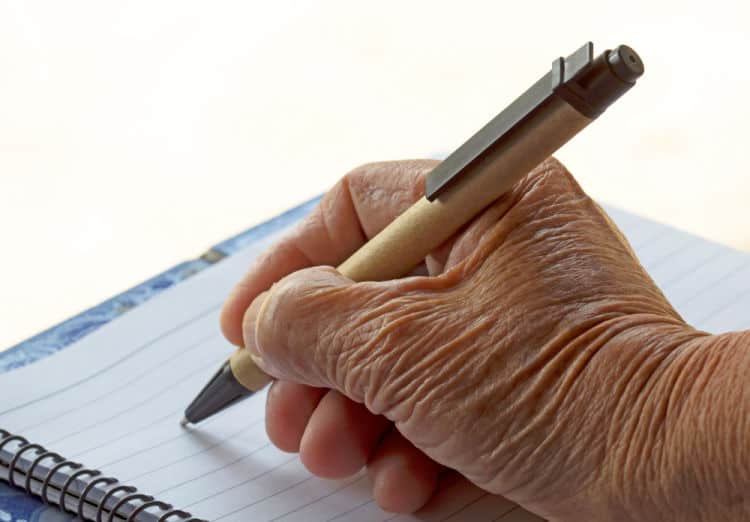 I was talking with a young friend the other day about writing books. They were worried that time was slipping by and they'd never be a published author. This was a life goal and now at the age of 35, they assumed the authorship had sailed past them.
Then I reminded them that I didn't publish my first book until I was 50 years old. 
I'm proof positive that you are never too old to write – or get published. In fact, many of the great authors didn't get started until later in life, just like me. Here are a few:
:: Bram Stoker published Dracula at age 50.
:: Richard Adams published Watership Down at age 52.
:: Laura Ingalls Wilder published Little House in the Big Woods at the age of 65.
:: Charles Bukowski published his first novel Post Office at age 51.
It's never too late to begin your career as a writer – or anything you want to do really. Many folks begin new lives, hobbies, or work later in life. Heck, Grandma Moses didn't start painting until the ripe old age of 77!
Whatever you want to do, start now and keep going. You've got time.
Purple-ish flowers.
Other stuff:
A tearjerker: He Had a Dark Secret. It Changed His Best Friend's Life.
I'm talking about Cardinal signs over at Bustle: Your Guide To Cardinal Signs.
"Help Us Find Us" Is The Motto Of The Black and Missing Foundation, A Non-Profit That Spotlights Missing Black Americans.
Interesting: Ex-Goddess Works to Reform 700-Year Tradition. Her M.B.A. Helps.
I love her: Val Demings is on a mission.
This was a compelling documentary: 'Girl in the Picture' restores an identity lost to decades of horror.
From Teen Vogue: The Handmaid's Tale and Abortion Rights: Protesters Ignore Truths About Reproductive Access.
Loved this story: Cleve Francis's 'unsung' story, still inspiring Black country artists.
Meanwhile astrology Rachel Lang is sharing her wisdom over at Well+Good: The Astrological Effect of K2, the Comet About To Buzz Earth—And the One Zodiac Sign That May Feel It the Most.
From Refinery29: Venus In Cancer Will Make You Crave Connection.
We're not defeated: Sorry, SCOTUS, but It's On.
Ooof this book is needed: How to Keep House While Drowning: A Gentle Approach to Cleaning and Organizing.
Need this too: Messy Minimalism: Realistic Strategies for the Rest of Us.
I'm intrigued with this book: This Here Flesh: Spirituality, Liberation, and the Stories That Make Us.
Everyone needs this book: The Carbon Almanac: It's Not Too Late.
Something new from Asha Frost: The Sacred Medicine Oracle: A 56-Card Deck and Guidebook.
Liz Dean has a new tarot book on the way: The Little Book of Tarot: Discover the tarot and find out what your cards really mean.
This looks fun: What's Your F*cking Destiny?: Manifest Your Dreams Using Astrology.
WANT: Witch List Astro: Daily Planning Notepad.
There's still time to preorder Twist Your Fate: Manifest Success with Astrology and Tarot and get your free gift! Learn more here.
Wanna make your own tarot deck? Here ya go: Create Your Own Tarot Cards: A step-by-step guide to designing a unique and personalized tarot deck. <-Cards are included!
This deck continues to delight tarot lovers, both young and young-at-heart: Tarot For Kids.
Get tarot fluent with Tarot: No Questions Asked: Mastering the Art of Intuitive Reading.
Prefer to listen to your tarot lessons? Check this out: Tarot: No Questions Asked: Mastering the Art of Intuitive Reading is available as an audiobook.
Astrology for Real Life: A Workbook for Beginners (A No B.S. Guide for the Astro-Curious) is the perfect intro for total astrology beginners! I make it easy!
There is an audio version if you prefer: Astrology For Real Life.
Shaheen Miro's The Uncommon Tarot: A Contemporary Reimagining of an Ancient Oracle is gorgeous. Have you checked it out yet?
Long summer days means quiet activities to keep you cool: The Tarot Coloring Book.
This book was written a few years ago but boy…is it ever needed now: Tarot For Troubled Times.
Classes and Events
Book Signing at Copper Dog Books. 272 Cabot Street, Beverly, MA 01915. When: Friday, August 5th at 6 PM.  Join me for a short talk and get your books signed! Yay!
Book Signing at Barnes and Noble at Fox Run Crossings in Newington, New Hampshire. I hope to see you there! When: Saturday, August 6th at 2 PM. Address: 45 Gosling Road The Crossings at Fox, Newington, New Hampshire, 03801. Be there and don't be square!
Book Signing at Free Spirit Crystals. Get your copy of Twist Your Fate signed by yours truly. When: Friday, August 19th at Free Spirit Crystals. I'll be there from 7 PM – 9 PM.
How to Use Tarot For Decision Making and Problem Solving. Change is inevitable. You will go through many cycles and personal transformations in your life. You might feel lost or unsure of your true purpose or next move. It's how you respond to change and its inherent challenges that matter. Tarot can connect you with your intuition to help illuminate the path forward. In this class, I'll walk you through the basics of tarot reading and I'll teach you my four favorite spreads for making decisions. (Psst…I'm a horribly indecisive person – tarot is my go-to when I'm stuck in analysis paralysis!). This is an evergreen course. Sign up any time, and go through the lessons at your own pace. Learn more and sign up here.
Astrology for Beginners. Want to learn how to do Astrology? Want to walk into a dinner party… pull up someone's Natal Chart… point to their Sun, Moon, and Rising signs… and explain what those mean? If you're like "Heck yeah, I wanna know how to do that!"… then this class is for you: Astrology for Beginners. This is a LIVE online class. 5 weeks. Thursday evenings from 7 PM CT/ 8 PM ET starting September 15th. Early bird special pricing ends June 15th!
Join my Patreon Community!  I am serving up extended card of the day interpretations, astrological tidbits, community tarot practice, political astrology, early sneak peeks to horoscopes….and more. Higher tiers get access to live classes, replays of previous classes, mentoring, and more.
What I'm Grateful For:
Quiet weekends
Progress on my next book
Orthopedic slippers
Trustworthy peeps
Long conversations with my bestie
Soundtrack for 7/16/22
Supermodel by Måneskin
Blessings,
Theresa
© Theresa Reed | The Tarot Lady 2022
images from stock photography and personal collection 
*Some of the links are affiliate links. I receive a small fee if you purchase but this does not affect the price of the item.*