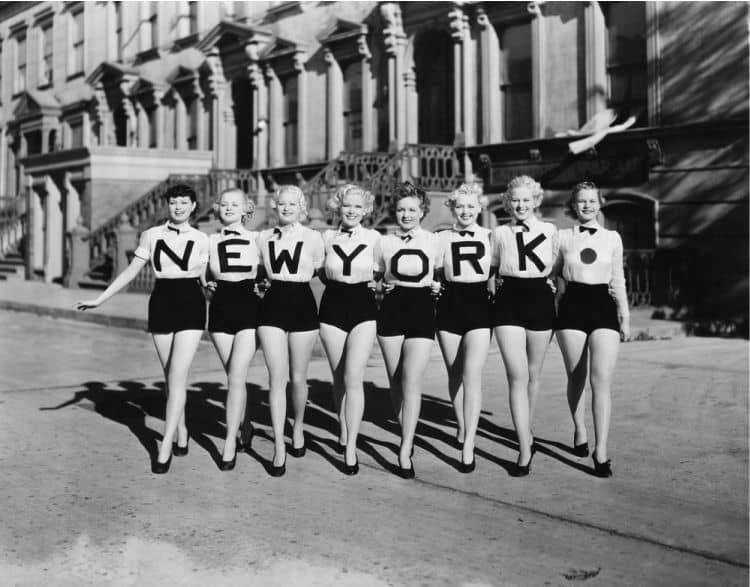 I wrote this piece about New York on my private Facebook page and folks seemed to like it so I decided to share it here.
So James Altucher, who I like, penned a grim piece on how he's leaving New York, and it will never recover from the pandemic. He's dead wrong. The New York he's talking about is the whitewashed one created for rich people.
I remember the "old" New York of the '80s. Crime was out of control, the homeless population was exploding, crack was everywhere, and art was thriving.
When I visited the first time after many years away, a friend asked what I thought as I walked through Tompkins Square Park, which used to be notorious for crime and heroin. "It's eerily safe," I said. Looking around I noticed that everything was "cleaned up," and expensive. The New York I loved became gentrified.
Times Square was no longer a bustling sleaze mecca. Instead, chain restaurants and "family-friendly" shops took over the entire spot. The peepshows, strip clubs, sex workers, and cheap little bars 'n food joints – all gone. While I appreciated the safe feeling walking around late at night, I was sad. I missed the old, gritty New York.
Now the rich people are leaving New York. They are fleeing to their summer homes and other cities. And writing about how New York is "finished" from some location on a remote beach where they will have gates around their communities.
They are so, so wrong. New York may be down, but it's not out. It will recover. He may be right about it not being the "same" but I think it won't be the "same" for him or rich people like him. It will be like the '70s and '80s for a bit. Then the artists will rise up and reclaim the city. The music, food, culture, and art will return with a fierceness. The people who couldn't afford it will be able to return to Manhattan. Who knows – maybe The Deuce will get its sleaze factor back (I'm all for that)?
So no, it won't be back for guys like him. But for people like me, who prefer the grit to the safe white rich person haven, it will be home once again. New York's comeback will be spectacular, creative, and full of color, magic, craziness, and music. Just watch.
New York is always beautiful to me.
Other stuff:
EV Grieve's blog on Vanishing New York is one of my faves.
The Rialto Report covers the Golden Age of Porn but my favorite are the old pics from trashy Times Square!
Fab photos from '80s New York.
From NY Times: What New York Was Like in the Early '80s — Hour by Hour.
I love looking at these old street views from New York in the '80s.
I guess it's pretty but not for me: The strawberry dress that ate TikTok.
It's always a disappointment to learn some people are jerks. Here's a post about the Lucky Peach guy.
People need to be kinder: Like Tess Holliday, I'm Fat And I Just Want To Live My Damn Life.
Yep: Kamala Harris' Historic Speech at the DNC Has Left People So Emotional.
Awesome post: A Guide to Using Tarot to Get Through Hard Times.
The Glamatory's Mimi Johnson On The Importance Of Supporting Black-Owned Businesses.
Entrepreneurs! You've got a lot on your plate. Sometimes it can be hard to see where to put your good energy. For insights, check out this weekly astrology forecast + planning guide: The Astro-Biz Digest.
Good to know: How to vote for the first time.
Learn about dispositors of the planets in this week's Astrology Bytes.
Great advice: 'Make a Plan and Don't Get Discouraged' Megan Rapinoe and Jennifer Siebel Newsom on Staying Sane in 2020.
From Well+Good: What Your Dominant Element in Astrology Means—And How To Balance It.
This looks interesting: A Scheme of Heaven: The History of Astrology and the Search for our Destiny in Data.
Why bother learning how to do Tarot yourself…when you could just hire a professional reader?
New to witchcraft? Start here maybe: The Spell Book for New Witches: Essential Spells to Change Your Life.
Gabriela Herstik has this fab new offering dropping soon: Embody Your Magick: A Guided Journal for the Modern Witch.
I need this: The More or Less Definitive Guide to Self-Care.
OMG: Tarot: No Questions Asked: Mastering the Art of Intuitive Reading – my new book is here in days! YAY!
Coming on October 1st: The Uncommon Tarot: A Contemporary Reimagining of an Ancient Oracle. This is a tarot deck that you will defo want!
Looking for something fun? Check out The Tarot Coloring Book. It's a wonderful way to connect with your inner child – and learn tarot.
Do you know someone who's going through a really challenging time? Divorce, death, grief, addiction, harassment, fighting injustice, or bullying…? Give them a deep, long hug. And then, consider giving them a beautiful Tarot deck + a copy of Tarot For Troubled Times.
Ah…astrology. So much information. So much math. It's a bit much, right? Lemme help you make sense of all this astrobabble with  Astrology for Real Life: A Workbook for Beginners (A No B.S. Guide for the Astro-Curious).
Events and Classes:
October 1st, 8th, 15th, and 22nd 2020: Tarot For Beginners – a live video workshop for total tarot newbies! These classes are live-streaming videos. You can watch online from anywhere in the world. Each class runs for 1 hour. For the first half, you'll watch as I explain and demonstrate a Tarot concept. For the second half, you'll practice using your deck and try out the concept you just learned. Give it a whirl!  $149 Early Bird tuition–good through Sept 1!* $199 Regular tuition–from Sept 2 through course start. Use this tuition coupon code for $50 off: TAROTLADY
Join my Patreon Community!  I am serving up extended card of the day interpretations, astrological tidbits, community tarot practice, political astrology, early sneak peeks to horoscopes….and more. Higher tiers get access to live classes, replays of previous classes, mentoring, and more.
August 30, 2020: Brushes and Stars. Where: online. A full-day of astrology and intuitive painting – and fun! Join me and Chris Zydel for a joyful, astrology-inspired intuitive painting experience. We begin exploring intuition, followed by examining your natal chart. From there, it's time to paint your interpretation of your chart! Group insights follow.
May 2-8, 2021: The Tuscany Tarot Intensive. Where: Italy! A full week of tarot immersion. Due to the Coronavirus, we moved the event to next year. Good news: the dates allow for a few extra seats which means you can join us next year! Yay!
What I'm Grateful For:
New York
My friends
New books coming out
Time to myself
Walks in the woods with my love
Soundtrack for 8/22/20:
Walk On The Wild Side by Lou Reed
Blessings,
Theresa
© Theresa Reed | The Tarot Lady 2020
images from stock photography and personal collection