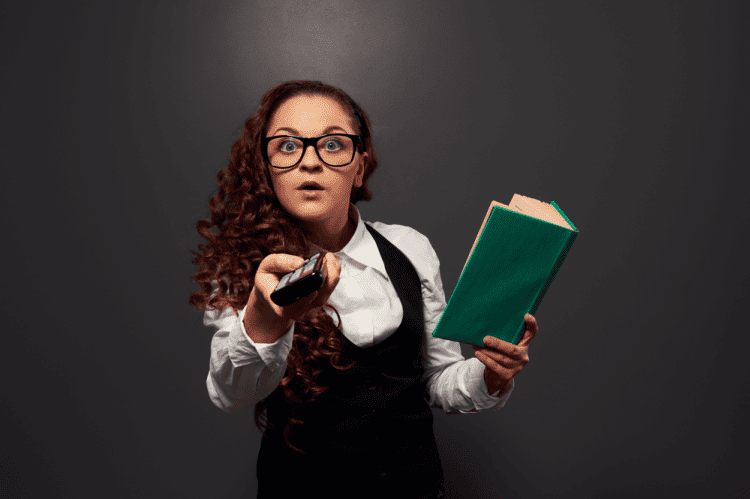 Okay, first of all: that picture. I saw it while I was cruising around on a stock photography site and laughed out loud. I can sooooo relate. Meaning: I read every night, but will also jostle between the television and whatever book is in my hand. Maybe it's because I'm a Gemini. Or perhaps I have undiagnosed ADHD. Either way, I'm always consuming something, whether it's educational or entertaining.
I thought I'd compile a list of the things I'm reading and watching right now (not that you're interested, but maybe you are). Here's what's making my Gemini brain happy:
The Righteous Gemstones – This ridiculous comedy about a dysfunctional televangelist family is one of the better things I've watched recently. If you need a laugh, start here.
Satan Wants You – I've got this cued up for the weekend. It's a documentary about the Satanic panic spurred by a book called Michelle Remembers. I actually read that book when I was a teen and thought it was fishy as hell. So now I get my confirmation, I guess.
Reservation Dogs – A funny, quirky tale about a group of teenagers living on a reservation. I finished this recently and was so sad it ended. It was that good. #WillieJackForEver
The Unwritten Book by Samantha Hunt – A spooky, deep, beautifully written book. Something to savor.
Tarot Life Lessons: Living Wisdom from the Major Arcana by Julia Gordon-Bramer – I just started tucking into this. So far, so good. I'll let you know as I get further along.
Aliza Kelly's Curiostiy Report is one of the smartest astrological newsletters. I devour it every week.
Poor Man's Feast by Elissa Altman is a gorgeous newsletter devoted to food, sustenance, life, and creativity. I love seeing it in my inbox.
Dame Magazine has intelligent feminist fare. The antidote to the mainstream media.
Alright, that's what's on my list of stuff to watch and read. What about you? What are you into at this time? Any recommendations?
xo
Theresa
Other stuff:
This is the coolest damn thing I read all week: A Beginner's Guide to the James Webb Telescope's View of The Universe.
My latest for the Old Farmer's Almanac: The best pies for your zodiac sign.
When bullied students end their lives, parents are suing. And schools are paying.
Well, are we: Are Gen Xers the New Boomers?
Interesting: What Your "Opposite Zodiac Sign" Means in Astrology.
NPR has a list of places where you can donate: How to help humanitarian efforts in Israel and Gaza.
I loved this story: Facing the rivals.
Yep: 2023 Election Results: Abortion Wins Big.
What should I write in my tarot journal? Here are my suggestions.
From the Tribal Tribune: Therapy that comes with tarot cards.
Bummer: Jezebel Helped Me Find My Voice. Its Closure Is the End of an Era.
Shaking the money maker: Inside an OnlyFans empire: Sex, influence and the new American Dream.
It's that time of year: 20 Gifts For The Person Whose Zodiac Sign Is Their Whole Personality.
Damn…I want these pajamas: Tarot Tales Pajamas.
Get ready for the New Moon on Monday.
Smell ya later: I tried perfume tarot reading to find a scent I connect with and here's what happened.
From Bust: What's up, Doc? 13 Must-See Feminist Films at this year's DOCNYC Fest.
SwissGear makes solid backpacks. This one is fantastic with lots of compartments.
My son recommended this book: Reasons Not to Worry: How to Be Stoic in Chaotic Times.
This is supposed to be a great read: Doppelganger: A Trip into the Mirror World.
WANT: Roast Figs, Sugar Snow: Food to warm the soul.
For rock stars: Crystalpedia: The Wisdom, History, and Healing Power of More Than 180 Sacred Stones A Crystal Book.
Just got this goody from Liminal 11: Fascinating Folklore: A Compendium of Comics and Essays.
This looks neat: The Astrology Tarot.
Rob Brezsny wrote a book: Astrology Is Real: Revelations from My Life as an Oracle!
NEED: So. Many. Astrology Stickers.: 2,565 Stickers for Zodiac Lovers.
Record all your secret tarot readings in this deluxe journal: The Weiser Tarot Journal: Guidance and Practice.
Are you struggling? Tarot can offer support: The Cards You're Dealt: How to Deal when Life Gets Real (A Tarot Guidebook).
You know what I can't stand? Astrologers and tarot readers who make you feel like you don't have a say in your life or personality. That's why I wrote this book: Twist Your Fate: Manifest Success with Astrology and Tarot.
The perfect after-school activity for your kiddos is tarot: Tarot For Kids.
Want to begin learning tarot? Need a refresher? Do you want to be a tarot pro? It's all here: Tarot: No Questions Asked: Mastering the Art of Intuitive Reading.
Prefer to listen to your tarot lessons? Check this out: Tarot: No Questions Asked: Mastering the Art of Intuitive Reading is available as an audiobook.
When I began learning astrology, the books were drier than an old biscuit. I decided the world needed a fun, frisky approach: Astrology for Real Life: A Workbook for Beginners (A No B.S. Guide for the Astro-Curious).
There is an audio version if you prefer: Astrology For Real Life.
One of my fave collaborations: The Uncommon Tarot: A Contemporary Reimagining of an Ancient Oracle.
Some folks need a hands-on approach to learn something. Coloring is one of the best ways to grok tarot: The Tarot Coloring Book.
There are a lot of hard things happening in the world right now. You might feel helpless. If you want to be present – and learn how to show up in a powerful way that makes sense for you, this is the book you need: Tarot For Troubled Times.
Need something to occupy your hands this weekend? Try this: Create Your Own Tarot Cards: A step-by-step guide to designing a unique and personalized tarot deck. <-Cards are included!
I've followed the planets for my business for many years. Now you can do the same for your biz: The AstroBiz Digest.
Your phone is with you all the time. Now you can get real-time astrological updates and daily tarot readings: Sign up here.
Write better. Get inspired by fellow authors. Learn about the publishing industry and how to market. The Metaphysical Author's Confidential – a newsletter for mystical writers: The Metaphysical Author's Confidential. Essays and lessons on writing, publishing, and marketing your magical book.
Classes and Events
Join my Patreon Community!  I am serving up extended card-of-the-day interpretations, astrological tidbits, community tarot practice, political astrology, early sneak peeks at horoscopes….and more. Higher tiers get access to live classes, replays of previous classes, mentoring, and more.
What I'm Grateful For:
Sunshine on a cold day
Plants
Stacks of books
Kitty love
Slow cooking on the weekend
Soundtrack for 11/4/23
TK421 by Lenny Kravitz – I am watching this on repeat. For research. Ahem.
© Theresa Reed | The Tarot Lady 2023
images from stock photography and personal collection 
*Some of the links are affiliate links. I receive a small fee if you purchase, but this does not affect the price of the item.*