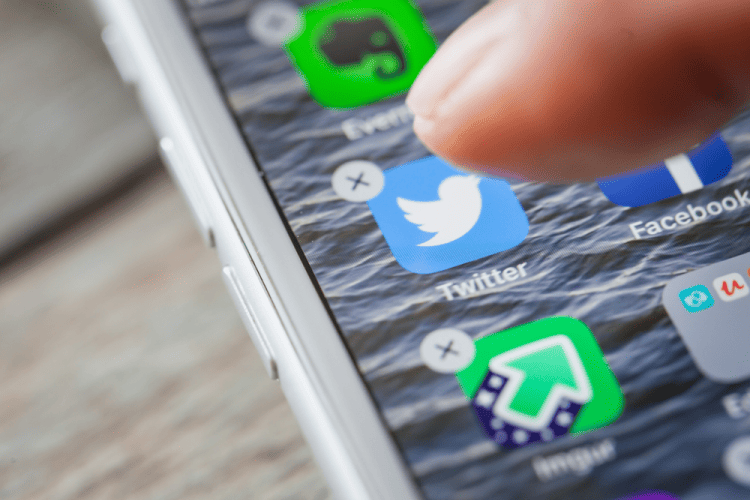 I've been on Twitter (I refuse to call it by the other name) for a long, long time. It was the first social media platform I truly loved. Quick conversations with all sorts of interesting folks and real-time news updates are a Gemini's dream. 
But since the takeover by "he who shall not be named," it's devolved. The algorithms are skewed, and hate runs rampant. Trying to find the info amongst the disinformation is like picking a blueberry out of a silo filled with grapes. Good discussions can be found, but those are becoming rare.
I've written before about unplugging or limiting social media. I've thought about leaving it altogether at times. I was especially conflicted about Twitter, Still, I hung on, even though I was going there less and less. I started weaning myself.
But now? I'm joining people like Dustin Rowles.
It's time to move on. I won't remove my account because I don't want scammers to grab it. (There are a ton of imposters in my field.) But I can delete the app from my phone, stop dipping, and disengage. I have an auto-posting app to post links to various social media platforms, which also eliminates my need to be present over there.
Instead, I can be present on better platforms. Or I can put my phone down and just be present. 
xo
Theresa
Other stuff:
By Dustin Rowles: If You're Still on Twitter, 'You Know You Shouldn't Be'
Another one: Book Publishing Must Break Up With Twitter.
My latest at The Old Farmer's Almanac: What the Solar Eclipse 2024 Means for Your Zodiac Sign.
Santos may be on the way out. FINALLY.
Sad to see it go: Jezebel's Closure Is More Than Just a Media Story.
Yep: Feminist Media Is Needed to Save Democracy.
A zine review: Beer Tarot by Courtney Iseman.
Mrs. Dow Jones Knows Why You're Broke.
In case some people need to hear this: The Best Holiday Gift? Keeping Your Mouth Shut About My Body.
Your Tarot Reading For The Holiday Season.
Be ready for Thanksgiving: The Best Pies for Your Zodiac Sign.
Starbucks workers are fed up. I stopped going there a long time ago.
From Bust: 5 things to make your life better this fall.
I love this question: Why do trees have differently shaped leaves?
From Marie Claire: How to Help Humanitarian Efforts in Israel and Gaza.
A powerful, painful read from Ainhola Palacios: La Gorda: A Speculative Exploration.
It's Time We Look at Some Not-Very-Yoga-Like Behavior Happening Among Many Yoga Teachers.
If you want to get that bag: Rich AF: The Winning Money Mindset That Will Change Your Life.
I love this: How to Draw Super Cute Things with Bobbie Goods: Learn to draw & color absolutely adorable art.
For next year's goals: The Money-Saving Gardener: Create Your Dream Garden at a Fraction of the Cost.
I'm always trying to get this home in order: A Dirty Guide to a Clean Home: Housekeeping Hacks You Can't Live Without.
OOOO: Handmade Books at Home: A Beginner's Guide to Binding Journals, Sketchbooks, Photo Albums and More.
Cool: The Marie Laveau Voodoo Grimoire: Rituals, Recipes, and Spells for Healing, Protection, Beauty, Love, and More.
On the wish list you go: Where Dragons Dance: Lunar Eclipse Pathways to Personality & Prediction.
The ultimate journal for tarot exists: The Weiser Tarot Journal: Guidance and Practice.
Life can be so frigging hard. Tarot can be a source of calm in those stormy times: The Cards You're Dealt: How to Deal when Life Gets Real (A Tarot Guidebook).
No matter how crappy your astrology chart may be, you have agency (psst…there is no such thing as a bad chart): Twist Your Fate: Manifest Success with Astrology and Tarot.
The best activity at the kids' table this Thanksgiving: Tarot For Kids.
I want you to hear this: you CAN learn to read tarot. This book will guide you through the basics: Tarot: No Questions Asked: Mastering the Art of Intuitive Reading.
Prefer to listen to your tarot lessons? Check this out: Tarot: No Questions Asked: Mastering the Art of Intuitive Reading is available as an audiobook.
Astrology is a big topic. I break it down into bite-sized lessons with this book: Astrology for Real Life: A Workbook for Beginners (A No B.S. Guide for the Astro-Curious).
There is an audio version if you prefer: Astrology For Real Life.
Here's a gorgeous tarot deck to add to your collection: The Uncommon Tarot: A Contemporary Reimagining of an Ancient Oracle.
A quiet activity after all that turkey 'n stuffing: The Tarot Coloring Book.
Tired of the dumpster fire news? It's tempting to look away. But the world needs you. Refuel your cup with tarot: Tarot For Troubled Times.
The perfect activity if you're stuck at the airport this weekend: Create Your Own Tarot Cards: A step-by-step guide to designing a unique and personalized tarot deck. <-Cards are included!
My success is guided by the planets (and my biz instincts): The AstroBiz Digest.
Your phone is with you all the time. Now you can get real-time astrological updates and daily tarot readings: Sign up here.
Write better. Get inspired by fellow authors. Learn about the publishing industry and how to market. The Metaphysical Author's Confidential – a newsletter for mystical writers: The Metaphysical Author's Confidential. Essays and lessons on writing, publishing, and marketing your magical book.
Classes and Events
Join my Patreon Community!  I am serving up extended card-of-the-day interpretations, astrological tidbits, community tarot practice, political astrology, early sneak peeks at horoscopes….and more. Higher tiers get access to live classes, replays of previous classes, mentoring, and more.
What I'm Grateful For:
New tech gear
Laughter in hard times
Baking again
Writing time
Soundtrack for 11/17/23
NEON SIGNS by Suki Waterhouse
© Theresa Reed | The Tarot Lady 2023
images from stock photography and personal collection 
*Some of the links are affiliate links. I receive a small fee if you purchase, but this does not affect the price of the item.*