Tarot isn't just for divination – it can also be a wonderful tool for guidance. In this series, we'll explore the advice options for every card.
With a Tarot deck by your side, you can make clear decisions, deal with challenges confidently, and find alternate routes when necessary. The result? The best possible guidance for the future you want.
Join me every Friday for a new installment – and get ready to add some helpful advice + loving support to your Tarot readings.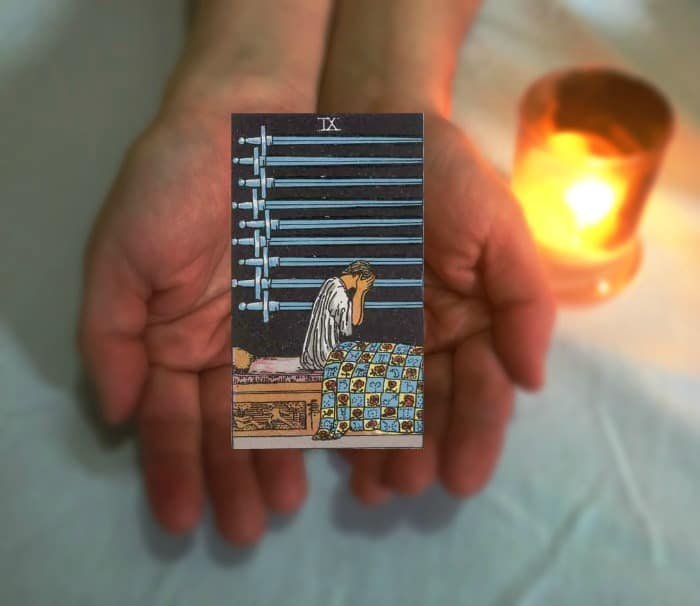 This week: Nine of Swords
Face your fears. If something is bothering you, it might be better to deal with it head on. Take care of the matter at hand. Don't put it off.
Do not suffer in silence. If you are struggling, seek help.
Get more rest!
If something is keeping you up at night, it may be time to eliminate that source of stress.
Sometimes the Nine of Swords may say: you have a reason to worry. The situation needs your attention.
Reversed: Nine of Swords
Stop worrying. Detach from your worries. Let them go. Do not let them take up space in your head any longer.
Are you worrying over something that you can control? If so, begin looking at the situation objectively.
Are you keeping your problems "in the dark" and putting on a brave face for the public? If so, it may be time to come clean. Open up about what's bugging you. Let others in.
This card can symbolize the end to a nightmare. As advice, the Nine of Swords reversed may say: it's coming to an end. Start looking ahead at the possibilities.
Questions to ponder:
When do you feel the most afraid? What are you worried about? What if your greatest fears came true? What if they didn't?
Blessings,
Theresa
Explore the whole series here: https://www.thetarotlady.com/tarot-advice-guidance-every-card/