Tarot isn't just for divination – it can also be a wonderful tool for guidance. In this series, we'll explore the advice options for every card.
With a Tarot deck by your side, you can make clear decisions, deal with challenges confidently, and find alternate routes when necessary. The result? The best possible guidance for the future you want.
Join me every Friday for a new installment – and get ready to add some helpful advice + loving support to your Tarot readings.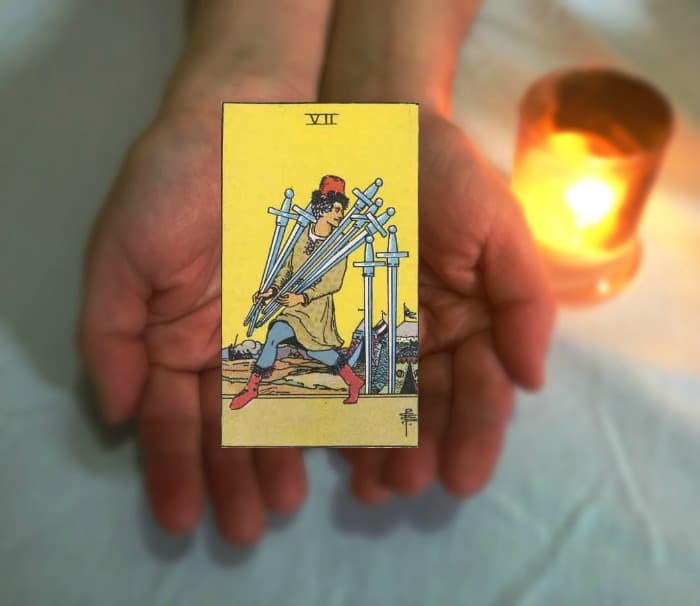 This week: Seven of Swords
Circumstances may require you to be sneaky. Do not be obvious. Stealth moves are needed at this time. Do not reveal your intentions. Go Ninja mode.
You may have to resort to dishonesty. Even if you don't like it, sometimes situations mean you can't be totally on the up-and-up. For example, if you are inquiring about a situation where you are dealing with an adversary, it may be wiser to either shut your mouth or resort to cunning.
The Seven of Swords may also be a warning of someone else using dubious means to achieve a goal – or theft. In those cases, the advice would be: watch your back.
Sometimes this card is a warning that you can't pull something off. You may need a Plan B – or to go back to the drawing board.
The coast is clear…for now. Hustle!
At times, the Seven of Swords may be advising you to get off the battle field. Make a daring escape!
Reversed: Seven of Swords
This reversal may be advising to take a straightforward and honest approach. Instead of cleverness, just tell the damn truth.
If you've taken something that does not belong to you, the Seven of Swords reversed says: give it back. Do the right thing.
Ask for help. There is no shame in that. You don't have to do it all nor do you have to go it alone. Find help for your struggles.
Questions to ponder:
When is it necessary to be cunning? Can you recall a time when you had to operate under the radar? Have you ever experienced theft? If so, what did it feel like and how did you handle it?
Blessings,
Theresa
Explore the whole series here: https://www.thetarotlady.com/tarot-advice-guidance-every-card/