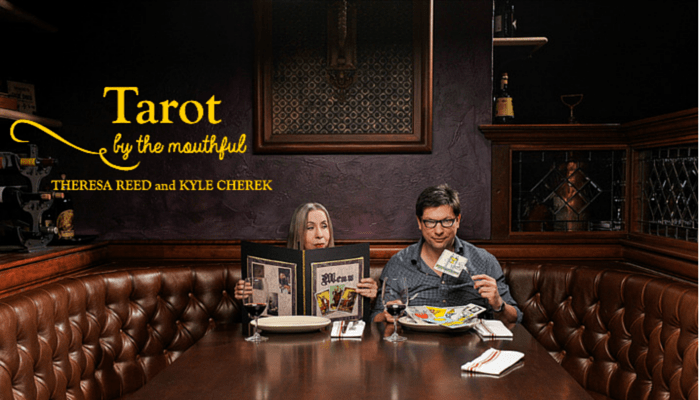 Kyle is a foodie who loves Tarot. Theresa is a Tarot reader who loves food. 
Together, we host Tarot by the Mouthful: a mouthwatering, multi-media culinary tour through the world of Tarot. 
Sublime recipes. Soulful stories. Essays, videos, interviews and delicious surprises. 
Join us every Sunday for a new installment — and get ready to sip, slurp, crunch and savor your way through the entire Tarot deck! 
This week: The Devil
The Devil: The Devil symbolizes bondage and addiction.  Sin and lust. The figures can take the chains off any time they want but, for now, they choose to remain in their predicament.   How are you a slave to your passions?  In what way are you allowing yourself to be stuck or controlled?  Only you can make the choice to release those bonds and free yourself.
This week, Kyle is enjoying summer fun with his family so it's all me, yo.
Theresa – Sugar Sugar
I am a woman with a strong resolve.  When I put my mind to something, shizz happens.  For example, when I decided to quit smoking, I just stopped.  Like that.  No going back, nada. That was over twenty years ago.
While my willpower is powerful, there is one thing that I have never been able to resolve: my relationship with sugar.
Lord, I've tried.  I've given valiant effort to the cause.  I even went three weeks without it once (lost five pounds immediately) but got sabotaged when I won a cupcake.  My intense sugary cravings came back immediately.
There is rarely a day that goes by without some little sweet thing.  A wee indulgence.  It might be a cookie, a handful of Whoppers or an expensive truffle…or two…or three.  Or more. (I am eating a chocolate croissant while I'm typing this.  No lie.)
None of  my siblings were sugarholics.  Neither were my parents.  But my mother and the other women in the family were talented bakers so I grew up with homemade donuts and cream puffs, coffee cakes for breakfast, and frosted brownies in my lunchbox.  Much of my allowance went to Mountain Dew and candy bars (until I discovered music – then most of those dollar bills went to albums).
And then there was my Aunt Deal.  This is the woman who made the most decadent cakes of my dreams, confections that were sure to send me into a sugar buzz frenzy.  Her baking was my crack and she was my dealer (I just realized the irony of this = Aunt Deal as my sugar dealer).
Aunt Deal was the person I wanted baking my birthday cake – and she showed up with a Red Velvet Cake, thick with buttercream frosting.  Or a chocolate chip cake, airy yet rich with flecks of chocolate. These were the cakes that I remember with such fondness.  I've yet to meet any pastry person who can match her deft hands. Aunt Deal was the best.
One of my favorite sinful desserts was the Banana Split Torte.  A crunchy graham cracker crust with a creamy base (with raw eggs as an ingredient!), topped with bananas, pineapple, whipped cream and cherries.  HEAVEN.  And my perfect summer decadence during hot nights.
Get ready for some decadence because here is her recipe:
Banana Split Torte
1⁄2 cup  butter, melted
2 cups  graham cracker crumbs, crushed
2 eggs
2 cups sifted powdered sugar
3⁄4 cup  butter, softened
1 teaspoon  vanilla
1 (20 ounce) can crushed pineapple in syrup, drained
4 medium  bananas, sliced
Heavy whipping cream, whipped to soft peaks with a bit of sugar added
Combine melted butter and crushed graham crackers. Press into bottom of 13 x 9 x 2 pan.
Beat eggs on high speed 4 minutes (this must be exact).
Add powdered sugar, softened butter and vanilla and beat 5 minutes more on high.  The filling should be light and fluffy but thick.
Spread over crumbs evenly.
Chill for 30 minutes in refrigerator.
Spread pineapples over cream mixture.
Arrange bananas over the pineapples.
Cover with the whipped cream.
Place the cherries on the whipped cream.  If you like, sprinkle some nuts also (I hated nuts on my desserts so Aunt Deal skipped those.)
Cover, refrigerate 6 hours or overnight.
Indulge with wild abandon.
I love vintage recipes.  Here are Aunt Deal's top recipes, some in her own hand:
And I leave you with a little bit of more vintage stuff – The Archies:
So tell me…what's your most wicked food addiction?
Bon appetit!
Theresa and Kyle
photos from personal collection and Jessica Kaminski
Hungry for more? Click here to explore the entire Tarot by the Mouthful series, from the very first card… right up to our latest installment. Bon appetit!