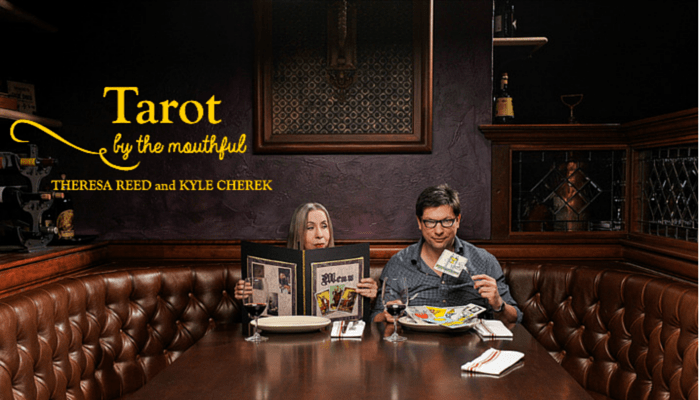 Kyle is a foodie who loves Tarot. Theresa is a Tarot reader who loves food. 
Together, we host Tarot by the Mouthful: a mouthwatering, multi-media culinary tour through the world of Tarot. 
Sublime recipes. Soulful stories. Essays, videos, interviews and delicious surprises. 
Join us every Sunday for a new installment — and get ready to sip, slurp, crunch and savor your way through the entire Tarot deck! 
This week: Queen of Swords
Queen of Swords: The Queen of Wands is the female thought leader.  She displays impeccable logic and always speaks her truth without fear. That's because she has oodles of courage + wisdom  – the kind that is developed through hardship and experience. She has tasted loss and knows how to lead others through it. She is intelligent, objective, and never lets her emotions get in the way. This card can signify a need to let your head lead the heart.  Take a rational, strategic approach to the problem at hand. If need be, clear the air by speaking with total candor.  Your truth is your weapon.  Nurture it.
Kyle: Chef/Owner Peggy Magister of Crazy Water & All Purpose
She embodies the energy of the Queen of Swords: straight-up, truth teller, logical, precise, independent. Listen to her at the 2 minute mark in the video below.
A self-possessed chef knows when they are ready for the next step, knows their limitations, and knows where their power resides. It takes that kind of energy to cook under Wolfgang Puck, soak up the knowledge an then bring it back to her own restaurants. Just listen to her speak with circumspection about chefs that gain skills in name check restaurants on the coasts and then return to Milwaukee….The Queen of Swords. Done.
Theresa – Chef Amanda Freitag
I didn't have to think twice about who would be my Queen of Swords. Chef Amanda Freitag, was my gal from the get-go.  If you don't know who she is, she's a famous chef and a guest judge on The Food Network's Chopped, an intense yet fun cooking show.  Chopped pits four chefs against each other with strange "mystery basket" ingredients that they must transform…or risk getting "chopped."  The winner gets a sweet $10,000.00 prize.  Amanda Freitag is my favorite female judge on the show.
With her fair skin and steely blue eyes (typical Queen of Swords descriptions), she might seem like an obvious pick for this tarot Queen.  But Amanda also has the cool-headed demeanor that  goes with this card.  In my opinion, she's also the best critic on the show because she's never afraid to say what's on her mind but delivers that truth in an imperturbable manner, always providing the most constructive criticism.  She knows her stuff and her judgment is impeccable – which makes you instantly trust her opinion. This is Queen of Swords in action.
Recently, I picked up her new book, The Chef Next Door: A Pro Chef's Recipes for Fun, Fearless Home Cooking, a gorgeous cookbook for home cooks who want to elevate their kitchen skills.  Jam-packed with delectable recipes plus strategies for tackling even the tough stuff (like lobster), Freitag proves to be a master teacher, inspiring all of us humble home chefs to bravely take on new culinary challenges. With her book by your side, you may find yourself channeling the fearless Queen of Swords energy as you get down to chopping.  Hail yeah to the Queen!
Bon Appetit!
Theresa and Kyle
© Theresa Reed | The Tarot Lady 2016
photos from personal collection, Getty Images, and Jessica Kaminski
Hungry for more? Click here to explore the entire Tarot by the Mouthful series, from the very first card… right up to our latest installment. Bon appetit!