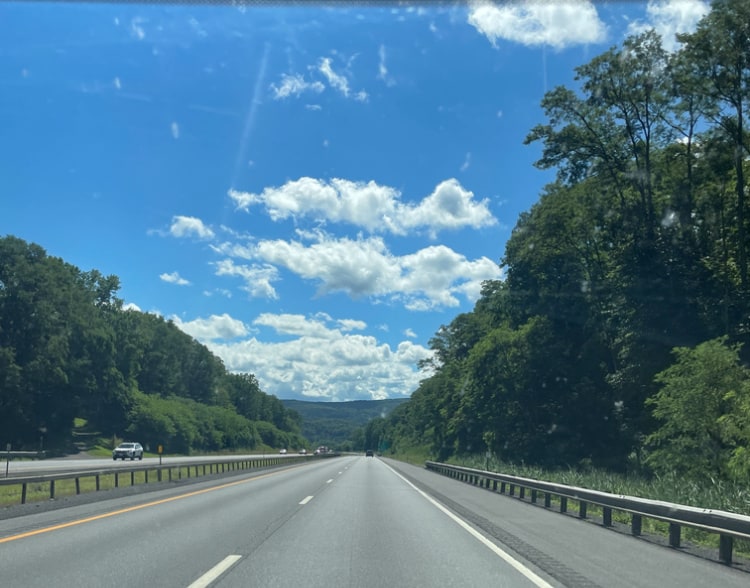 Last week, my husband and I hit the road for a mini-book tour to support my newest, Twist Your Fate: Manifest Success with Astrology and Tarot. We have not traveled for over two years due to the pandemic, so was going to be our "test drive" to see how we feel about leaving our bubble.
Plus, I was excited to see the East Coast, meet my Weiser Books family, and the prospect of a lobster roll.
As I began loading up the suitcase, I felt a pang in my stomach. I wasn't sure if it was excitement or anxiety. It might have been both.
Would we hold up on the road? What if we blow a tire? Is it safe to be around humans again? More importantly, would that New England lobster roll live up to the hype? So many questions.
We left in the early morning on Tuesday with a cooler packed with goodies. There were few folks on the road, so we zipped along and managed to avoid Chicago rush hour (one of my most hated things).
Two days later, we were in a beautiful home nestled in the Massachusetts woods (thank you, Kathryn). Then it was three days of book signing events, touristy stuff (hello, Salem), and hanging with the lovely folks at Weiser (waving to everyone). And yes, the lobster roll happened and it was worth the drive!
It was such a joy to connect with my tarot 'n astrology-loving community. So many folks came out to say hello. After a few years of only saying "hey" online, it was nice to put faces to the friendly social media buddies. I was also relieved to see almost everyone wore a mask, which made me feel safe, important since I live with someone who is immune-compromised.
Then it was time to head home. We decided to drive straight through because we wanted to get home to our elderly cat. Eighteen hours later we were back in our bubble, with a purring kitty making all the demands.
Although I was nervous, I'm super-happy we took the leap and passed the test drive. I'm still timid about being out there too much – but already eyeing up a trip to California next year. See you then!
xo
Theresa
We met a special new cat friend in New England:
Other stuff:
Kim Krans joined me on Tarot Bytes to talk about elements, alchemy, and her new deck.
5 Practical Things You Can Do to Protect Democracy.
From The Every Girl: What Every Part of Your Astrology Birth Chart Actually Means.
I love Sydney Sweeney: The Money Is In All The Wrong Places.
If you're looking for a travel backpack, start here.
I'm gonna make this soon: TikTok's viral baked feta pasta is worth the hype.
Haha: Why Joe Biden Keeps Winning the Internet by Accident.
Hello darkness: Why do the rich people love quiet?
'Delete Facebook' Trends After Nebraska Cops Use Messages to Prosecute Teen for an Abortion.
I am IN LOVE with this tarot deck: Radiant Wilds Tarot: Navigate Inner Desert Dreamscapes.
This is the most gorgeous tarot journal I have ever seen: The Complete Tarot & Oracle Journal.
Steven Pressfield is one of my favorite authors: Put Your Ass Where Your Heart Wants to Be.
Defo want to check this one out: The Life-Changing Power of Intuition.
WANT: Smart Brevity: The Power of Saying More with Less.
IT IS HERE! Whomp whomp! Check out my latest: Twist Your Fate: Manifest Success with Astrology and Tarot.
Don't like the tarot decks out there? Make yer own! Create Your Own Tarot Cards: A step-by-step guide to designing a unique and personalized tarot deck. <-Cards are included!
What every little one wants in their backpack this school season: Tarot For Kids.
When you're ready to up your tarot skills, get this book: Tarot: No Questions Asked: Mastering the Art of Intuitive Reading.
Prefer to listen to your tarot lessons? Check this out: Tarot: No Questions Asked: Mastering the Art of Intuitive Reading is available as an audiobook.
Wanna learn astrology but feel overwhelmed? I got you: Astrology for Real Life: A Workbook for Beginners (A No B.S. Guide for the Astro-Curious)
There is an audio version if you prefer: Astrology For Real Life.
New day, new tarot deck, am I right? The Uncommon Tarot: A Contemporary Reimagining of an Ancient Oracle.
Color away your stress with The Tarot Coloring Book.
Tarot For Troubled Times is a magickal book with lots of helpful rituals, spells, advice, and tarot (of course).
Classes 
Astrology for Beginners. Want to learn how to do Astrology? Want to walk into a dinner party… pull up someone's Natal Chart… point to their Sun, Moon, and Rising signs… and explain what those mean? If you're like "Heck yeah, I wanna know how to do that!"… then this class is for you: Astrology for Beginners. This is a LIVE online class. 5 weeks. Thursday evenings from 7 PM CT/ 8 PM ET starting September 15th. Early bird special pricing ends June 15th!
Join my Patreon Community!  I am serving up extended card of the day interpretations, astrological tidbits, community tarot practice, political astrology, early sneak peeks at horoscopes….and more. Higher tiers get access to live classes, replays of previous classes, mentoring, and more.
How to Use Tarot For Decision Making and Problem Solving. Change is inevitable. You will go through many cycles and personal transformations in your life. You might feel lost or unsure of your true purpose or next move. It's how you respond to change and its inherent challenges that matter. Tarot can connect you with your intuition to help illuminate the path forward. In this class, I'll walk you through the basics of tarot reading and I'll teach you my four favorite spreads for making decisions. (Psst…I'm a horribly indecisive person – tarot is my go-to when I'm stuck in analysis paralysis!). This is an evergreen course. Sign up any time, and go through the lessons at your own pace. Learn more and sign up here.
What I'm Grateful For:
The good people at Weiser Books
Great driving weather
Wifi
New adventures
Safe travels
LOBSTER ROLLS
Soundtrack for 8/13/22
Drink Before The War by Sinead O'Connor
Blessings,
Theresa
© Theresa Reed | The Tarot Lady 2022
images from stock photography and personal collection 
*Some of the links are affiliate links. I receive a small fee if you purchase but this does not affect the price of the item.*