2023 is looming large, which means one thing: it's time for my annual Ultra-Deluxe Superfly Astrology Guide! Yay!
Dates to watch out for.
Mercury retrograde…four times because: UGH.
Mars retrograde starting the year off on a wonky note.
Venus retrograde coming in strong (and causing drama) mid-year.
Eclipses in Taurus, Scorpio, Aries, and Libra – can you say INTENSE?
Saturn switching gears from brainy Aquarius to soft-hearted Pisces.
Jupiter moving into Taurus.
And the biggie: Pluto is about to dip a toe in Aquarius (is this the dawning of the Age of Aquarius?)!
Horoscopes and tarot cards (oh my!).
2023 is gonna be LIT.
Let's do this!
As you all know: I'm a self-confessed control freak. The only surprises I like are chocolate cake and glittery earrings. Other than that, I want to know what's up so I can plan accordingly. Every year, I map out all the big astrological happenings well before the year kicks offs. This helps me move through my year with as little drama as possible.
I've created this yearly mini-Astro Guide to give you the high fives and red flags you need to know so that you can be alert to the times when you need to amp up your awesome or kick back and wait it out.
How to use this astrology guide for 2023
Remember, the planetary action shows tendencies and potentials for opportunity… or problems.  Awareness of what's going on in the stars will give you an astro-edge because when you know what's up, you can strategize how to work that energy to your advantage (even if the stars are grouchy!).  Mark the dates of caution and action down in your calendar.  Read your yearly scope + special tarot card wisdom to see the bigger picture for your sign.  (You may also want to read the forecast for your rising sign as well.)  Then: make 2023 your BFF.  Bada bing!
Need more help?  I have a list of trusted astrologers at the end of this post who will be more than happy to give you a full-on personalized forecast (a personal report will give you major details so that you can be well-armed).
Read on, astro-playas:
Mercury retrograde
Mercury will be retrograde four times in 2023. This year, they'll be in Earth signs, with the exception of the last one, which lands in Sagittarius. The best plan during these periods: ground and center. Touch earth as much as possible – nature will be extremely helpful. Patience will go a long way too, no matter if you're trying to fly the unfriendly skies, negotiate a deal, or want to invest in tech or automobiles. Be sure to look everything over with a microscope. You might be able to avoid problems.
When Mercury is in Sagittarius, travel could be extra-gnarly. Be sure to keep some extra time in your travels if you want to lessen aggravation. (This happens right over the holiday season – don't say you haven't been warned!)
Also, keep in mind the usual advice: when Mercury goes retrograde, back up your computer, avoid signing contracts, do not buy new tech gear or vehicles, allow for extra time in all of your affairs (especially travel) and slow down as much as possible. (Check out my detailed post for more information: How To Have A Happy and Productive Mercury Retrograde.)
Mercury Retrograde dates:
Dec 29, 2022 – Jan 18, 2023, in Capricorn
April 21 – May 14 in Taurus
August 23 – September 15 in Virgo
December 13, 2023 – January 1, 2024, in Sagittarius
Venus retrograde
Venus will be retrograde from July 22nd – September 3rd in Leo.
Venus is retrograde from July 22nd through September 3rd in fiery Leo. This means romantic fireworks are possible, and not necessarily the good kind. Relationships could explode during this period. While the make-up sex could be exciting, who needs that drama?
Other Venus retrograde advice: this is not the best transit for getting married, signing legal contracts, or elective surgery. Put off those ideas until Venus is direct. Watch out for too much retail therapy – the credit card bills will be a killer if you're not mindful. This transit is great for collecting money owed to you.
Venus Retrograde dates:
July 22nd – September 3rd in Leo.
Mars Retrograde
Mars is the warrior planet and rules action, aggression, anger, passion, and sex. In Gemini, words can become deadly weapons. If you find yourself heating up, cool off before you say something nasty. While it may feel good to spout that snarky remark, the damage could be great. You'll want to curb your impulse to insult, both in person and online. No one needs that shitty tweet, buddy. We only have this sticking around until the middle of January – then we are free! Yay!
Mars will be retrograde on October 30, 2022, and direct on January 12th, 2023.
Eclipses
Eclipses bear mentioning because they can signal major changes afoot.  You'll need to check your chart to see where these changes might take place (if you don't have a copy of your chart, you can get one free at alabe.com).
This year, the eclipses are in Taurus and Scorpio (which puts the spotlight on money, values, sex, intimacy, joint finances, intuition, and the economy), and Aries and Libra (which are associated with individuality, courage, relationships, and diplomacy.) Major changes could be happening in those areas, both on an individual and collective level. It's also possible as the race for the 2024 presidency looms, this year may bring surprises.
Eclipse dates for 2023:
Solar Eclipse April 20th 29° Aries
Lunar Eclipse May 5th 14° Scorpio
Solar Eclipse October 14th 21° Libra
Lunar Eclipse October 28th 05° Taurus
New Moons/Full Moons
Moon cycles are GREAT for planning.
New Moons are perfect for starting something new, whether that be a relationship, a job,  a diet, writing that novel you've been talking about, or even a whole new chapter of your life! New Moon Astrology by Jan Spiller can teach you how to set intentions that work for every New Moon. I swear by that book!
Full Moons are about letting go.  Cut out that toxic lover, quit that draining job, give up your three-pack-a-day cigarette habit, and release anything that is old, outworn, or annoying (that crappy old sweater taking up space in your closet – begone!).
New Moon/Full Moon dates for 2023 (EST/EDT time)
January 6  – Full Moon in Cancer 16º
January 21 – New Moon in Aquarius 1º
February 5 – Full Moon in Leo 16º
February 20 = New Moon in Pisces 1º
March 7 – Full Moon in Virgo 16º
March 21 – New Moon in Aries 0º
April 6 – Full Moon in Libra 16º
April 20 – New Moon Solar Eclipse in Aries 29º
May 5 – Full Moon Lunar Eclipse in Scorpio 14º
May 19 – New Moon in Taurus 28º
June 3 – Full Moon in Sagittarius 13º
June 18 – New Moon in Gemini 26º
July 3 – Full Moon in Capricorn 11º
July 17 – New Moon in Cancer 24º
August 1 – Full Moon in Aquarius 9º
August 16 – New Moon in Leo 23º
August 30 – Full Moon in Pisces 7º
September 14 – New Moon in Virgo 21º
September 29 – Full Moon in Aries 6º
October 14 – New Moon Solar Eclipse in Libra 21º
October 28 – Full Moon Lunar Eclipse in Taurus 5º
November 13 – New Moon in Scorpio 20º
November 27 – Full Moon in Gemini 4º
December 12 – New Moon in Sagittarius 20º
December 27 – Full Moon in Cancer 4º
Other noteworthy astro-dates
After a few years of stressful aspects between the outer planets, 2023 sees them leaving each other alone. YAY! No doubt it's been a rough astrological ride since 2020, but now…we can regroup and clean up any messes from that time.
Sun conjunct Jupiter
Sun conjunct Jupiter – April 12 This is a lucky day. Make your wishes, set those intentions, look for the good, and spread joy where you can. If opportunities arise, say YES with glee!
Outer planets
Most of the outer planets will remain in the signs they've been in for a while. But this year, there is some significant movement. Jupiter will head into Taurus, Saturn drifts into Pisces, and Pluto test-drives Aquarius. Hot damn!
Jupiter
Jupiter in Aries at the beginning of the year. This transit of Jupiter favors brave, bold action and rugged individualism. Instead of following the crowd, it's time to stand out and take the lead. Blaze trails, thank outside of the box, and take risks. Those who are willing to stand on their own two feet will prosper. At times, there may be situations that test your faith. Keep going. This is not the transit for second-guessing yourself. Even if you make a few mistakes, you'll learn from them and emerge stronger than ever. Jupiter in Aries is also most excellent for reinventing yourself. If you've been itching for a life change – this is your time to pull up the stakes and start over.
Jupiter enters Taurus May 16th. Jupiter in Taurus is hella lucky for money. The economy could see improvement – and your personal finances might too. This is your best time to update your budget, diversify your portfolio, or invest in real estate. Keep your risks minimal and plan for security instead. Because Taurus is ruled by Venus, sensuality could be elevated during this transit. You might want to purchase a few luxuries, eat at fancy restaurants, or spend more time at a spa. There is nothing wrong with treating yourself (often), as long as you remember to put a little dough aside for rainy days.
Jupiter will be retrograde from September 4th – December 30th.
The best advice during that period: go back to school, study something new, finally complete a degree, or take a trip that you delayed in 2021. This is NOT a good time for gambling. You can lose your shirt if you are too impulsive with your money. 
Saturn
Saturn is in Aquarius at the beginning of the year. Saturn is the traditional ruler of Aquarius, so it's happy here. (Modern rulerships put Uranus as the ruler and list Saturn as a co-ruler.) When Saturn moves through Aquarius, the focus is on the future. This is a three-year period where technological advancements could solve some of society's ills. Aquarius is also interested in the collective – which means we'll be investing more time and resources into the community. If everyone gets a seat at the table, we all win. Saturn in Aquarius is the right time to build that big, inclusive table.
Saturn enters Pisces on March 7. The planet of structure isn't too happy in watery Pisces. Here, the energy becomes ungrounded and scattered. Instead of staying put and being responsible, this transit has everyone looking for the exit door. The best way to move through this transit: seek healthy escapes, find support if you're feeling emotionally overwhelmed, and create a schedule with room to breathe. Saturn in Pisces can open hearts, leading to greater compassion. It's also quite fab for art, music, and any sort of creative work. Bleeding hearts and artsy folks will be at their best now.
Saturn will be retrograde from June 17 – November 4. This is an ideal period for reviewing society's structures as well as our relationship to technology. We can see where folks are falling through the cracks – and how to fix that. Technology breakthroughs are possible – or some people may turn away from it altogether. Social media has a chance to get it right by taking a good, hard look at how it is influencing the world. If it's being used to spread hate, for example, this period might find new ways to combat that.
Pluto
Pluto in Capricorn. Pluto has been in Capricorn for several years, and it's almost done. Pluto is the planet of transformation, and Capricorn represents the status quo, the old way. This transit is perfect for revolution – tearing down the old structures to make way for the new. The last time we had this transit was during the American Revolution! Observe politics for the next few years. The times are a-changing.
Pluto enters Aquarius on March 23rd. This is HUGE. After a decade in earthy Capricorn, Pluto is moving on and up in innovative Aquarius. This marks a time when technology, art, and science undergo significant transformation. Change is coming on a broader scale as well for Aquarius favors the collective. The wheels of social justice are ready to turn and progress is on the way (although a few crusty old types may try to cling to the old ways!). We can begin to build an equitable future at last. Whatever was dismantled during Pluto in Capricorn is going to be rebuilt for modern times.
Pluto will be retrograde from May 1st – October 10th. This retrograde is perfect for examining your own outdated beliefs and thought patterns. Where do you need to evolve? Where are you stuck in the old? Clear that energy and empower yourself by creating new thought forms that support the way you want to show up in the new world that is developing right underneath your nose.
*Pluto retrogrades back into Capricorn on June 11th – and then heads back into Aquarius on January 20th, 2024 for an extended stay.
The following planets are the same as last year – other than the retrograde dates, the info remains the same.
Uranus
Uranus in Taurus – The planet of revolution in Taurus, the sign that rules money, promises to bring about a financial revolution of sorts. If you're looking for a steady, calm economy, good luck with that. Instead, this transit brings about major transformation – not just globally but also on a personal level. This promises to be a volatile and unpredictable time, but for those who are conscious, it may be a time to examine how free we really are when it comes to money.
For example, are you doing work solely for the dollar? Are you knee-deep in debt because you're trying to keep up with the Joneses – or because you've made some poor decisions in the past? Are you obsessed with gathering possessions and power – at the expense of others? Uranus in Taurus will make you examine all of this and more. This period will demand that you look at your relationship with money – and evolve it. If you are unwilling to do so, Uranus may throw a few wrenches in the system that may force you to rethink how you're handling it or making it.
What's interesting about this transit is that it's also coinciding with Saturn and Pluto both in conservative Capricorn. I think we're going to see a massive shift in banking, financial institutions, and government. New money technology and the rise of alternative money such as bitcoins are possible. Corporations and politicians could face an intense backlash under this transit if they put profits before people. The last time this transit happened was during the '30s and 40's – the time of the Second World War and the Great Depression. Remember: astrology shows that history often repeats.
My advice for this transit: handle your money with care. Put some aside for a rainy day. Pay off your debts if possible. If you are conflicted with your relationship with money, consider reading The Art Of Money by Bari Tessler – an excellent book that will help you transform your financial picture. This is the ideal book for this transit.
Uranus is retrograde at the beginning of the year until January 22nd. It will also be retrograde from August 28 – January 27, 2024.  This is an excellent time to reflect on your values as well as where you're stuck. If you're too firmly in your comfort zone, why? What might you need to do to break out of that? What changes do you need to make in your life, particularly around money?
Read No bull: a no-nonsense guide to maxing out the Uranus in Taurus transit.
Neptune
Neptune in Pisces – Neptune is the ruling planet of Pisces, so it's pretty happy here. This period is fantastic for artists, musicians, and mystics. Whether you're navel-gazing or tuning in and turning out, be sure to keep your feet firmly planted on the ground. This dreamy transit can produce escapism, so watch out for spaciness, drug/alcohol abuse, or other clever ways of avoiding responsibilities and other unpleasant things.
Neptune is retrograde from June 30 – December 6, a perfect time for spiritual retreats, intuition work, and any sort of mystical groove. Watch out for a tendency towards escapism. Stay grounded.
~~~~~~~~~~
Now – on to some mini 2023 personal-scopes with tarot advice! We're focusing on Jupiter, Saturn, and eclipses, yo!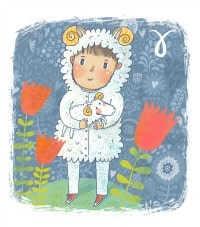 Aries: Once your ruler, Mars, stations direct on January 12th, you'll feel as if you can spread your wings at last. Nothing can hold you back and with Jupiter in your sign until May, you've got plenty of time to expand your world through educational pursuits, creativity, and travel. Your confidence is amplified and life feels grander than usual. This heightened optimism will attract many folks to your orbit, and once Pluto enters your friendship zone on March 23rd, you could find yourself moving into some exciting new social circles. A mix of old and new friends keeps things stimulating. But Saturn will be sliding into your karmic sector on March 7th, which means although you may be out of the cocoon, but there is still a lot of inner work to do. Therapy, meditation, and spiritual practices will keep you grounded. Your finances are set to improve greatly when Jupiter waltzes into your 2nd house on May 16th. New streams of income and a diversified portfolio could increase your wealth significantly. Share your good fortune as you wish, but don't forget to keep some aside for those rainy days. Two dates to pay attention to: the Eclipses on April 20th and October 14th. You'll need to make choices about certain partnerships. An ending or new commitment is possible. Don't be your usual impulsive self. Choose wisely because these decisions could be permanent.
The Moon – Not everything is as it seems. Take nothing at face value.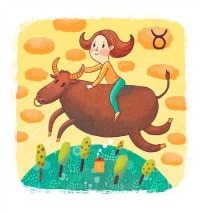 Taurus: This year is a turning point for you, dear Taurus. It starts off with the main focus on your career. Saturn in your 10th house puts a spotlight on your accomplishments. You may be receiving much-deserved praise or a new position. After all your steady efforts, it's nice to get recognition! March 7th puts Saturn in your social sector, which could mean you're ready to get out of the office to focus on friends and associates. The next two years could see your circle of friends go through a significant change as you build stronger alliances or release a few folks you've outgrown. Pluto will be in your career sector on March 23rd, elevating your ambition. This transit could see you rise to new heights. As you climb the company ladder, you'll gain new power. Just make sure you treat that responsibly. If you don't, a fall from grace is possible. But lucky Jupiter in your sign on May 16th keeps you safe for a year. This transit puts a positive glow on you. Even if you do something stupid, you can pivot those transgressions in your favor. Don't test your luck when your ruler, Venus, stations retrograde from July 22nd – September 3rd. During those weeks, you could make a move that backfires. Avoid future damage control by remaining present at that time. The Lunar Eclipse on October 28th signals a major change. An old story is ready to be shed, creating the conditions for writing a new one. How do you want the next chapter to unfold?
Four of Swords – Every now and then, you need to rest. Don't push yourself too hard. Know when to lie down.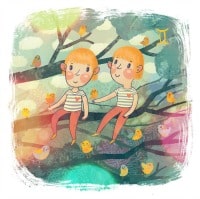 Gemini: Mars is still in your sign as the year kicks off, dear Gemini. You've had a few months to learn how to use your words wisely. Once it stations direct on January 12th, you'll feel as if you can express yourself more efficiently than ever before. Better yet: ideas you've been cultivating can turn into money-making ventures when Mars zips into your earned income zone on March 25th. March will bring other important events beginning with Saturn leaving your travel sector on the 7th and moving into your 10th house of career. After two years of exploring the world around you through long journeys or school, you can put that knowledge to the test as you step into the role of expert. A steady climb to the top of your game is possible now. Pluto will be in fellow Air sign Aquarius from March 23rd until June 11th, sending friendly rays your way. This period sees you stepping fully into your power. Expansive Jupiter has been widening your social circle for about a year, but on May 16th it will slip into your house of rest, which may cause you to want more time to yourself. Solo activities, top-secret projects, and spiritual retreats bring new fulfillment. Once Pluto is back in Aquarius next January, you'll be refreshed and ready to level up.
Death – You are in the midst of a transformation. Release the old, make way for the awesome.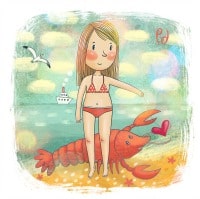 Cancer: The year begins with you standing on the main stage of your career, dear Cancer. Lucky Jupiter is gracing your reputation zone, giving you a special glow of competence. Your star has been rising since 2022, and now you can claim your spot! Finances are also on your mind. Perhaps it's time to ask for a raise or apply for a better-paying job? If you want to do that, make sure it happens in the first quarter because things are shifting dramatically for you once Saturn takes a two-year tour of your travel and wisdom sector starting March 7th. You may feel compelled to finally take that trip you put off due to Covid. Or maybe you'll decide to apply to a university. Either way, you've got plenty of time to broaden your horizons! Pluto elevates your intuition when it hangs out in your 8th house from March 23r through June 11th. During that time, your gut will have a lot to say. Pay attention and you'll make all the right moves. May 16th puts Jupiter in your 11th house of friends. Suddenly, you want to work less and play more! The year ahead gives you a chance to party down with your pals but also puts interesting new people in your world. Your life is getting bigger, brighter, and more exciting. Enjoy your 2023!
Queen of Wands – Stand in your power and handle your business. Others are depending on your leadership.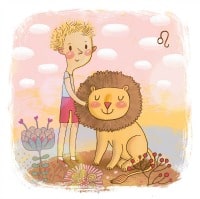 Leo: You've been working hard on your relationships, dear Leo. Some of your efforts have paid off, but there is still much work left to do. That's because serious Saturn is still hanging around your partnership sector as this year begins. Come March 7th, Saturn will step into the shared resources part of your chart, giving you two years to figure out how to merge finances and bodies. Sex and joint monies are up for review – it's time to figure out how to comingle (or not). When Pluto steps into your 7th house from March 23rd through June 11th, a few issues might cause friction. Something is being revealed that needs addressing and this could be the start of a large-scale transformation with all of your important partnerships. Jupiter has been skating through your 9th house of travel and continues until May 16th, when it heads into your career zone for a year-long stay. This transit opens all the doors of opportunity for you. Go big or go home (we know you're going bigger than ever)! The spotlight loves you and you're more than happy to hang around that main stage. Who knows – you might get famous! Romance hits a speed bump when Venus retrograde strikes from July 22nd through September 3rd in your sign. It's possible a loved one wounds your pride during this period, which may tempt you to do something dramatic. Hold your fire (and lay off the retail therapy) until this period is over. At that point, you may be ready to kiss and make up once and for all. Suddenly your roar becomes a purr!
The Sun – This might be one of your best years ever! Abundance, success, and joy are yours for the taking!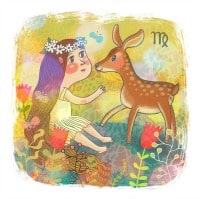 Virgo: You're the workaholic of the zodiac, dear Virgo. This means you certainly haven't minded Saturn's transit through the work section in your chart for the past two years. You might have taken on new responsibilities during that time or perhaps you threw yourself into exciting projects. Once Saturn leaves this house on March 7th, you'll be ready to roll up your sleeves and put that same effort into your relationships. Single Virgos might be ready to explore who's on the dance floor while those in committed partnerships may choose to power through old issues – or part ways once and for all. Just know you have two years to figure it out, so don't rush the process. Pluto tiptoes into your 6th house from March 23rd through June 11th, which could instigate a desire to improve your health. Perhaps you've put on a few pounds or maybe your fitness regime is on the back burner (hey, you've been busy). Whatever the case, a transformation is possible if you apply your will. You can do this! Jupiter has been improving your money situation since last year, but once it darts into Taurus, you may be tempted to spend your dough on travel. Why not? Schedule a long journey to a faraway place and you might learn something about yourself (like how to relax). This is also a stellar transit for going back to school. Perhaps it's time to finish that degree once and for all. Or maybe enter an entirely new line of study! An old flame may reemerge when Venus is retrograde from July 22nd through September 3rd. While this may seem enticing, there is a possibility it could backfire. Rethink this carefully. If it didn't work before, what makes you think it's going to be different this time?
The High Priestess – This year gives you a better connection to your sixth sense. If you get a feeling about anything or anyone, trust it.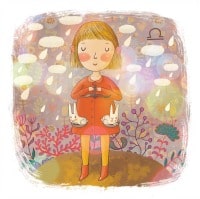 Libra: Last year put your relationships to the test, dear Libra. A few key partnerships flourished, while others bit the dust. More importantly, you've learned about boundaries and honesty, two of your so-called weak points. No more passive-aggressive people-pleasing! Instead, you're able to state what you need and say no with conviction. It feels good, doesn't it? You've got a few months to repair any partnerships that matter, so if you biffed it with the wrong person, make that your first priority as 2023 kicks off. Once Saturn heads into your work zone on March 7th, you're ready to get serious about your career. You'll have two years to make an impression on the boss, so get your rear in gear and let's do this! For self-employed Libras, consider this your golden period for tightening up your ship. Create a plan, stick to it, and those efforts will pay off handsomely. Jupiter enters your 8th house of joint finances on May 16th, which could bring new sources of income, especially via partnerships. If you're going into business with someone else, you could double your revenue! However, you'll want to keep a tight rein on your cash when your ruling planet Venus is retrograde from July 22nd through September 3rd. That period could be hella expensive, depleting your gains in record time. Put your credit card on ice if you want to keep your cheddar safe! The Solar Eclipse in your sign on October 14th is your green light to shed your old image. A fresh set of threads and a new 'do will have you strutting your stuff in style as the year comes to a close. (Psst…this could also mark the end of an old "identity." For example, if you've been knee-deep in "mom" mode, the kids may be ready to leave the nest, giving you permission to start a new phase!)
The Fool – A new path beckons. This could be the beginning of an exciting chapter.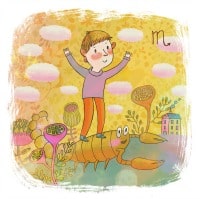 Scorpio: This year continues to bring opportunities for growth, dear Scorpio. Two eclipses will shake out anything or anyone that needs to go. Those happen on May 5th and October 28th – pay attention to whatever is happening within you or around you on those days. Epic changes could occur, clearing your life for new adventures and fresh relationships. There may be a few surprises too, so you'll want to hold off on making a move until the eclipse dust settles. Saturn has been hunkered down in your domestic sector for two years, and you may have been in hermit mode during that time, perhaps due to the pandemic. Once Saturn cruises into your romance zone on March 7th, you might be interested in forging a connection, especially if you're single. You'll have a couple of years to meet 'n greet – so defo put yourself out there. Some Scorpios may decide to make a commitment or start a family during this period too. Whether you're single and ready to mingle or partnered and ready to put a ring on it, there is no better time to put your attention on love. Your ruler, Pluto, spends a few months in your 4th house, starting on March 23rd. During this period, you may be interested in renovating your crib – or purchasing real estate. This period ends on June 11th, so you'll want to take care of those matters before then. If nothing resolves, Pluto will be back for a long stay next year, plenty of time to get your nest correct. More good relationship news: Jupiter struts into your 7th house on May 16th, which elevates the possibility of meeting "the one" or cementing a current flame. There is no better time to focus on love (unless you decide you really adore that hermit mode – if that's the case, back to the bat cave you go!). Watch your reputation from July 22nd – September 3rd, when Venus is retrograde. This is not the time to step on toes to reach the top. If you're careless with other people, you could experience a backlash.
Two of Swords – Every decision matters. Take your time, compare options carefully, and make your move when you feel you have the right information.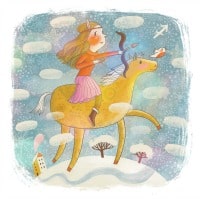 Sagittarius: Last year was great for love and home – and that good vibe continues this year. Your ruling planet, Jupiter is still in the romance section of your chart as 2023 commences, which means you're lucky in matters of the heart. Rom-com adventures or a true love connection is in the stars for you. It's also divine timing for expanding your brood. For Sagittarius folks who want to start a family, get busy! (Psst…if you're single and having a good time in playboy/playgirl mode, keep on keeping on!) Stern Saturn settles into your domestic sector for two years beginning on March 7th. You could be up to your ears in home renovations or interested in purchasing a new home. This will tie up your resources for a bit, so be patient. It's also possible you may be taking care of a loved one during this time. If so, you'll need to figure out the work/life balance. Pluto in your mind zone from Marcy 23rd through June 11th is super-duper for intuition but it also urges caution in signing contracts. This means you'll want to trust your gut before saying "I do" on legal affairs. Be sure to read all the fine print. On May 16th, Jupiter sets foot in your 6th house, bringing improvements on the job (or a better one altogether). Relationships with coworkers will be harmonious and it's possible you may land a promotion. Self-employed Sagittariuses could finally see their businesses booming. Suddenly, you have more clients and cash coming your way. If you're taking a trip from July 22nd through September 3rd when Venus is retrograde, you'll want to keep a close eye on your expenses. If you're careless with your dough, you could experience a shock when the credit card bill arrives a few weeks later!
Nine of Pentacles – Take care of your home and yourself. This is key to feeling good – and secure.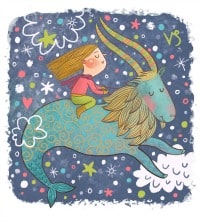 Capricorn: This is going to be a great year for you, dear Capricorn. Your ruling planet, Saturn, has been sitting tight in your money house for two years, which means you've been busting your hump and counting your pennies. That comes naturally for you, so perhaps it wasn't too painful. But once Saturn leaves for your 3rd house on March 7th, you'll be glad to see it go. This sets you up for two years of serious study. Go back to school, sign up for online classes, and read all the books. (Psst…if you want to write a book, have at it!) Pluto will take a mini tour of your money zone from March 23rd through June 11th. During this time, you may find new ways of making or handling cash. A new side hustle? Perhaps. Or maybe you're ready to combine your resources with a partner. Either way, you're getting a feel for what's to come next year, when Pluto takes a long trek in this part of your chart. Lucky Jupiter brings excellent romantic prospects when it saunters into Taurus on May 16th. Over the next year, you'll have better luck with love (yay!). This could play out as an improved relationship, a new partner, or exciting new playmates. Love is looking up! However, you'll want to keep your cards close to your chest when Venus is retrograde from July 22nd through September 3rd. No matter how ga-ga you feel, a bit of restraint will ensure you make the right decision.
Five of Swords – Your game is strong but so is the competition. Keep one eye on the prize – and the other trained on your foes.
Aquarius: The past two years have matured you, dear Aquarius. You had to get serious – and look at you now. It paid off! You're moving through the world like a total boss, gaining mad respect from everyone you encounter. Once Saturn makes a move into your money zone on March 7th, you're ready to take a sober look at your finances. If you don't like where you stand at this time, you've got two good years to get your fiscal act together. You might need to make some hard decisions and work like a fiend, but at the end of that period, your financial outlook will be greatly improved. Pluto will be in your sign for a brief period (March 23rd – June 11th), giving you the willpower to plow through any obstacles you encounter. You got this! This transit could also bring a desire to change your look completely. Maybe you want to shave your head or dress only in purple. You're the fashion rebel of the zodiac, so feel free to go buck wild experimenting with different looks! Your home life gets an upgrade when Jupiter prances into your domestic scene on May 16th. This is often associated with a new home, upgraded living conditions, or better relationships with your family. It's also possible you'll travel, which could take you far away from your nest. A romantic relationship becomes complicated when Venus is retrograde from July 22nd through September 3rd. Your maturity is about to get a huge test. Are you ready for this? Yep, you are.
Ace of Pentacles – A financial door opens wide. Suddenly, you can see the way to prosperity.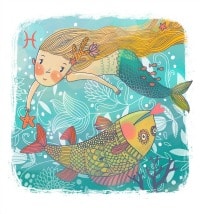 Pisces: 2023 is going to be filled with many important lessons, dear Pisces. In a way, you've been preparing for it, thanks to Saturn resting in your 12th house for the past two years. You've had time to work on yourself – and once Saturn goes into your sign on March 7th, you're beginning a two-year odyssey of new growth. During this period, you may feel a greater sense of responsibility for how you're moving through the world. Instead of flitting about like you usually do, you're more measured in your words and actions. A heavier workload is also on the agenda, which means you don't have time for nonsense. Instead, you've got to knuckle down on the important stuff. Pluto takes a quick cruise through your rest zone from March 23rd through June 11th. These three months could find you exploring new spiritual practices or entering therapy. A desire to go deeper into your inner world is developing, but you need to figure out how to balance your spiritual life with reality. It won't be easy, but if anyone can find a way to swim through daily responsibilities and inner work, it's you. Fortunate Jupiter spins into your 3rd house of short travels on May 16th, opening the door for all sorts of little road trips. Make time to get out of your hood when you can – it will elevate your mood. Your work situation will test your last nerve during the Venus retrograde period from July 22nd through September 3rd. People will be extra-demanding at that time. Keep your cool and remember: this too shall pass.
Eight of Pentacles – Bring your A-game to everything you do. Don't slack. Your rewards will be equal to your effort.
~~~~~~~~~~
If this astrology guide for 2023 rocked your world, you may want a personalized chart. These are a few astrologers I love:
Learn astrology, tarot, and more:
Get daily forecasts, political astrology, special events, and classes with me. It all happens on my Patreon page!  Pay annually and save 10%! Woot!
Get my books:
You were born with specific gifts. They're written all over your astrological chart. Get my new book—and learn how to find your strengths and maximize them: Twist Your Fate – Manifest Success with Astrology and Tarot.
Maybe you hired an astrologer for a professional reading. But what if you could learn how to read a chart, all by yourself? You can. It's not as complicated as you think. This book walks you through it: Astrology For Real Life – A No B.S. Guide for the Astro-Curious.
For entrepreneurs:
Every week, I send a *top-secret* newsletter where I share an astrological forecast…especially for business owners. It's called the Astro-Biz Digest. And it's just $99 for a full-year subscription. Intrigued? Check it out: Astro-Biz Digest.  
Happy 2023!
Blessings,
Theresa
©  Theresa Reed | The Tarot Lady 2022
images from stock photography