The "Which tarot cards indicate" feature is designed to increase your tarot vocabulary and help build a strong database of tarot card meanings.
Which tarot cards indicate buying a new home?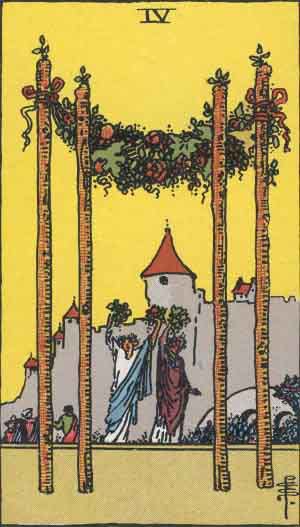 Four of Wands – If I see this card in a question about buying a new home, it's hell yeah! The Four of Wands is the card of celebration but also the figures standing outside the home seem to say "we've found our ideal place."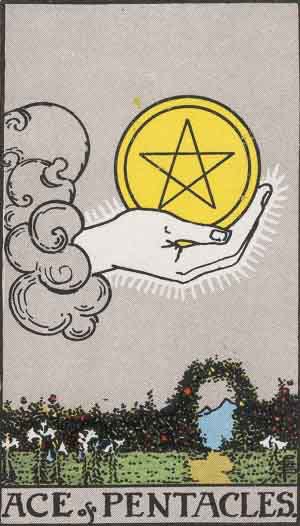 Ace of Pentacles – Although any of the Aces could indicate a new beginning, the Ace of Pentacles is one of the cards that I love to see when asking about buying a new home. This card can symbolize making an offer, getting the loan, or receiving a yes on your offer. If you are selling your home, the Ace of Pentacles could indicate receiving a strong offer. The Ace of Pentacles could also say "this home is a solid investment" if you are asking about a particular property.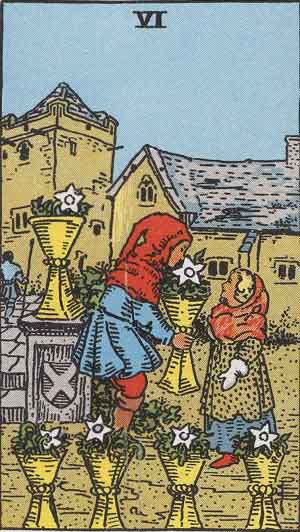 Six of Cups – This idyllic domestic scene can indicate finding and buying a secure home for your family. It's an especially good card if you're looking for a home that will be good for your children (ex: near great schools). The Six of Cups can also indicate a happy offer, which is good to see if you are buying or selling.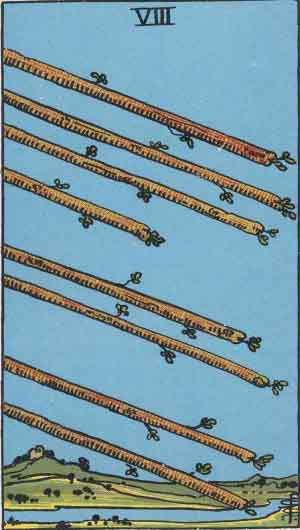 Eight of Wands – The Eight of Wands symbolizes good news, progress, and a move. In other words: it's a fab card to see if you're asking about purchasing a property!
The World – The World indicates the successful completion of a goal, which is fantastic for questions about a home (or any other goal you have!).
Justice – Because buying property requires stepping through legal hoops, Justice is a strong indicator that you might be signing a contract.
The Chariot – Because of its connection to the astrological sign Cancer, which rules the home, The Chariot could be a sign that your goal will become a reality. This is an especially positive omen if you've been struggling to find the right home.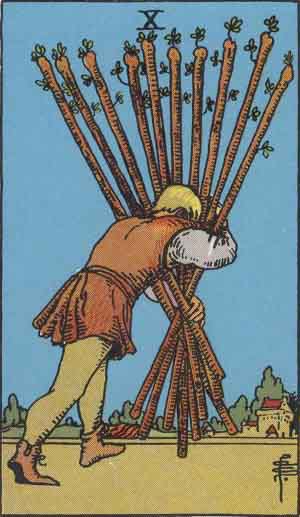 Ten of Wands – The Ten of Wands may not seem like a card that has anything to do with home ownership but I have seen this card come up when someone is trying to buy a home but experiencing problems. I like to say "hang in there-there is a home in your future…stay the course and you'll get it."
Ten of Cups – This lovely scene is a joyful card to see in a reading about buying a home. It's always a big, happy yes!
Ten of Pentacles – When it comes to questions about home ownership, the Tens have it (except the not-so-happy Ten of Swords)! The Ten of Pentacles is a card that shows the whole family in a secure, well-maintained home. It's a great card for folks who are asking about buying a home. When I see this card, I sometimes interpret as a home where you can stay for a long time.
Note: These are my favorite tarot cards for questions about buying a home. Other cards to consider are The Empress, Emperor, and Hierophant, which can indicate establishing a strong, secure foundation for your family. Of course, there are so many ways to look at the tarot, you might even find cards such as the Two of Cups or even the Page of Pentacles as strong indicators that suggest buying a home.
What Tarot cards indicate buying a home to you?  Share your thoughts with me on Twitter: @thetarotlady
Blessings,
Theresa
Check out the Which tarot card archives for more Tarot card meanings.
© Theresa Reed | The Tarot Lady 2019