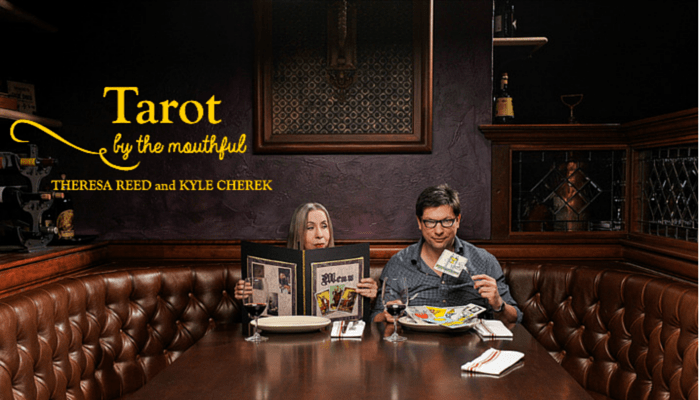 Kyle is a foodie who loves Tarot. Theresa is a Tarot reader who loves food. 
Together, we host Tarot by the Mouthful: a mouthwatering, multi-media culinary tour through the world of Tarot. 
Sublime recipes. Soulful stories. Essays, videos, interviews and delicious surprises. 
Join us every Sunday for a new installment — and get ready to sip, slurp, crunch and savor your way through the entire Tarot deck! 
This week: Page of Pentacles
Page of Pentacles – The Page of Pentacles is the studious youth, totally focused on his studies. He is in total learning mode. This card can symbolize education, studies but also new seeds being planted, seeds that will one day bear fruit.  This is the beginning of a new project or financial venture.  It can also indicate important news about money or material affairs.
Kyle – Schooled
I stayed up late last night talking to my wife. We are on vacation, the last hurrah of summer before school begins for our children.
Next week, one enters 5th grade, the other 3rd. We talked about the changes they would face in their new grades, our goals for them, the routines we would lay out for them as an undergirding for their days so that they could accomplish all we knew they could, and then it hit us. My wife realized it initially.
We, as a couple, had been absent of goals and deep learning for some time. We listed off the skills we had added to our repertoire in the past few years: learning to sew, cooking techniques, etc. Once avid readers, and students of life skills, both of us had slowed in our advances of lifelong learning in the past few years. This Ted Talk, which we had watched together a few days earlier, was the spark for our conversation on learning.
In it Dr. Seema Anand references the 64 stages of seduction from the Kama Sutra. Now, I don't wish to spoil how this relates to lifelong learning, but I do think it is gorgeous illustration of the power of learning, attainment, and reinvestment of those skills again, across our lives. In the talk, which I hope you watch, Dr. Anand calls it "the elixir of youth." The Page of Pentacles immediately sprang to mind as I watched portions of this talk.
Theresa – Forever learning
Every experience is a chance to learn.
When I conceived the idea for this series, it sat in the back of my skull for quite a while.  But it was always there…lurking every time I cooked or ate a meal.
You see, I view everything through a tarot lens. I can't help but combine it with many things in my everyday world.
I initially approached Kyle to interview him for the Emperor because he's the biggest authority I know when it comes to food. He's brilliant and his Emmy-nominated show, Wisconsin Foodie, is one of the better food shows out there.  He knows his stuff and he has the same curiosity about the world that I do (must be his Gemini moon). He's also a fan of all things mystically-oriented.
I was delighted that Kyle was so stoked by my idea that he wanted to participate regularly.  In fact, his enthusiasm threw me for a loop.  I didn't expect it.
But it felt right.
Since that fateful day, I have learned so much through this shared experience.
I became schooled about the food industry.  I've studied things that I might have never bothered to explore before.  I've "met" incredible chefs and learned about culinary history from Kyle. I made a perfect soufflé.
It's been an incredible learning experience.
And I've approached this like a total Page of Pentacles: studious, determined, focused…endlessly fascinated much as I am with food and tarot.
And it's almost to a close.  Just three more cards and we're done.
But am I ever done learning?
No.
I'm forever a Page of Pentacles.
Bon Appetit!
Theresa and Kyle
© Theresa Reed | The Tarot Lady 2016
photos from personal collection and Jessica Kaminski
Hungry for more? Click here to explore the entire Tarot by the Mouthful series, from the very first card… right up to our latest installment. Bon appetit!