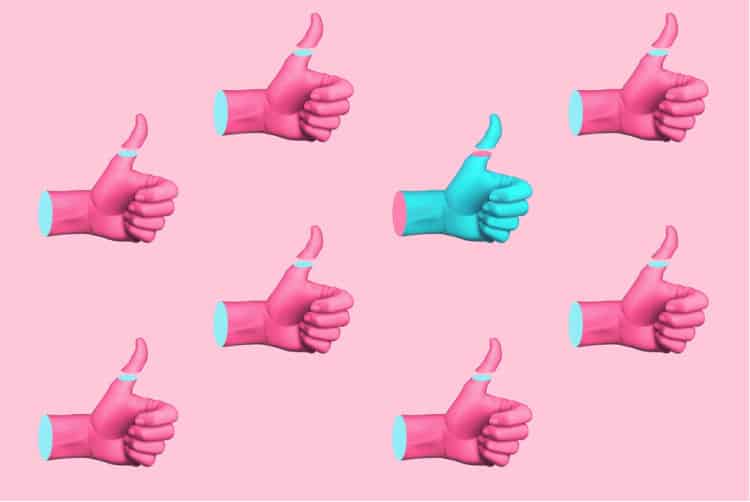 "There are no guarantees. From the viewpoint of fear, none are strong enough. From the viewpoint of love, none are necessary." – Emanuel Tanay 
Many years ago, I read that quote and it stuck with me. It's one of my favorites. During times like this, I think of it all the time. 
"Will everything be okay?"
Everyone is asking that question. The world is upside down at the moment and it's frightening. Everything seems rudderless and nothing feels solid. When chaos is the flavor du jour, folks want one thing: a guarantee. A guarantee says "I'm safe. I have nothing to lose."
But the truth is, in life, there are none. Everything can change in the blink of a gnat's eye. One day, you're going along business as usual and then one wrong or right turn…and it's a different story. 
So what do we do then? If there are no guarantees, then what? We move with the flow of life, not against it. This isn't the same as giving up. Instead, it means letting go of our expectations on how the outcome should be. In yoga, we call that aparigraha – non-attachment. It's not easy but it leads to a life of peace, no matter what is happening in your world…or the world at large. If you choose to be present with the now, knowing that this moment is precious and everything is impermanent, you're free. 
The only guarantee you get in life is that nothing remains the same. 
Go with the flow.
Other stuff:
My picks of the 7 great tarot decks for beginners.
My friend, animal communicator Stacy Krafcyzk, is on the Brandon McMillan podcast.
Some of my faves: These Black Astrologers Will Energize Your Instagram Feed.
Whence Came Stonehenge's Stones? Now We Know.
Check it out: Bri Saussy loaded up her AstroRx 2021!
Job diary: I've been a professional tarot card reader for over 20 years — here's what my days are like.
I love this: Kusamono: The softer side of bonsai.
From Bust: Here's How To Help The People Of Beirut Right Now.
Good news: Salary History Bans Are Starting To Improve the Wage Gap—Here Are 6 Other Changes That May Level the Field.
Learn how to determine the condition of a planet in this week's Astrology Bytes.
Tragic: Daisy Coleman, Subject of the Sexual Assault Documentary Audrie and Daisy, Has Died By Suicide at 23.
Hurry up: Expect Joe Biden's VP Announcement Soon, Says A Campaign Expert.
Cannot wait: Zendaya Just Gave a "Euphoria" Season 2 Update.
Over at Wired: Wanna Learn How to Read Tarot Cards? Try These Apps.
Learn which cards indicate criminal activity.
From Psychic Readings by Brandi: 2020 US Election Insight – What's in the Cards?
Bob The Drag Queen Advises Us On Addressing Political Issues With Our Elders And More On BUST's "Poptarts" Podcast.
Yup: Congress Needs to Prioritize Immigrants in the Next COVID-19 Relief Bill.
Nancy Hendrickson joins me to talk about Ancestral Tarot over at Tarot Bytes.
Great advice from Cosmo: What Questions Can You Actually Ask Tarot Cards?
A Black Mom and a White Mom Discuss Raising Their Black Children in the South.
From Refinery29: How Tarot & Astrology Helped Me Catch My Cheating Ex.
A necessary book for all businesses: Inclusify: The Power of Uniqueness and Belonging to Build Innovative Teams.
Are you getting this book from Mary Trump: Too Much and Never Enough: How My Family Created the World's Most Dangerous Man?
Ooh: The Complete Book of Moon Spells: Rituals, Practices, and Potions for Abundance.
WANT: Crystals and Numerology: Decode Your Numbers and Support Your Life Path with Healing Stones.
This looks beautiful: Illuminated: A Journal for Your Tarot Practice (The Illuminated Art Series).
Monte Farber has a new book on the way: Mindful Astrology: Understanding Your Sun, Moon & Rising Sign.
Cool new offering from Caitlin Matthews: The Art of Celtic Seership: How to Divine from Nature and the Otherworld.
Wait until you see this beauty: The Uncommon Tarot: A Contemporary Reimagining of an Ancient Oracle!
Learn to read like the High Priestess with Tarot: No Questions Asked: Mastering the Art of Intuitive Reading. Coming September 1st!
Kick back on the porch with a big glass of lemonade and The Tarot Coloring Book. It's the perfect summer activity!
Tarot For Troubled Times is a resource with tarot, rituals, self-care tips, and more for those times when life is a shit show.
Astrology lingo is complex. You need someone who speaks the language to guide you. Get astro-fluent with Astrology for Real Life: A Workbook for Beginners (A No B.S. Guide for the Astro-Curious).
Events and Classes:
October 1st, 8th, 15th, and 22nd 2020: Tarot For Beginners – a live video workshop for total tarot newbies! These classes are live-streaming videos. You can watch online from anywhere in the world. Each class runs for 1 hour. For the first half, you'll watch as I explain and demonstrate a Tarot concept. For the second half, you'll practice using your deck and try out the concept you just learned. Give it a whirl!  $149 Early Bird tuition–good through Sept 1!* $199 Regular tuition–from Sept 2 through course start. Use this tuition coupon code for $50 off: TAROTLADY
Join my Patreon Community!  I am serving up extended card of the day interpretations, astrological tidbits, community tarot practice, political astrology, early sneak peeks to horoscopes….and more. Higher tiers get access to live classes, replays of previous classes, mentoring, and more.
August 30, 2020: Brushes and Stars. Where: online. A full-day of astrology and intuitive painting – and fun! Join me and Chris Zydel for a joyful, astrology-inspired intuitive painting experience. We begin exploring intuition, followed by examining your natal chart. From there, it's time to paint your interpretation of your chart! Group insights follow.
May 2-8, 2021: The Tuscany Tarot Intensive. Where: Italy! A full week of tarot immersion. Due to the Coronavirus, we moved the event to next year. Good news: the dates allow for a few extra seats which means you can join us next year! Yay!
What I'm Grateful For:
Fresh air spilling into the windows
Walks in the woods
Sneaking off to eat fast food
A new notebook
Shrimp scampi for dinner
Soundtrack for 8/8/20:
Lose You by Tiësto ft. ILIRA
Blessings,
Theresa
© Theresa Reed | The Tarot Lady 2020
images from stock photography and personal collection