There's an old Yoruban proverb that I read in a book a long time ago that went something like this: "Bit by bit, we eat the head of the rat." (I believe the book might be Ibase Orisa: Ifa Proverbs, Folktales, Sacred  History & Prayer by Awo Fa Lokun Fatunmbi.)
Sounds pretty gross but the proverb is based on bush rats, which was a source of sustenance for the Yoruban people. The head was a delicacy and it would take patience to pick through the tiny bones to get to the sweet meat. Hence, you had to tackle it bit by bit. Which is an approach we need to do at times in order to reach particular goals.
This past week, I lost my manuscript. I had over 60,000 words done. Somehow Word ate it. Apparently, Word has a bug. Seth Godin had a similar issue and luckily was able to get his work back.
There was no such luck on my end. I tried everything to retrieve it but alas, nothing worked. No suggestion, no recovery software, nada, zilch. It vanished.
But rather than give up, I simply gathered the bits and parts that I had saved in other formats. A full day later and I had a rough skeleton of the crappy rough first draft – and only 15,000 words short. 
Since that day, I have been working hard to get back on top. Each day, I have been typing about 2,000 words a day. Diligent, disciplined, and focused. The manuscript is almost back up to the place it was before Word got hungry.
Bit by bit, I did it. 
(I've also lost 16 pounds since the beginning of the year. Slowly but surely, I'm getting closer to my ultimate goal.)
Sometimes life hands you a setback or a devastating blow. Other times you fall off the wagon. There is always a choice. You can throw in the towel or get back to the task at hand or the big picture goal, taking things as they come, doing your best, even if it takes a lifetime. Fall back down, get back up. Keep going.
Don't give up.
Bit by bit, you can get there. 
I believe in you.
Let's do this!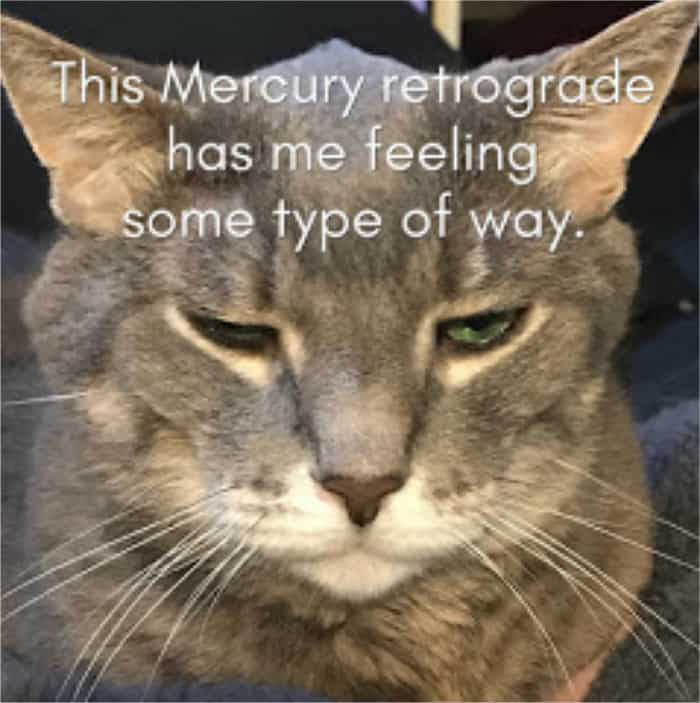 TaoZen and I are ready to say buh-bye to this Mercury retrograde!
Other stuff:
This pasta with no-cook tomato sauce is one of my favorite things to make in the summer.
Madonna is 60 now – and so are these other sexy celebs!
Teawoman Tarot is making tarot boxes.
Refinery29 asked me and four other spiritual workers how we unwind.
Honored to get a nod on this post: Three Ways to Create a Compelling Brand.
There is now heavy metal yoga.
From tarot legend Mary Greer: Creating Tarot Spreads – Breaking the Sound Barrier.
Check out Alexandra Franzen's Tiny Project Challenge.
I can so relate to this: Deciding To Read More Than One Book At A Time Has Made It Easier Than Ever For Me To Meet My Reading Goals.
Worth a listen: Feeling Feelings is a podcast about the life of an artist.
Lisa Eddy answers the question on whether you can be a Christian and a tarot reader.
This has to be one of my most favorite conversations EVER: talking about Tarot for Radical Times with Lola at The Wild Playground.
YIKES: she's not a model but her face wound up everywhere.
A cardiologist guide for women: how to prevent heart disease.
Jack of Wands has a cool post: Dividing the Majors – An experiment and a spread.
Randi Buckley just opened the doors to Healthy Boundaries for Kind People. I HIGHLY recommend this program.
In case you needed to know: the ultimate guide to safe sexting.
This shouldn't be happening in this day and age: 24-Year-Old Woman Dies From Unsafe Abortion Days After Argentina Voted To Keep Abortion Illegal.
The perfect day in NYC's Chelsea neighborhood.
Outrageous: an 87-year-old woman was tazed for cutting flowers!
Lisa Marie Basile chatted with me about Light Magic for Dark Times.
Interesting: The Cycle of the Year: Traditional Predictive Astrology.
Inner Witch by Gabriela Herstik is almost here!
The Oracle of Mystical Moments looks divine.
Wow: Rich Table. I might need to add this one to my cookbook collection!
Tarot cards got you stumped? Learn how to read with confidence with The Tarot Coloring Book, an experiential way to grasp the meanings once and for all.
Here are my upcoming live classes:
*NEW* Astrology for Total Beginners: learn the basics of natal chart interpretation. This two-hour workshop will get you up to speed on what all that astrology stuff is about! Join me at Boston Tea Room. Date: Wednesday, October 10th. Location: Ferndale, Michigan.
Pens and Cards: a day full of tarot exploration and writing with author Sarah Selecky and moi. Date: October 13th. Location: Skybarn, Prince Edward County, Ontario. Only TWO seats left!
Intuitive Tarot Reading at Boston Tea Room. Date: Sunday, October 14th. Location: Ferndale, Michigan.
What I'm Grateful For:
Pages
New team
Backups (lesson learned!)
Fresh veggies
Another pound gone!
Soundtrack for 8/18/18:
Stole the Night by The Howling
Blessings,
Theresa
© Theresa Reed | The Tarot Lady 2018
images from stock photography and personal collection