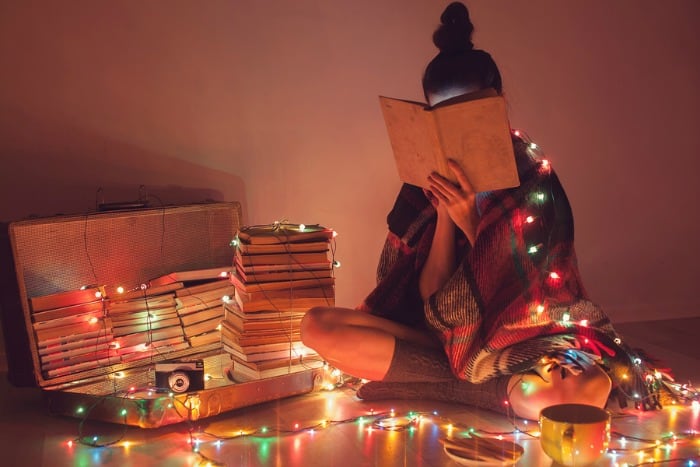 A flicker of snow. Gloomy skies and short, cold days. Hustle 'n bustle and all that holiday stuff.
For introverts, this time of the year doesn't bring out the cheer. instead, it makes us want to hibernate deep under the covers, surrounded by books and cats with nary a human in sight.
It's not that we are anti-social, mind you. It's just that alone time is essential for our well-being. Especially when we hear the demand to conform and "get in the spirit" – whatever that means. Our spirits march to the beat of a different pulse. It's a quiet murmur. One that operates best when the noise of the world is hushed to a whisper.
That can only happen when we forgo the obligations and carve out space for solitary pleasures.
Many years ago, my husband and I both came down with a wicked case of the flu. We were too sick to attend any of the family shenanigans. Instead, we built a blanket tent and ate chicken noodle soup. Our only attempt at doing anything lively was a game of Barrel of Monkeys, which lasted about five minutes because the act of getting those monkeys to connect exhausted what little energy we had.
It was the best holiday I ever had.
I craved a way to make those holidays happen again (without the deathly illness part, of course) yet found myself giving in and going along with everyone else's wishes. Resentment set in as I longed for an introvert Christmas. I counted down the hours until I could go home. Once the family obligations were over, I ran back to my sanctuary and relished the alone time.
So last year, I decided to opt-out. As I've written before, this made some members of the family quite angry with me. I wasn't following the tribal code to step in line and engage. How dare I do what I want! It didn't matter…I took off and enjoyed my day. It turned out to be the best  holiday decision I ever made. Which means: it's my new tradition.
When I announced that this would be my new holiday norm, I received the expected flack, but that had no effect. My mind was made up. I was going to have my introvert holidays from this point forward. (Note to relatives: belligerent or passive aggressive texts are surely not a way to entice me to change my mind. If anything, it did the opposite.)
My plan this year includes pjs, wine, old movies, and as little interaction with the outside world as possible, save for a little internet stuff here and there. Bliss? Yep. It's gonna be better than a barrel of monkeys.
Other stuff:
I wrote this goody a couple of weeks ago: The Hit List – A primer for opting-out of the holidays.
Great advice from Rebelle Society: Surviving the hectic harrowing holiday hoopla.
Susannah Conway's Unravel the Year is the perfect way to wind 2017 down – and prepare for 2018. Susannah also has this fab free e-course to find your word for the year.
Err..not sure what to say about this "designer." A matter of taste? Or something else?
Billie Jean King Shares Her Advice For 2018.
A must read: 56 miles from temptation – To save their marriage, a couple living at the crossroads of pain and addiction in rural Kentucky make a desperate escape.
Loving this over at Mind Body Green: The Psychology Of Service Work: Giving Back Is So Personally Rewarding.
Boys, take note: The Silent Rise Of The Female-Driven Economy.
These drug users created a union to support each other.
Check out the Capricorn Season 'Scopes over at Radical Tarot. (I did Gemini this month!)
The Astro-Twins delivered this genius post: Saturn in Capricorn Horoscopes for Every Star Sign.
Good stuff from Sarah Selecky: On not having children and having doubts.
Powerful post from Jeanna Kadlec: How To Go Home For The Holidays, When Home Has Lost Its Meaning – For the LGBTQ+ community, the holidays are complicated.
Check out this post from Tarot Avenue: A Yoga Journey With A Hint Of Tarot.
I love the dress on this page: Stars are the new stripes: why fashion is turning to the spiky side.
11 Books I Wish My Teachers Had Taught In High School.
Um…stay gold, pony play?
Here's what to watch if you're curious about cults.
Sarah Prout always has good stuff to share: How to shift your vibration when you're having a bad day.
The Hermit's Lamp has an annual interview with Barbara Moore.
How to Be a Tiny Bit Better at Meditating, Even If You Hate Sitting Still.
Still doing last minute shopping for your mystical friends? Get a copy of The Tarot Coloring Book. There's still plenty of time!
Ramen is perfect winter food. Must get this: Ramen at Home: The Easy Japanese Cookbook for Classic Ramen and Bold New Flavors.
YUM: Downtime: Deliciousness at Home.
Just got this beauty: Demeyere 5-Plus Stainless Steel 3.5-qt Saucier.
Looks interesting: The Good Witch's Guide: A Modern-Day Wiccapedia of Magickal Ingredients and Spells (The Modern-Day Witch).
Gala Darling just released this: 2018 Radical Self Love Almanac.
What I'm Grateful For:
Solo time
Presents in the mail
An ice cream "cookbook"
Vitamin D (a must for introverts)
Love, love, love
Soundtrack for 12/23/17:
Him & I by G-Eazy and Halsey
Blessings,
Theresa
© Theresa Reed | The Tarot Lady 2017
images from stock photography and personal collection