New 'Round Here?
Hello + welcome!
If you're new to my Tarot-licious world, you might be wondering…
Who is this Tarot Lady chick, anyway? And where do I begin?
This page will give you the basic nuts + bolts of who I am, what I stand for, and how you can work + play with me. Ready? Let's go!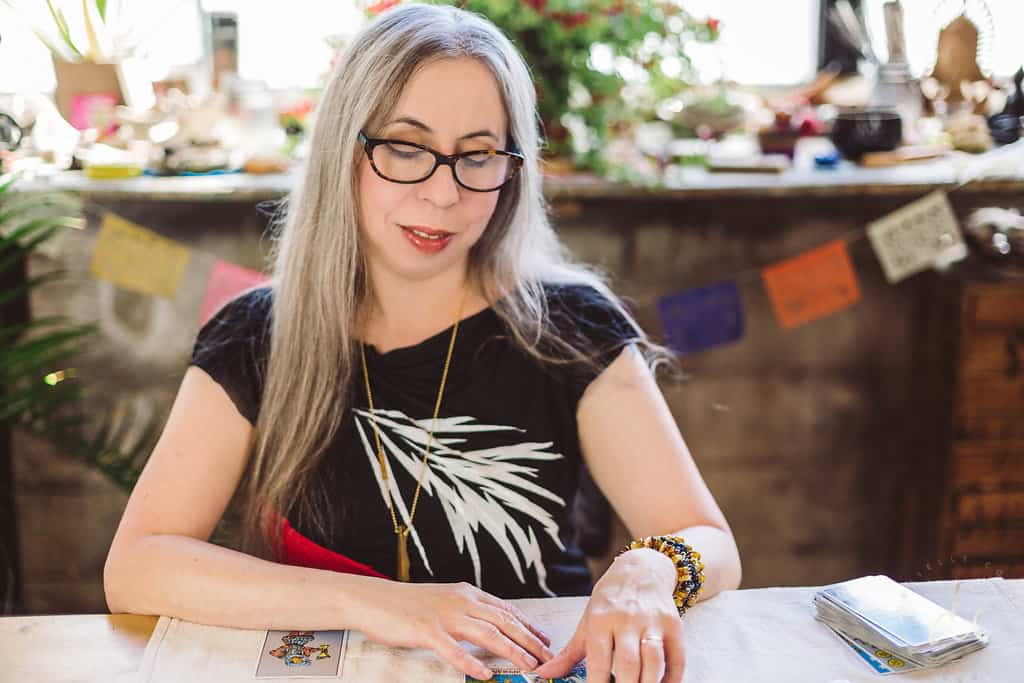 My story — the fast + loose version
I'm Theresa Reed (aka, The Tarot Lady). I've been a full-time tarot reader for 30+ years — which, in my industry, makes me pretty 'gangsta.'
I'm definitely not your average Tarot expert — I drop the F-bomb, I quote rappers, and I'm obsessed with pop culture + reality TV. Folks come to me for straight-talk + tough-love — without the woo-woo fluff.
Curious about my background + street cred? You can read my full-on bio, right over here
I'm also the author of The Tarot Coloring Book, a fun + colorful guide to the tarot. My newest books are out in the wild too: Twist Your Fate, Tarot For Troubled Times, Astrology for Real Life, and Tarot: No Questions Asked – Mastering the Art of Intuitive Tarot Reading. Yep, I'm prolific AF. You can find all of my books right here.
Want to work with me? You can…
Frequently asked questions about tarot and how I work – answered:
What are tarot cards and how do they work?
Tarot cards have been around for a long time.  Originally, they were a game (in fact, they are still played as a game in some parts of the world).  A tarot deck is comprised of 78 cards.  A reader uses the tarot as a tool to tap into their intuition + divine the future.  Tarot can also be used as a creative prompt, for self development and more.  It's quite versatile.
Tell me about your tarot readings.
I use a combination of tarot cards and astrology –  and I also tune into your energy.  It doesn't matter if you are sitting directly in front of me or if you are in a remote village across the pond – as long as you come to the tarot table with an open mind, we can work together.  I do feel that a quiet environment is best as there are little distractions and I am better able to pick up on things.
My philosophy: I believe that tarot is a tool for conscious decision making –  if you have an idea of where you are going, you can make better decisions.  And that's important because our decisions determine our fate. (Yep, future is malleable.)
How does intuition play into it?
Everyone has "psychic ability" to some degree (just ask any cop who has to rely on hunches!).  This is a natural God-given trait although some of us trust it more than others.  I don't consider myself "special" or "talented", I am merely an instrument – tapping into universal energy and giving guidance to those who need it.
For tarot, I not only look at the cards, but I try to sense what those cards mean for the client – the cards have many different interpretations and intuition helps me to feel out which is right for the client.  Two people can have the exact same cards in the exact same layout but it may mean different things.  Intuition helps to sort it out.  Sometimes I also just "get a vibe" which has nothing to do with the cards at all – just what I am picking up from the client.
What types of clients do you work with?
In my long career, I have worked with clients from all walks of life – from homemaker to CEO.  If you like a "no nonsense" approach,  are open-minded and willing to take command of your problems, then I am the reader for you.  If you are a "victim of life" and feel fatalistic or  cursed, then I am not the reader for you.
Can anyone develop their intuition or learn to read tarot?
You betcha!  I believe that meditation is the best way.  When you are able to quiet the mind, you have a better chance of connecting to your own inner wisdom. Just keep an open mind and practice, practice, practice.  Any ability will diminish if you don't apply yourself.
As far as learning to read tarot cards – anyone can learn the meanings of the cards, but if you are not tuned in to your intuition, it is like playing an instrument without a sense of rhythm. Learn those cards but, more importantly, trust your gut.  That's the secret sauce!
How accurate is tarot?
In my personal experience, most tarot readers  are about 80% accurate at best. NO reader, no matter how famous they are or how accurate they claim to be, can read for everyone or see everything.  There is always room for misinterpretation and no reader can possibly know 'everything'.  If they did, they'd be God!
Please remember – if you don't like something said in a reading, you CAN change the outcome.  YOU are ALWAYS the master of your own destiny.
The only person who can claim 100% accuracy for your life is YOU.  Your actions and thoughts will always determine the outcome.  Avoid readers who make you feel otherwise.
Is tarot ever unable to answer a question?
Of course!  You might ask the cards a question, but sometimes the answer is not available. Other times, the question may not have a black and white answer (ex: "it's complicated"). But even if the tarot cards are drawing a blank, I will tell you "I don't know" but then give you any relevant info that I do receive around your situation.
What is the best way to ask tarot my question?
I wrote a blog post just for this!  Read it here: What is the best way to ask tarot a question?
Other hot tips: Include names of anyone you are asking about.  Birth dates are always helpful.  If you want to send me a photo via email, that can be helpful.
What's not helpful: asking the same question over and in a different manner just to try and "get" the answer you want.
If you don't want to know the answer to a question, simply don't ask.
Once your reading is completed, it's out of my hands and into yours.
How soon can I expect a response?
My assistant and I respond to emails fast. (Psst…I'm not reading for the general public at this time.
*Your correspondence with me (including downloads of my digital products + class info) may end up in your "Promotions" or Spam folder.  Please be sure to check in there if you do not hear from me. 
Are there any times where you would refuse a question or a client?
I love people who are kind, honest, personally responsible, and respectful of other people's time.  If that's you, I will serve you with a smile and oodles of gratitude!
But these things don't work so well for me:
If I perceive that you are addictive, I will refuse to read for you.  I do not encourage addiction to psychics – you are always in charge of your own life and I am merely a guide.

I ban clients who are rude, disrespectful, or abusive in any way.  I simply won't put up with it.

If you ask the same question over and over again to try to get the answer you want, I may refuse to work with you in the future. I do not do well with obsessive types.

I won't read for you if you show up drunk or impaired.

If I sense that you are in a distressed or anxious state, I may request that you wait for your reading. Better to wait until you are calm and focused – this way, you guarantee that your reading is not influenced by your emotional state. (Sometimes if a person gets a reading when they are emotionally upset, they don't really hear what I am saying – they may only hear what they wish to hear.) I am very sensitive to any sort of anxiety or pushiness – I cannot read under any sort of perceived pressure as it clouds my objectivity.

If you dicker with me about my prices or policies, no dice.  We will be done dancing immediately.
Sometimes, for no fault of the client, I just don't feel a connection.  I will refer you to another reader that I respect in that case.
As a matter of policy, I reserve the right to refuse service for any reason.  My mission is for my client to have a great experience – and sometimes that experience may be better with a different reader.
I do not answer questions on sports (which I loathe), gambling, criminal activity, or dates of death.
I do not do readings for anyone under the age of 18 without a parent or guardian present.
Policy on lateness and cancellation
 I require a 24 hour notice if you cannot make it to your appointment – if you do not give me sufficient notice, your fee for the appointment will be forfeited.  It takes only ONE MINUTE to call or email me to reschedule.  I expect you to extend the same courtesy to me that you would to your doctor, hairdresser, lawyer, etc. This policy is in place out of respect for my time and the time of my clients.  A last minute cancellation is difficult to fill.  Without a proper notice, you are preventing someone else from grabbing that slot. Understand that when you do not show or call, I cannot make that time available for another client.  It is YOUR responsibility to keep track of your appointment.
By participating in/reading my tarot service/website/blog you acknowledge that I am not a licensed psychologist, lawyer or health care professional and my services do not replace the care of lawyers, psychologists, or other healthcare professionals. Tarot is in no way to be construed or substituted as psychological counseling or any other type of therapy or medical advice. I will at all times exercise my best professional efforts, skills and care. However, I cannot guarantee the outcome of tarot efforts and/or recommendations on my website/blog/email series and my comments about the outcome are expressions of opinion only. I cannot make any guarantees other than to deliver the tarot services purchased as described.
Blog comments:  my comments sections has been closed. If you want to chat about a post, hit me up on Twitter: @thetarotlady